New Assistant Principal Appointed at Robert Moses
North Babylon School District has appointed Daniel Cassagne as assistant principal of Robert Moses Middle School, effective Nov. 18. He replaced Stephanie Hasandras, who was named as principal of Robert Moses Middle School in September. Mr. Cassagne most recently served as a science teacher at Metropolitan Expeditionary Learning School in Queens since 2021. He has also worked as a mathematics teacher at the school from 2013-2021.
He holds a Bachelor of Science degree in interdisciplinary liberal studies and a master's degree in teaching from James Madison University. Mr. Cassagne has an educational leadership certification from SUNY Stony Brook.
"I am beyond excited to be part of the Robert Moses Middle School team and cannot wait to get to know all students, staff and families of the North Babylon community," Mr. Cassagne.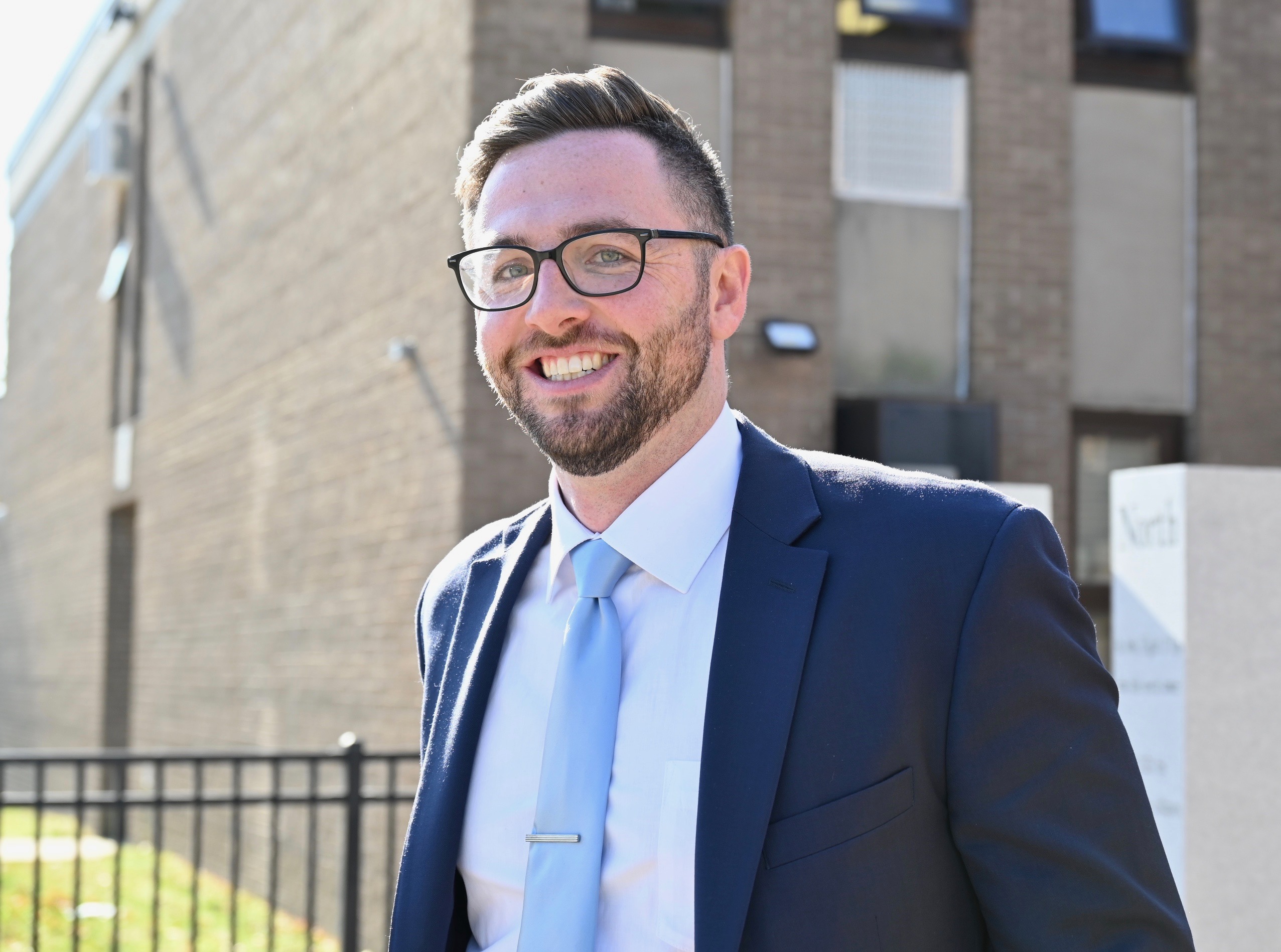 Creativity Paraded Through Marion G. Vedder
In anticipation for Thanksgiving Day, the second graders at Marion G. Vedder Elementary School created their own floats as part of a STEM activity on Nov. 23. After reading "Balloons Over Broadway" by Melissa Sweet, the students designed their own balloons, inspired by the floats at the Macy's Thanksgiving Day parade. The second graders then paraded their creations through the halls of the school for all their classmates to see.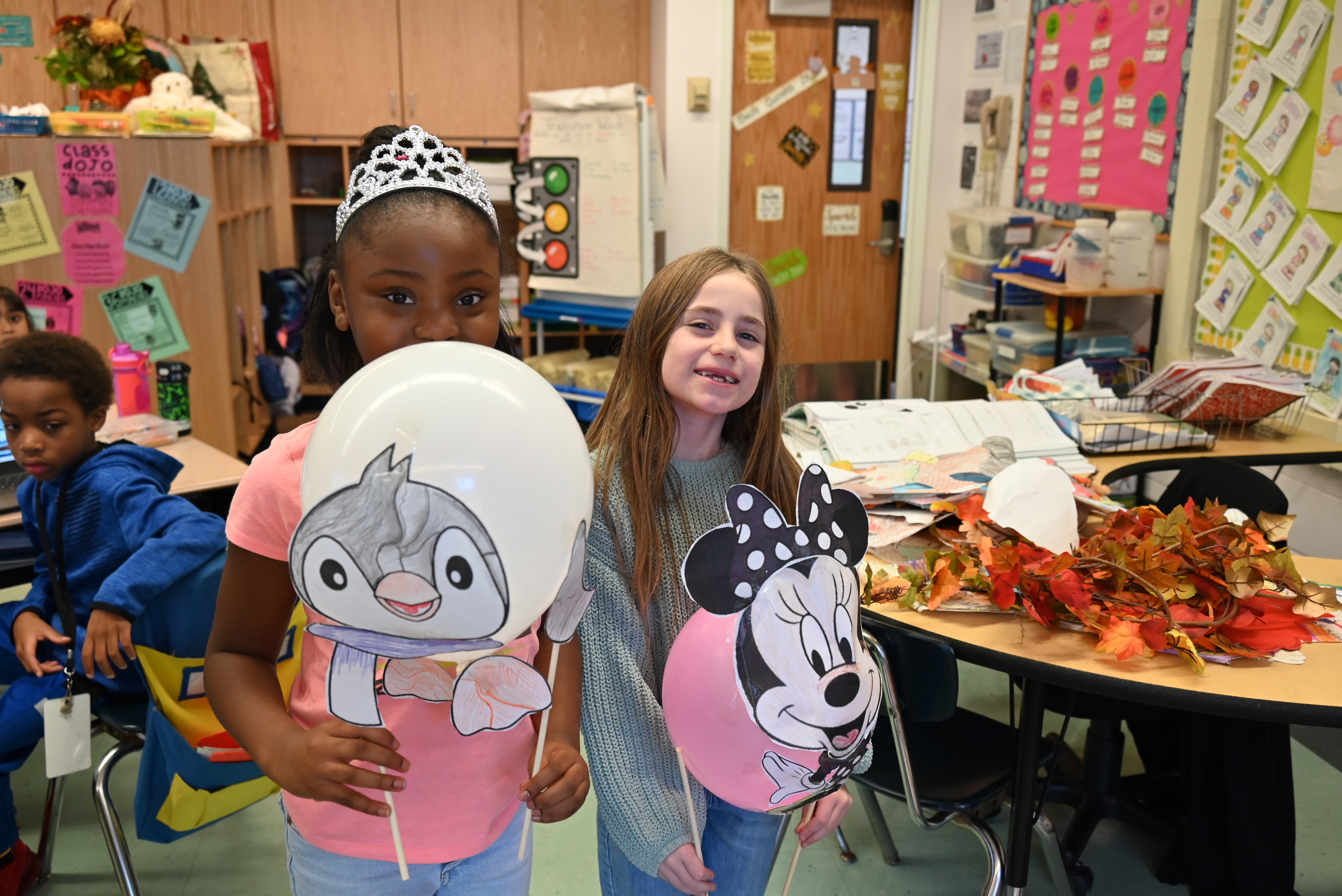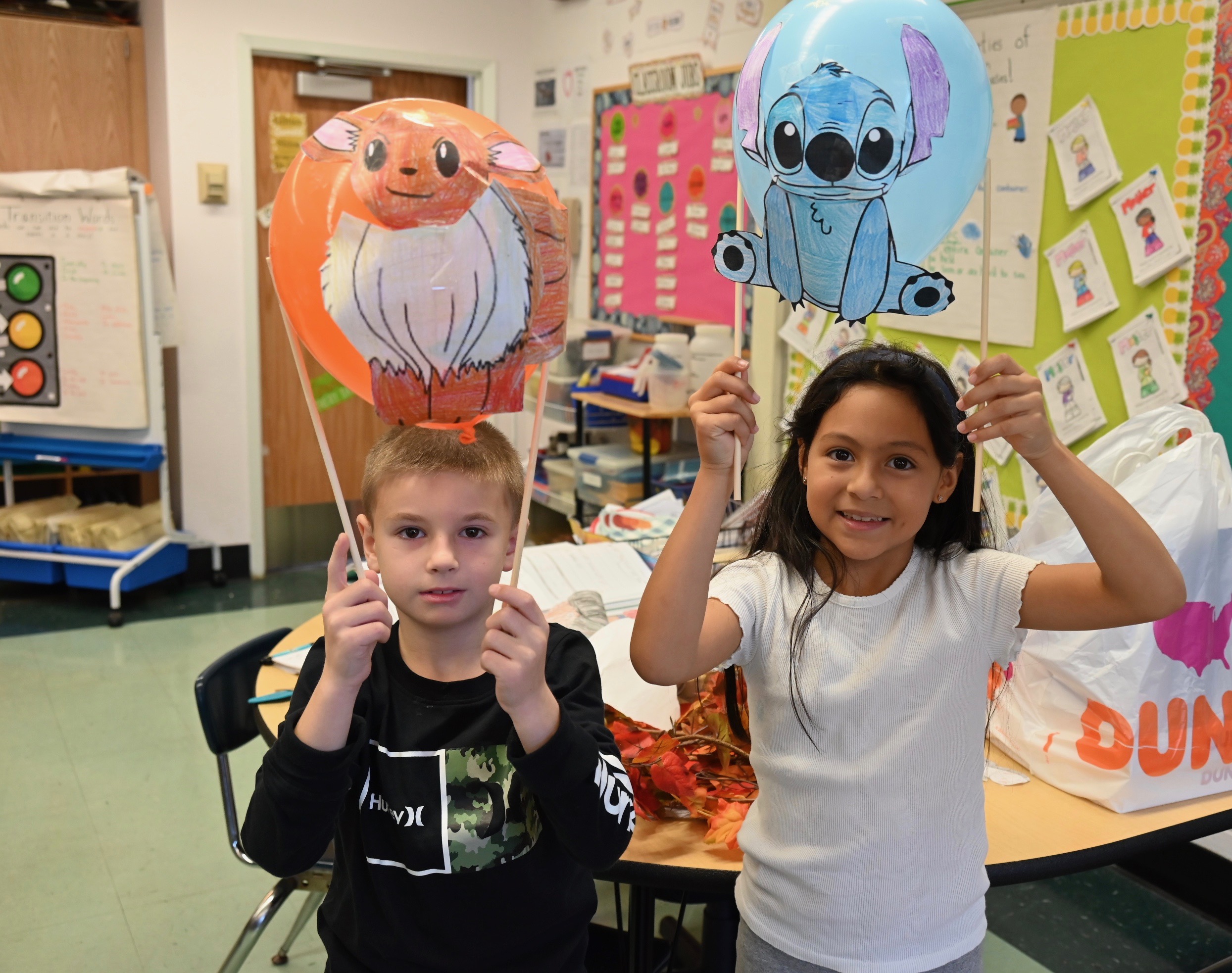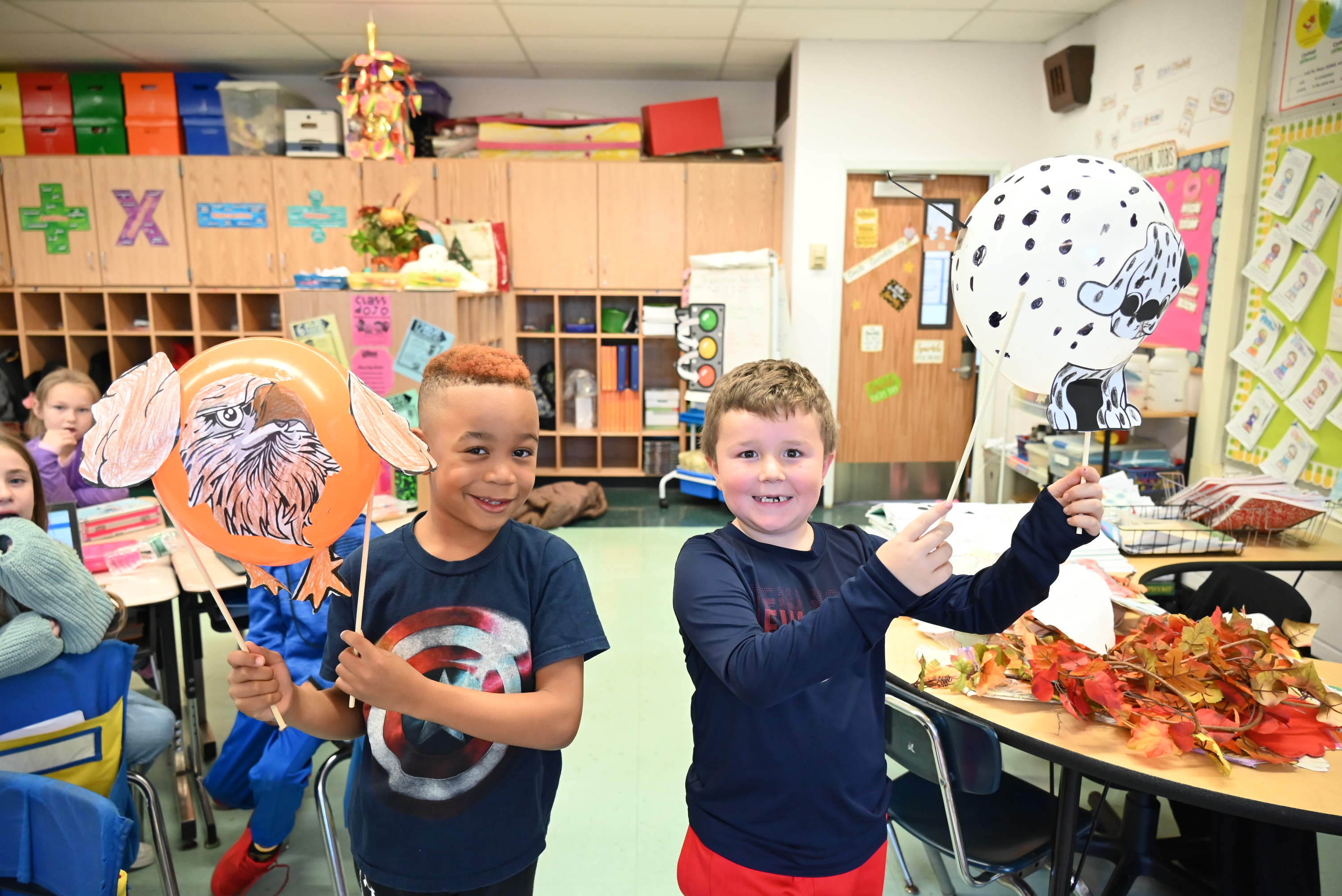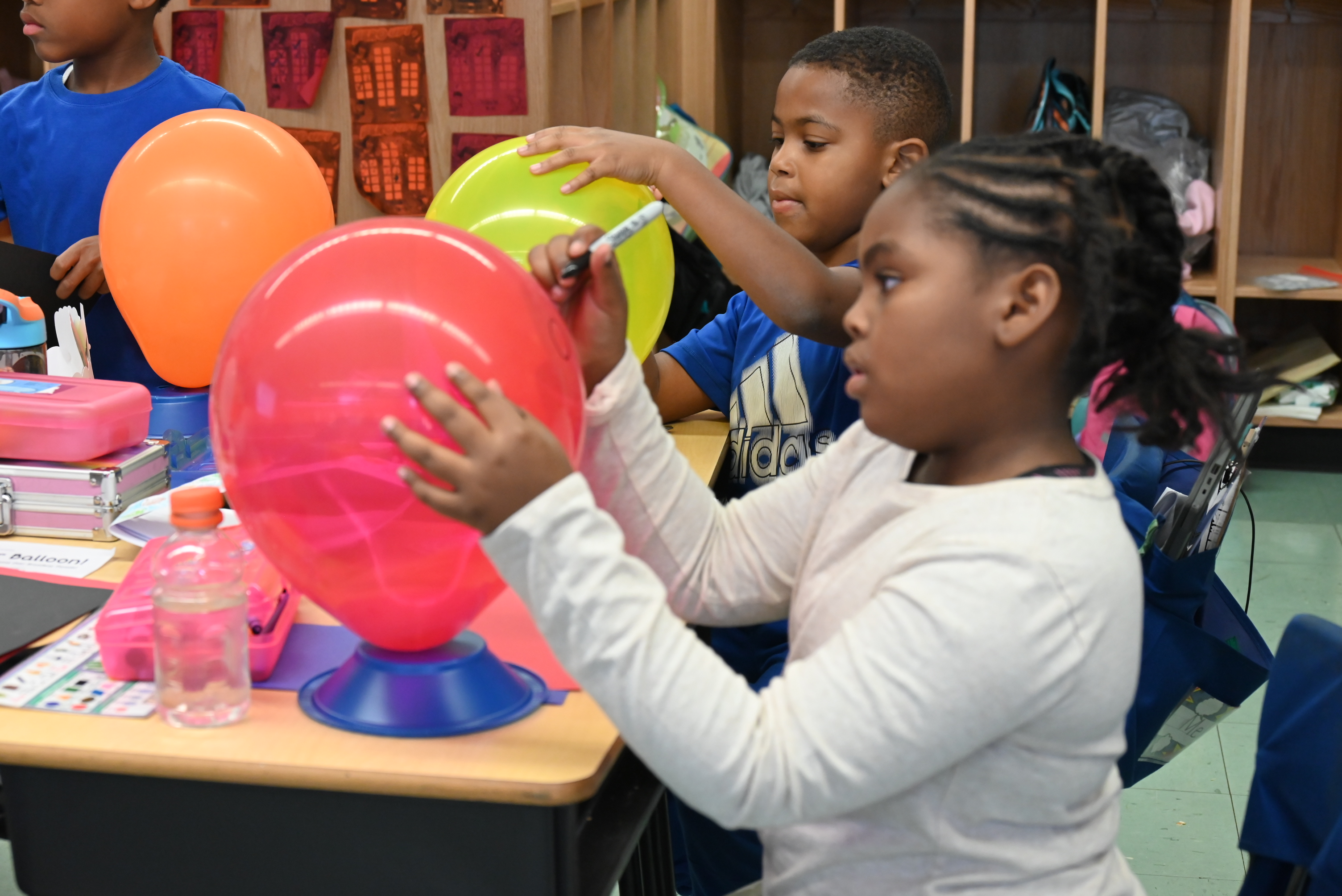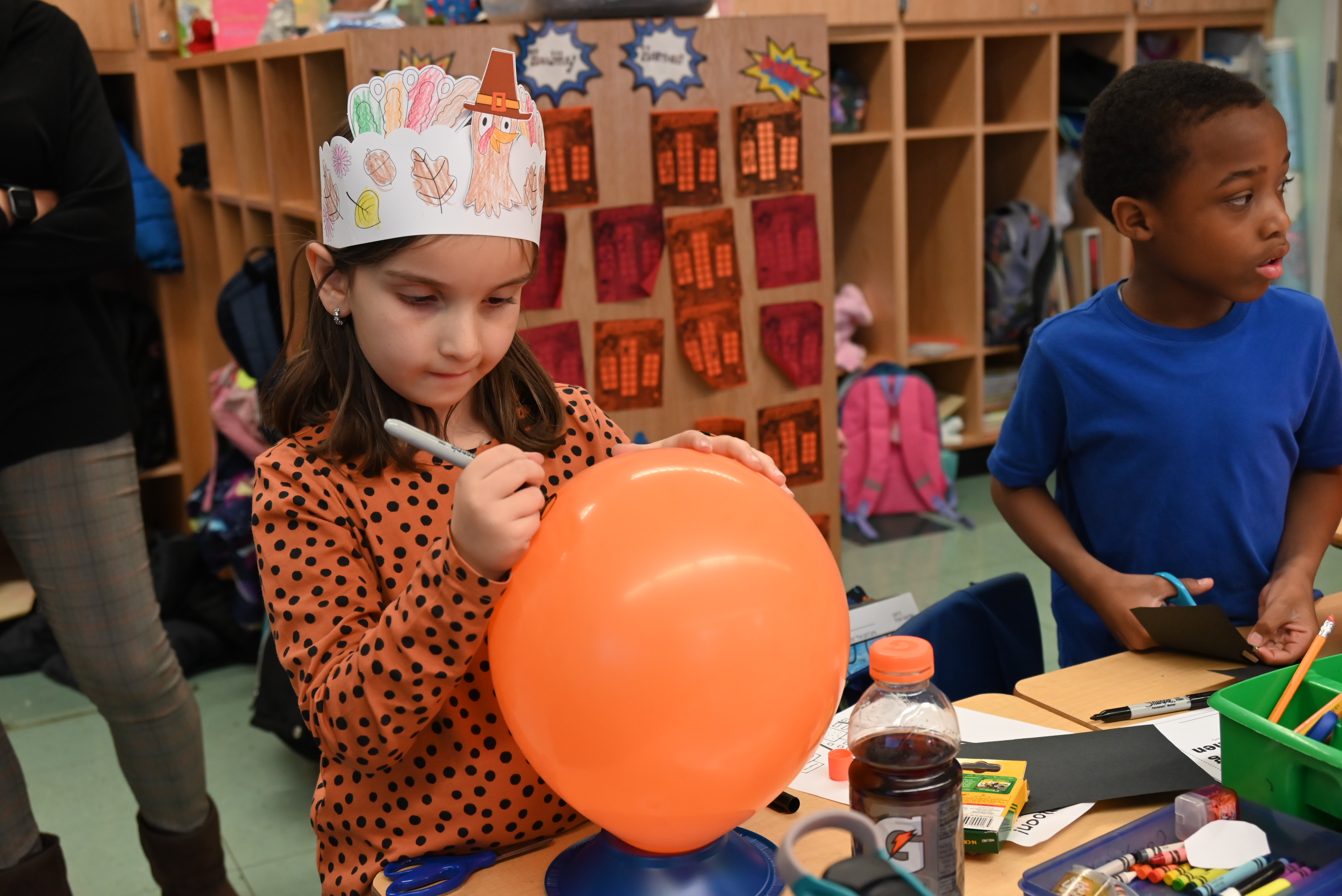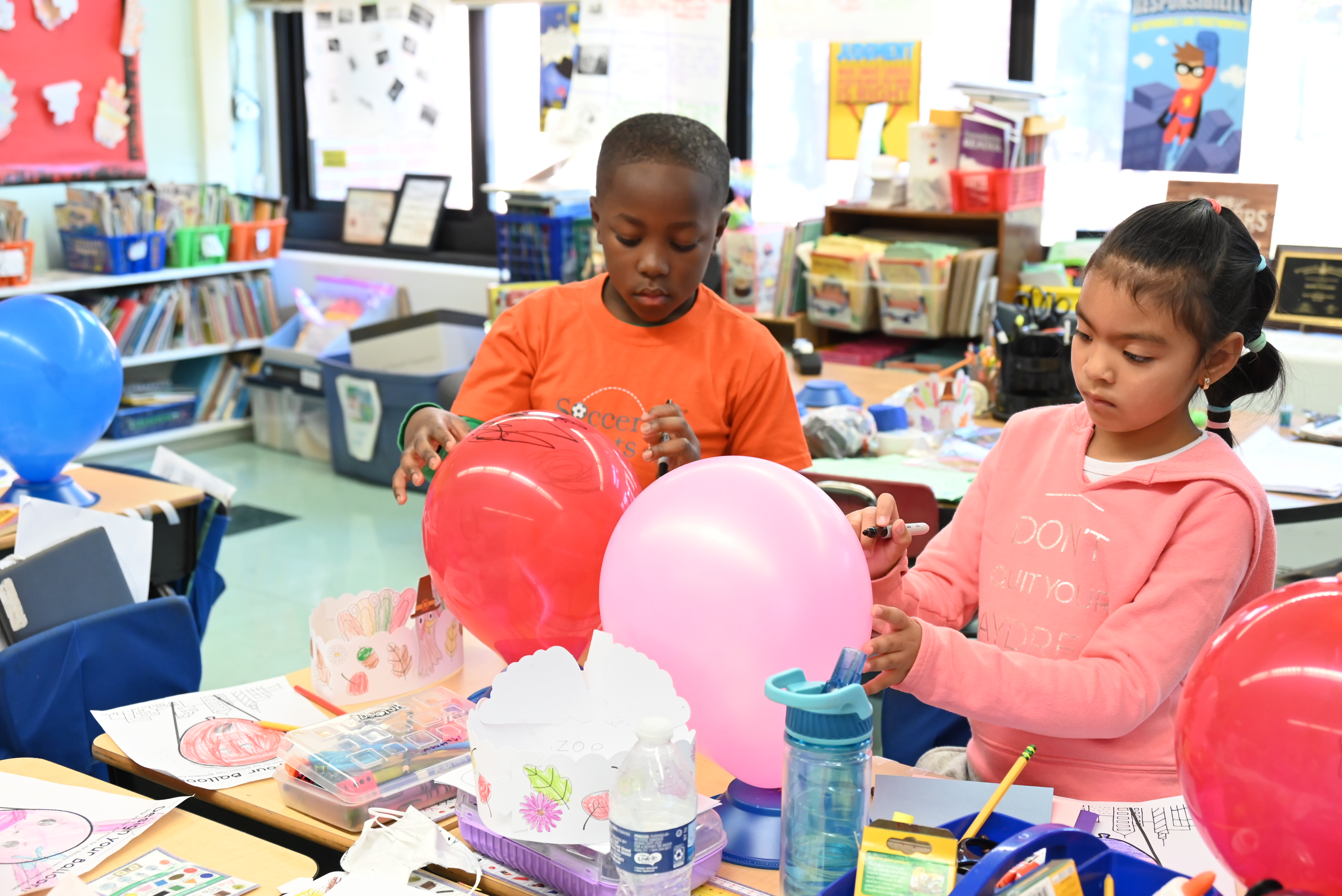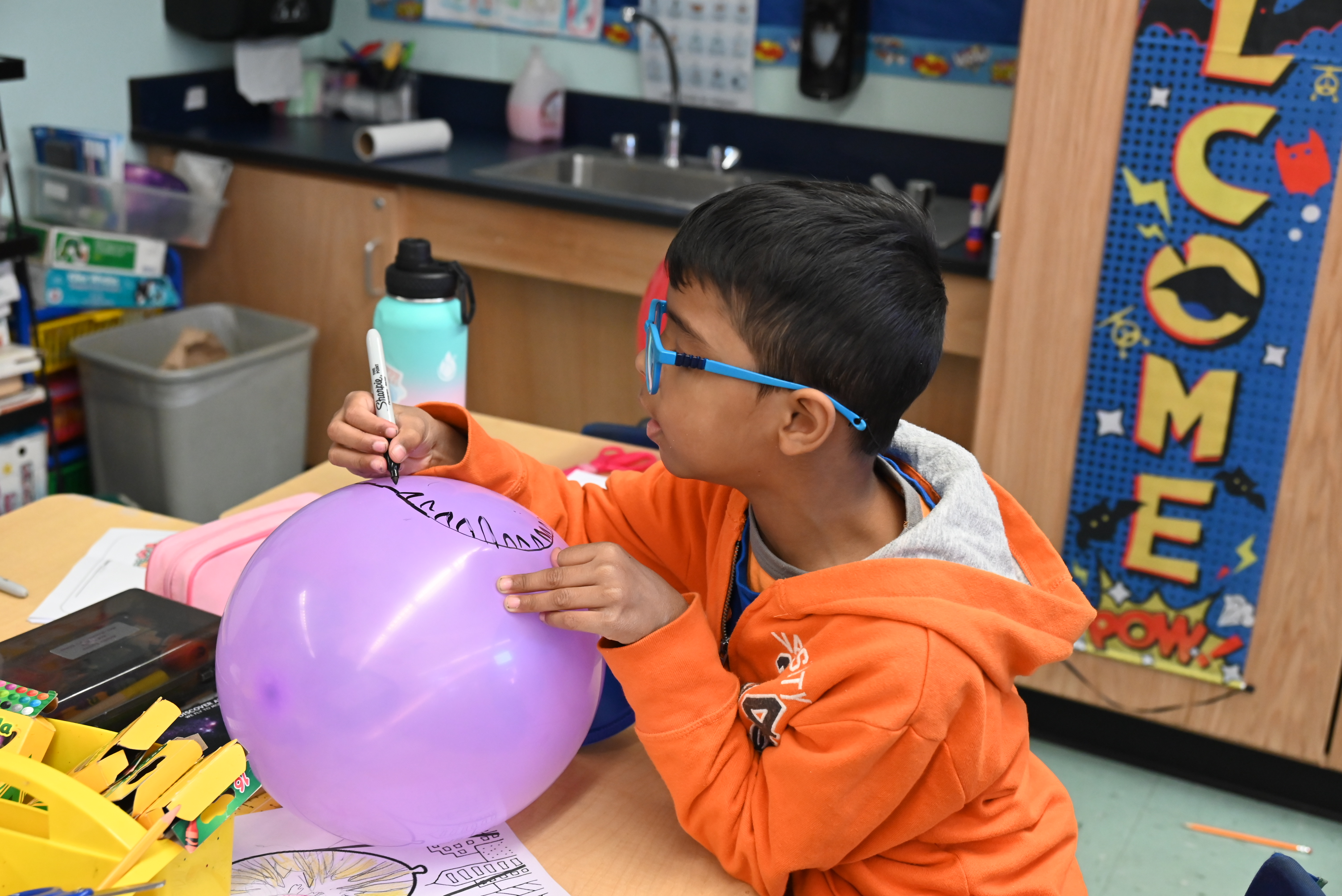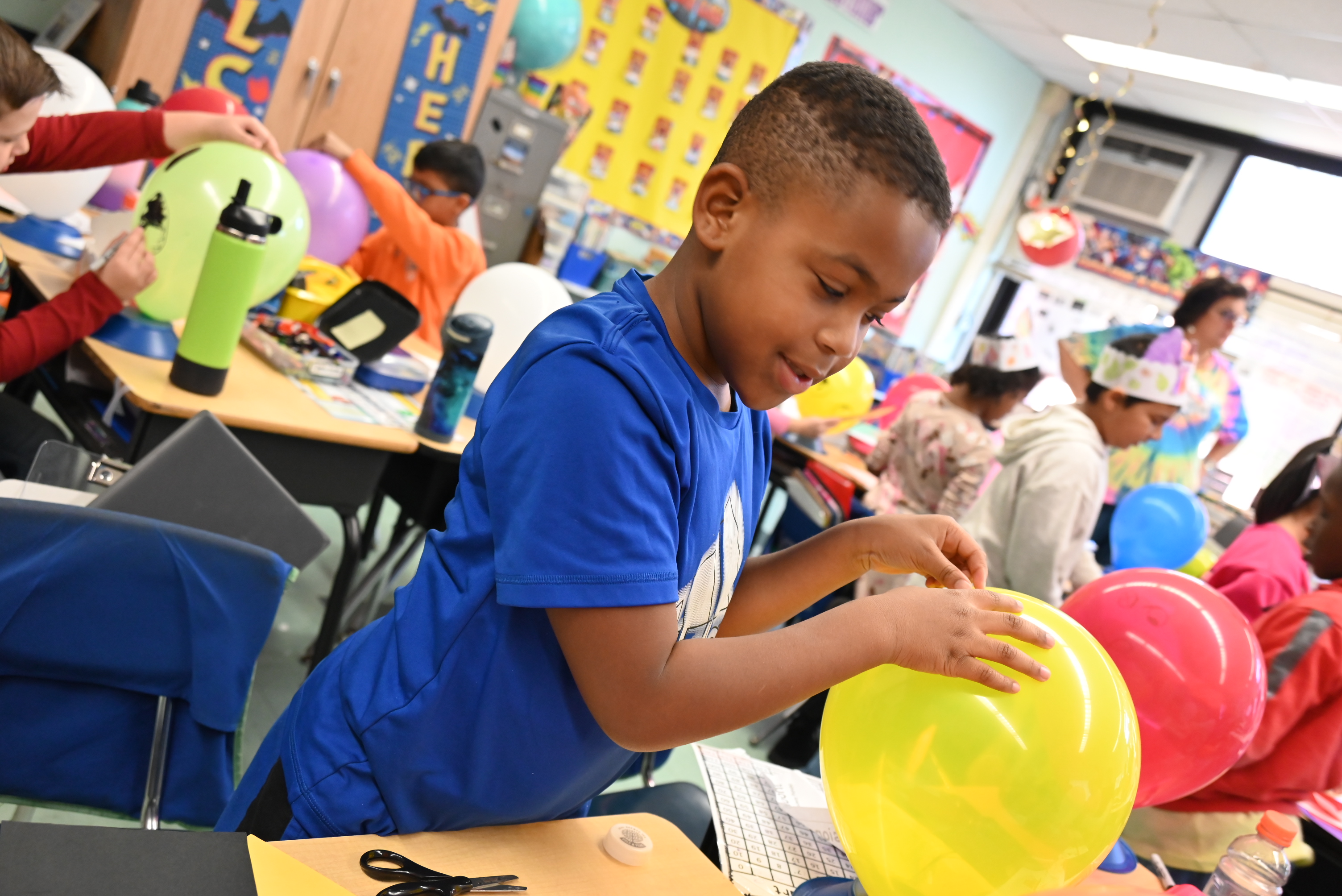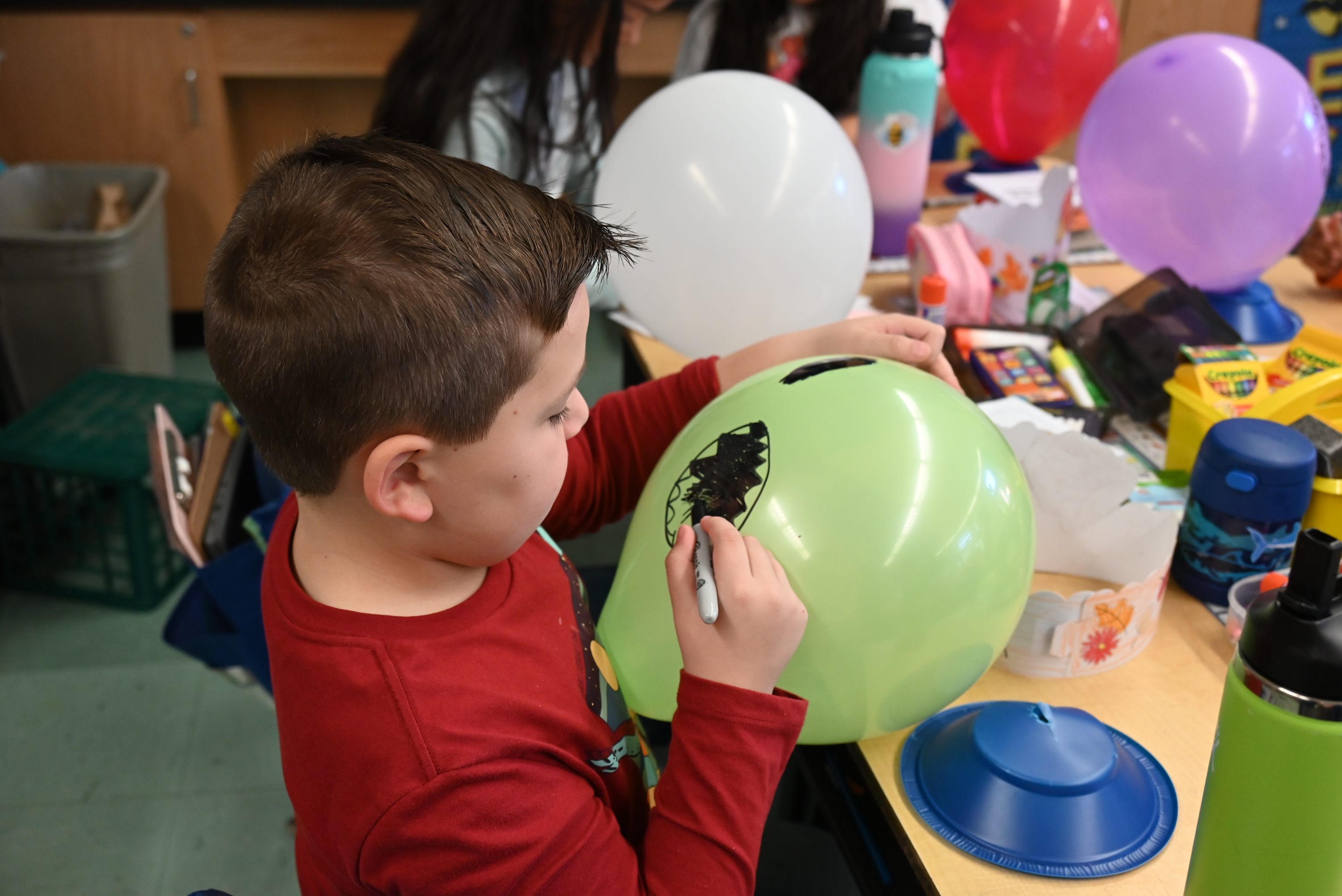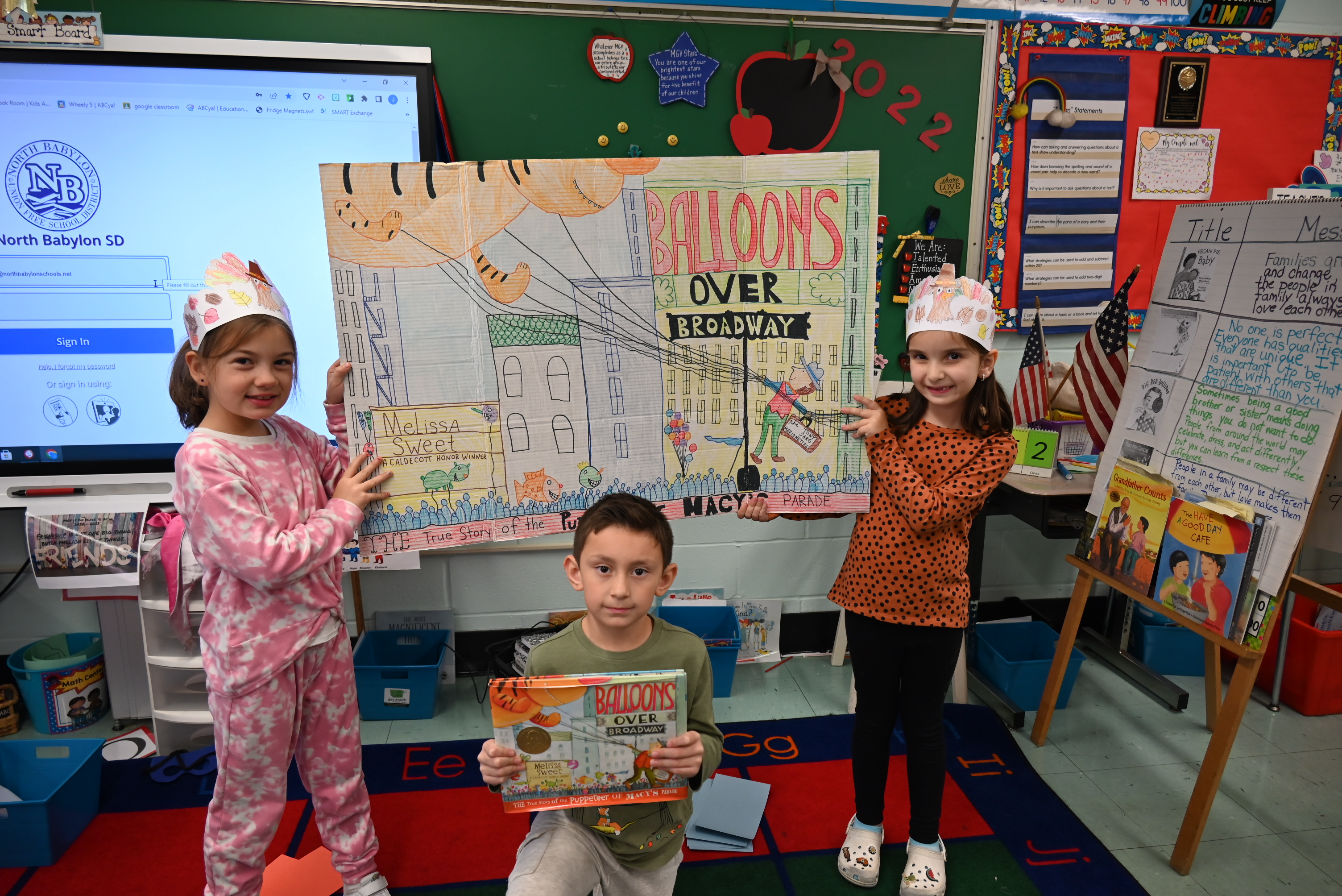 Student-Athletes Commit to College Sports
Six student-athletes from North Babylon High School recently signed letters of intent to continue to play their respective sports at the collegiate level next year. Joined by administrators, coaches, friends and family, the students put pen to paper as they signed their commitment letters.
The district congratulates the following student-athletes as they continue their athletic careers in college: Madison Bicerno, Pace University, softball; Samantha Christopher, SUNY Purchase, softball; Sienna Denino, Queens College, softball; Daija Jones, Iona University, soccer; Hayden Magliano, American International College, baseball; and Eric Schulteisz, Utica University, baseball.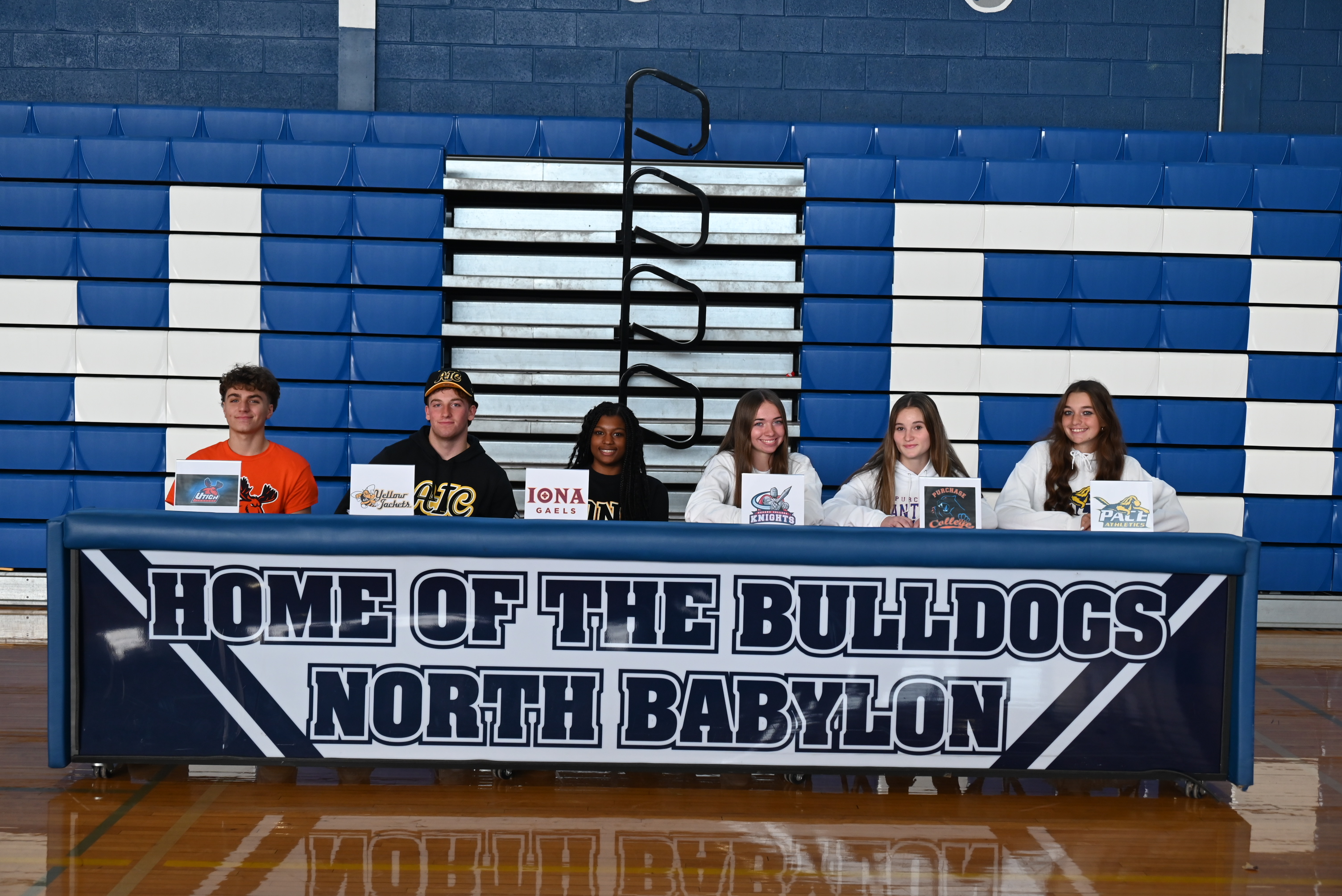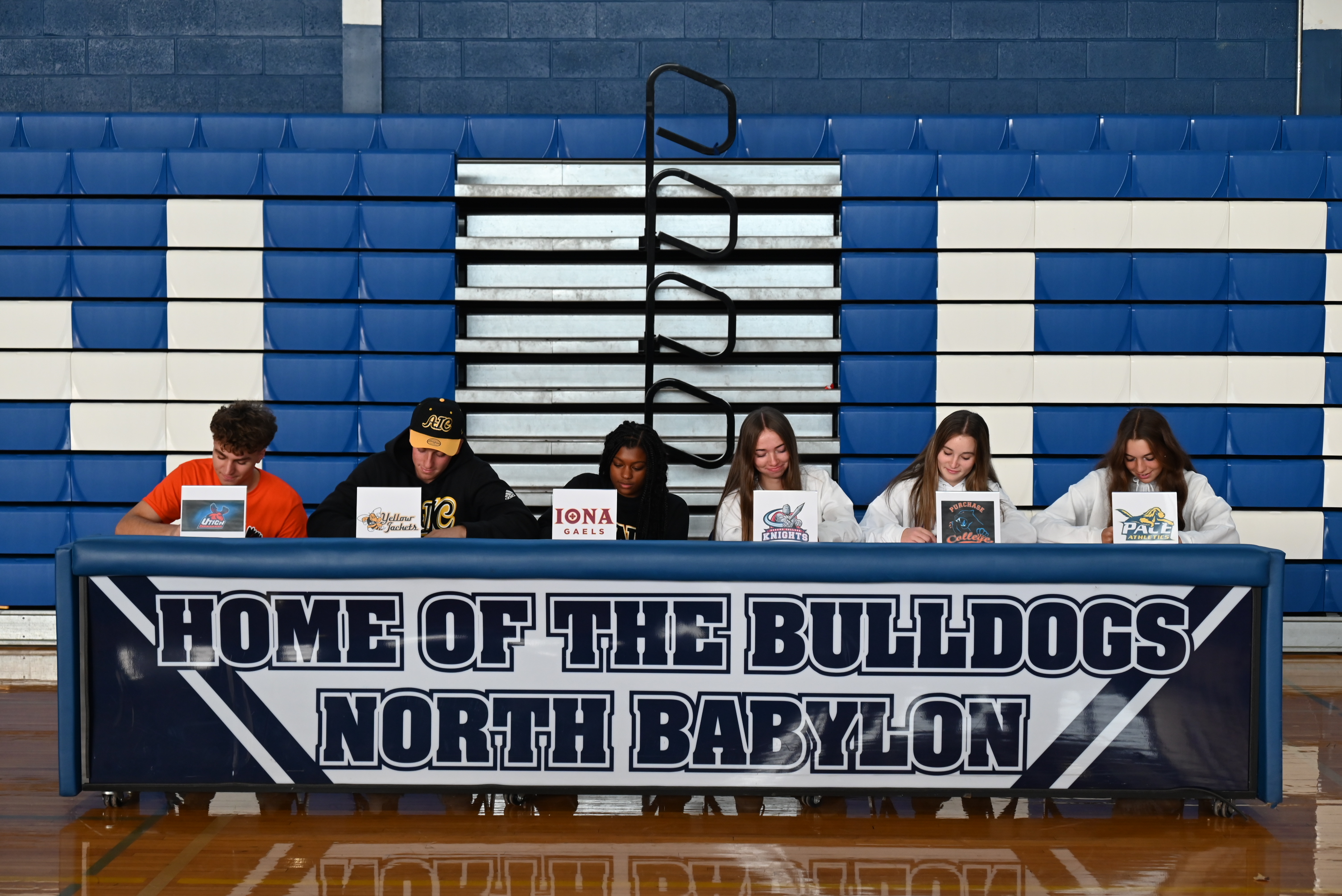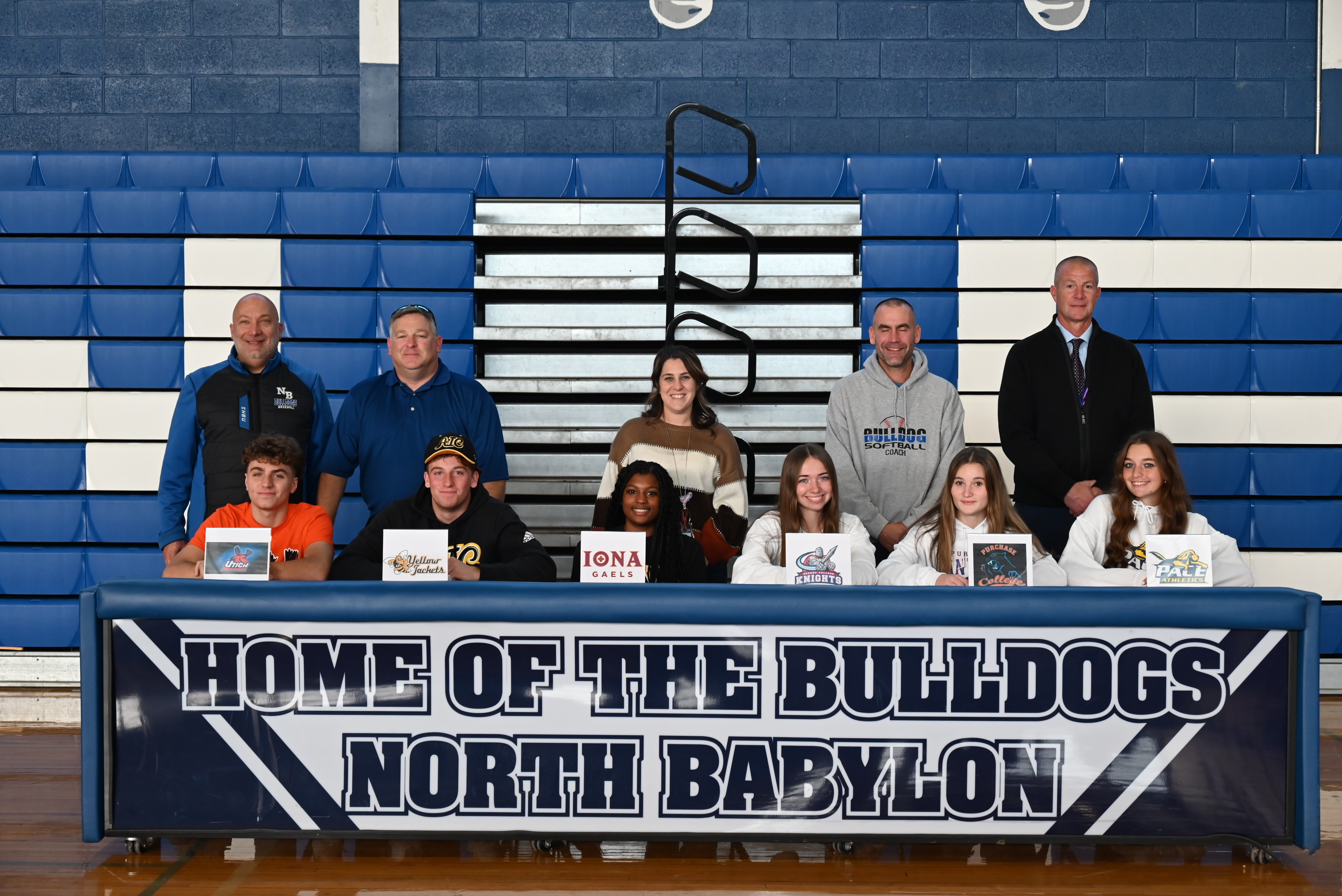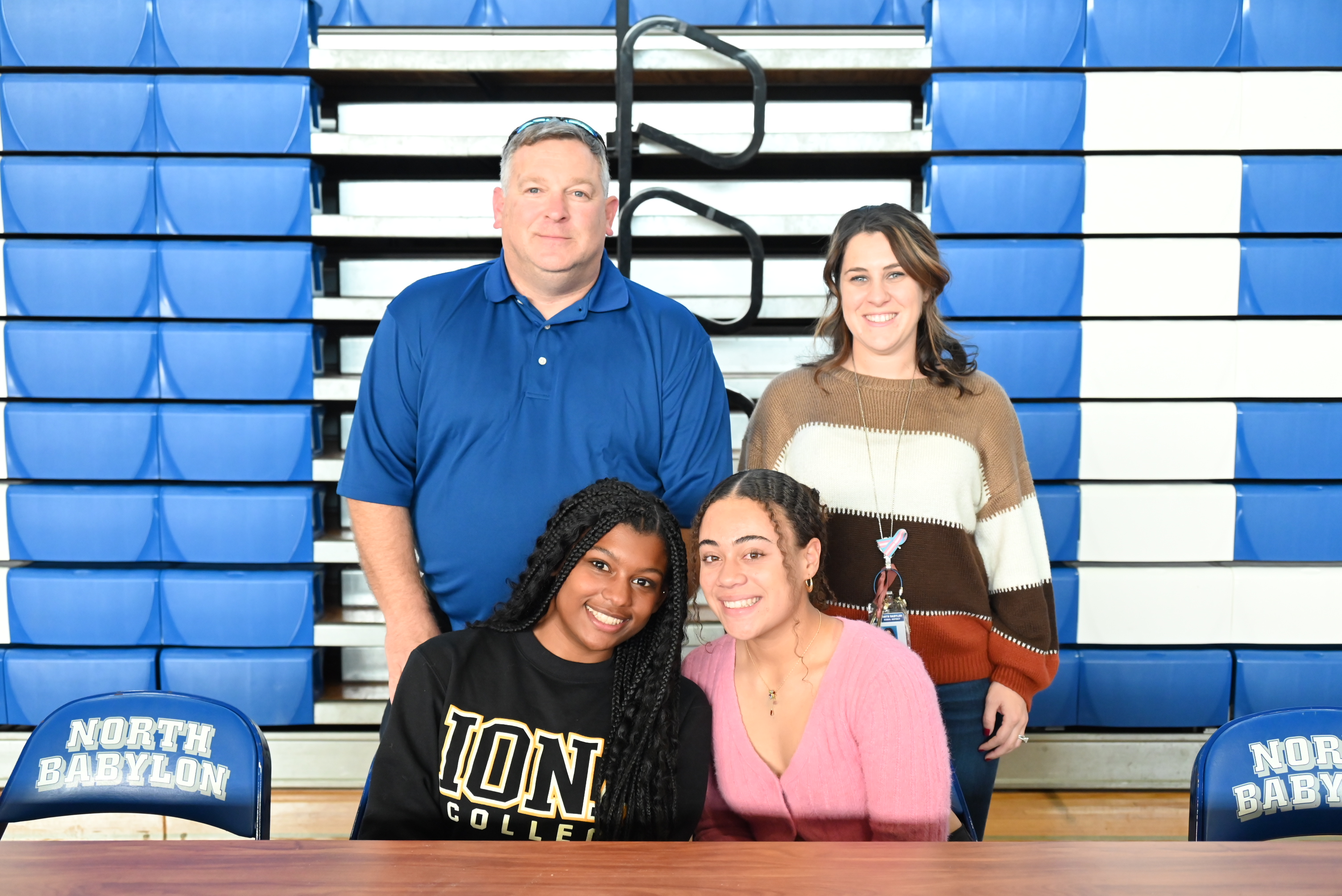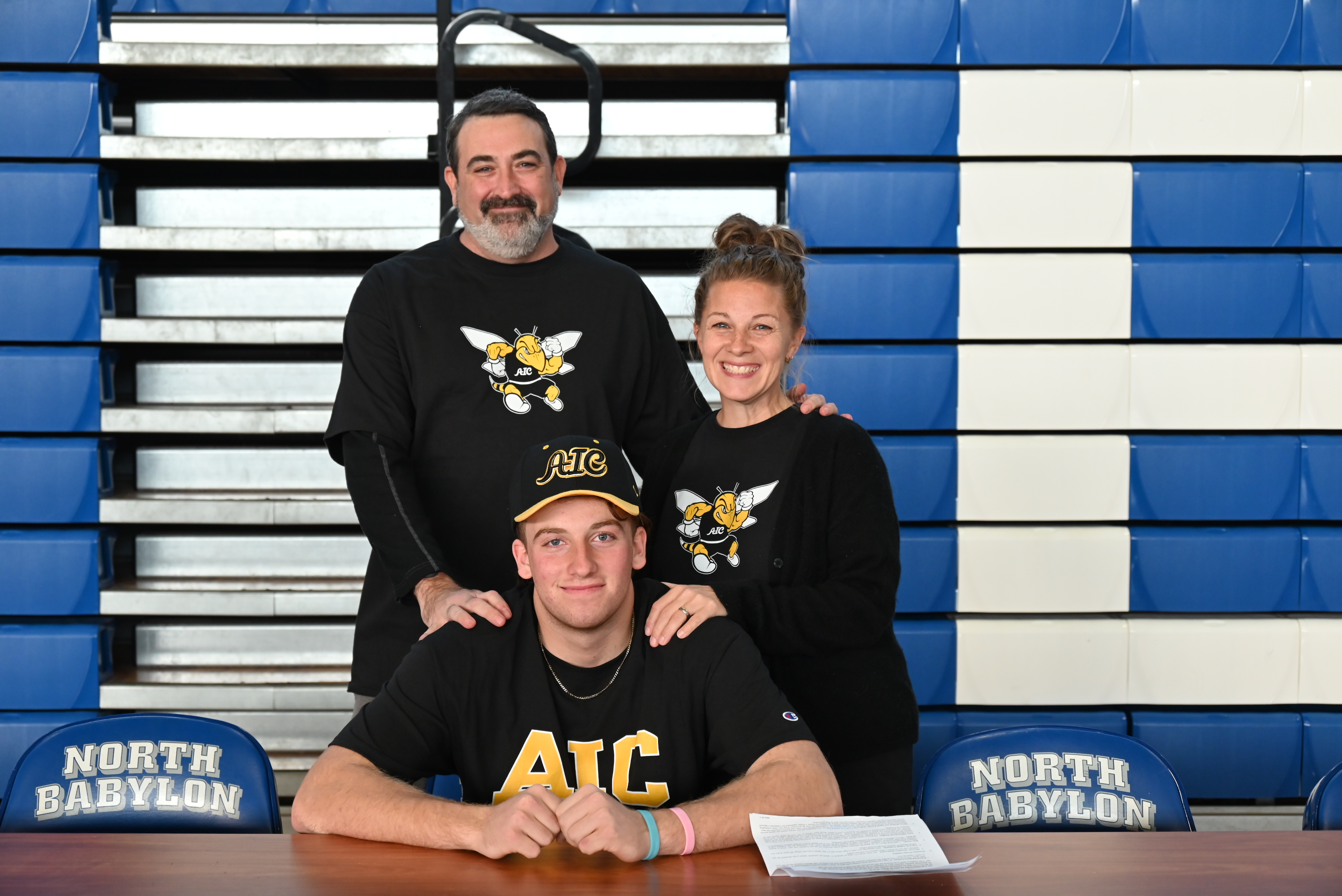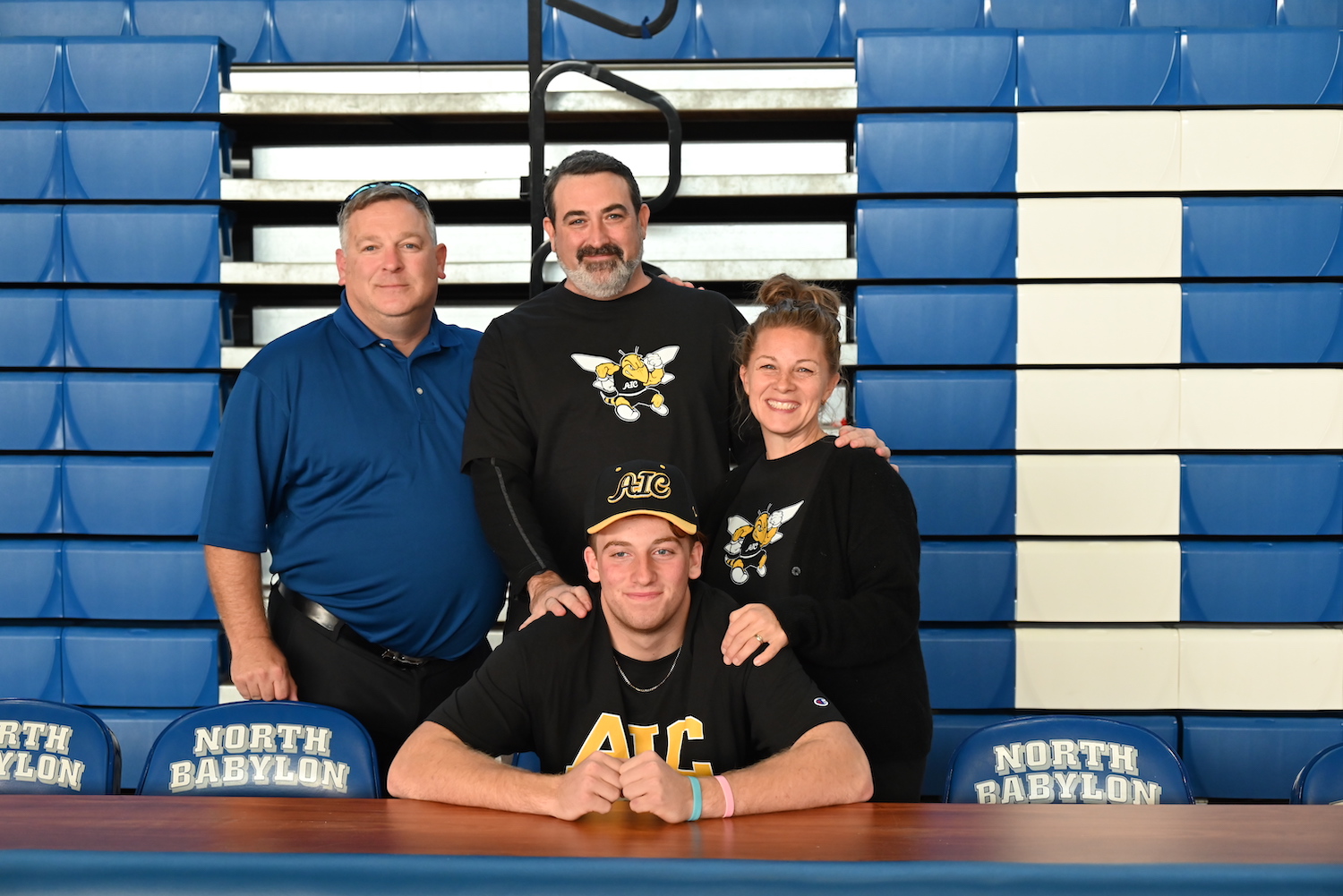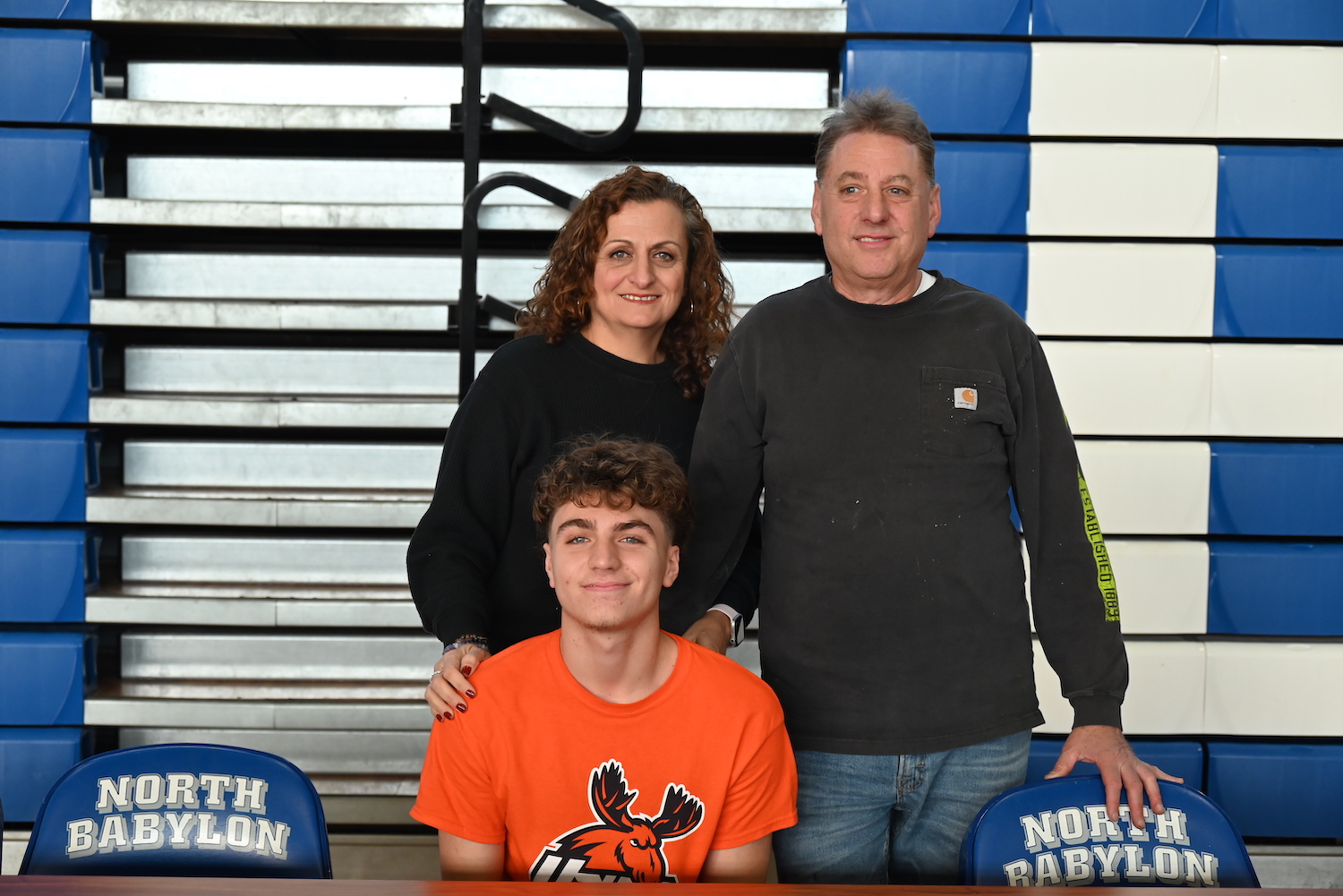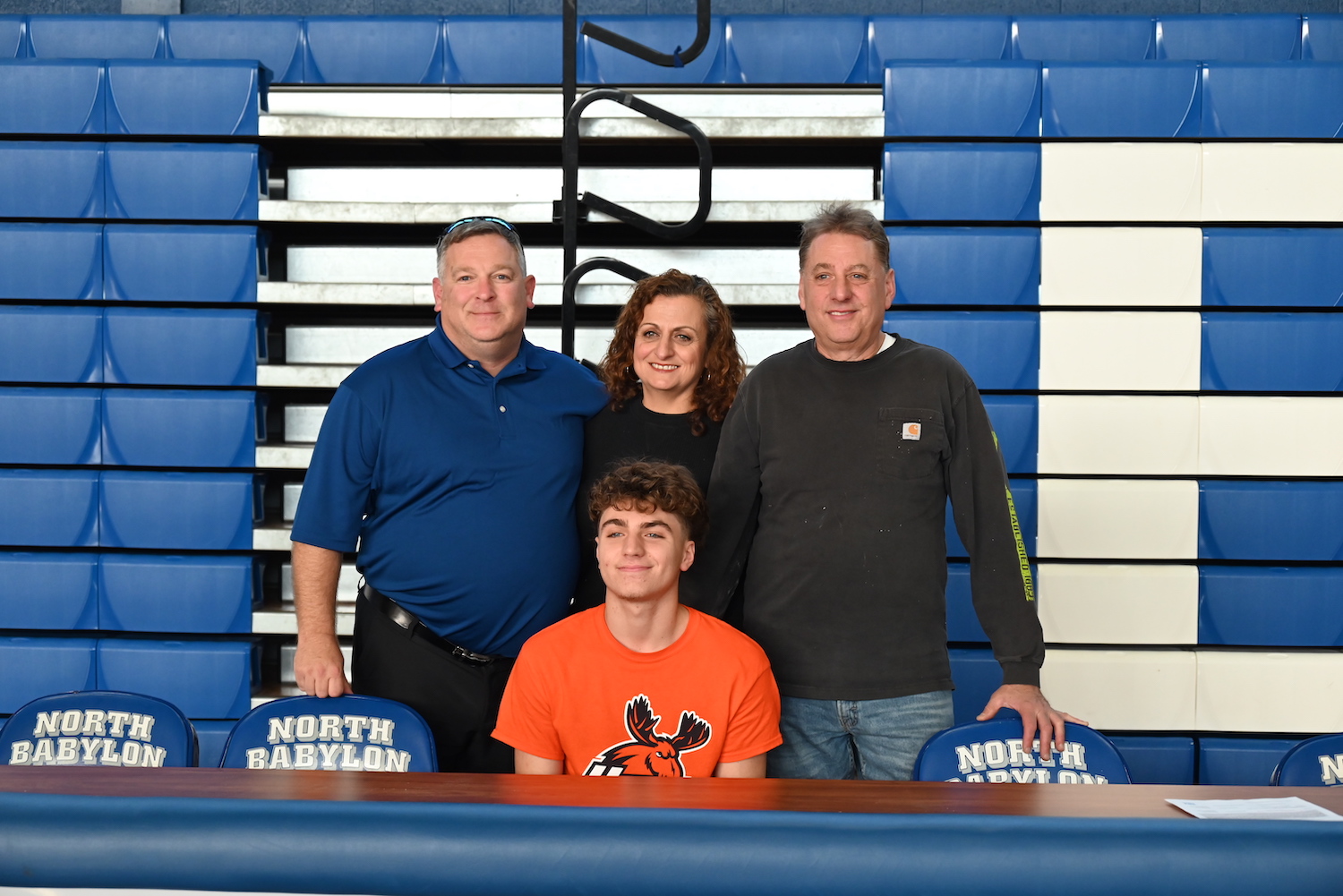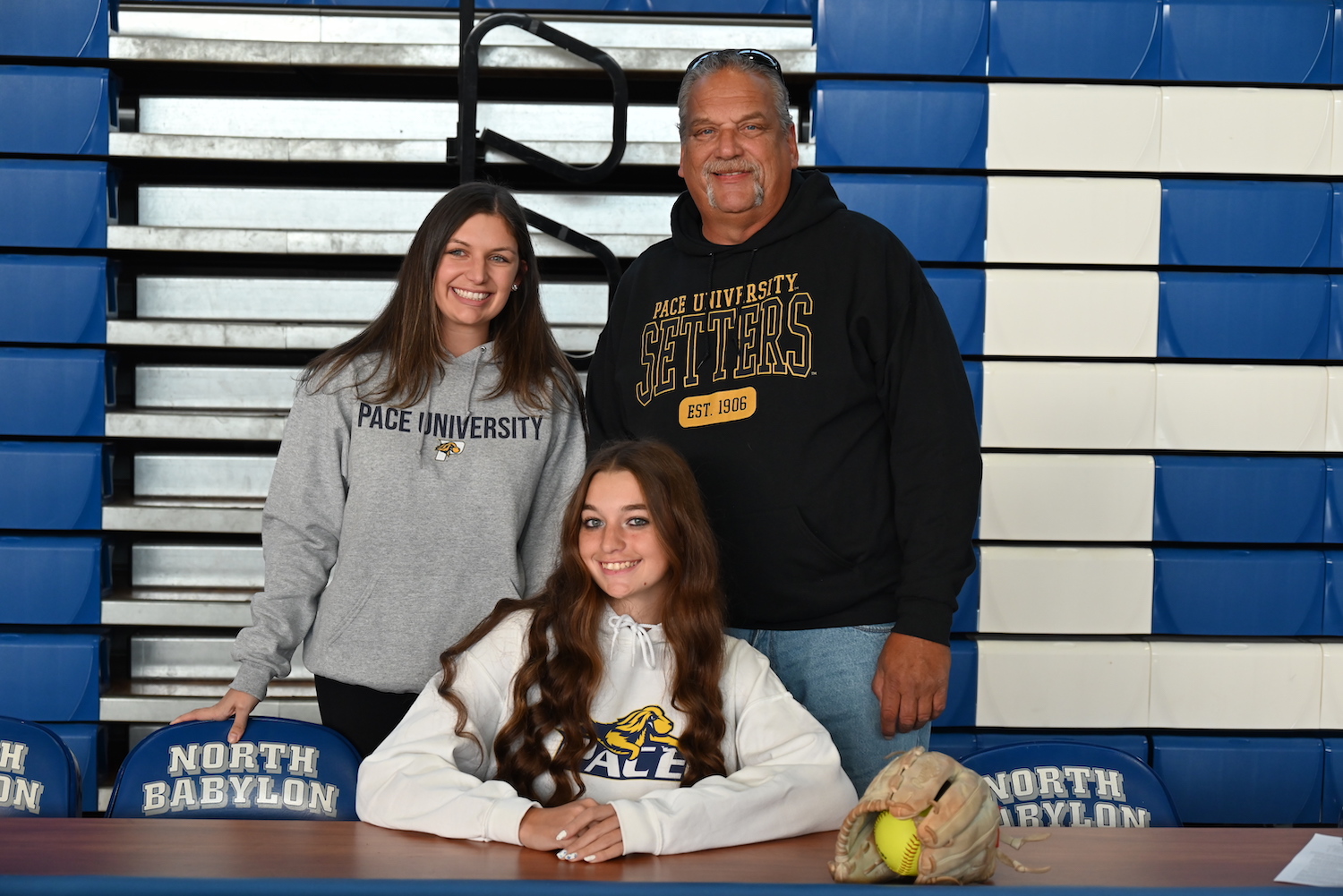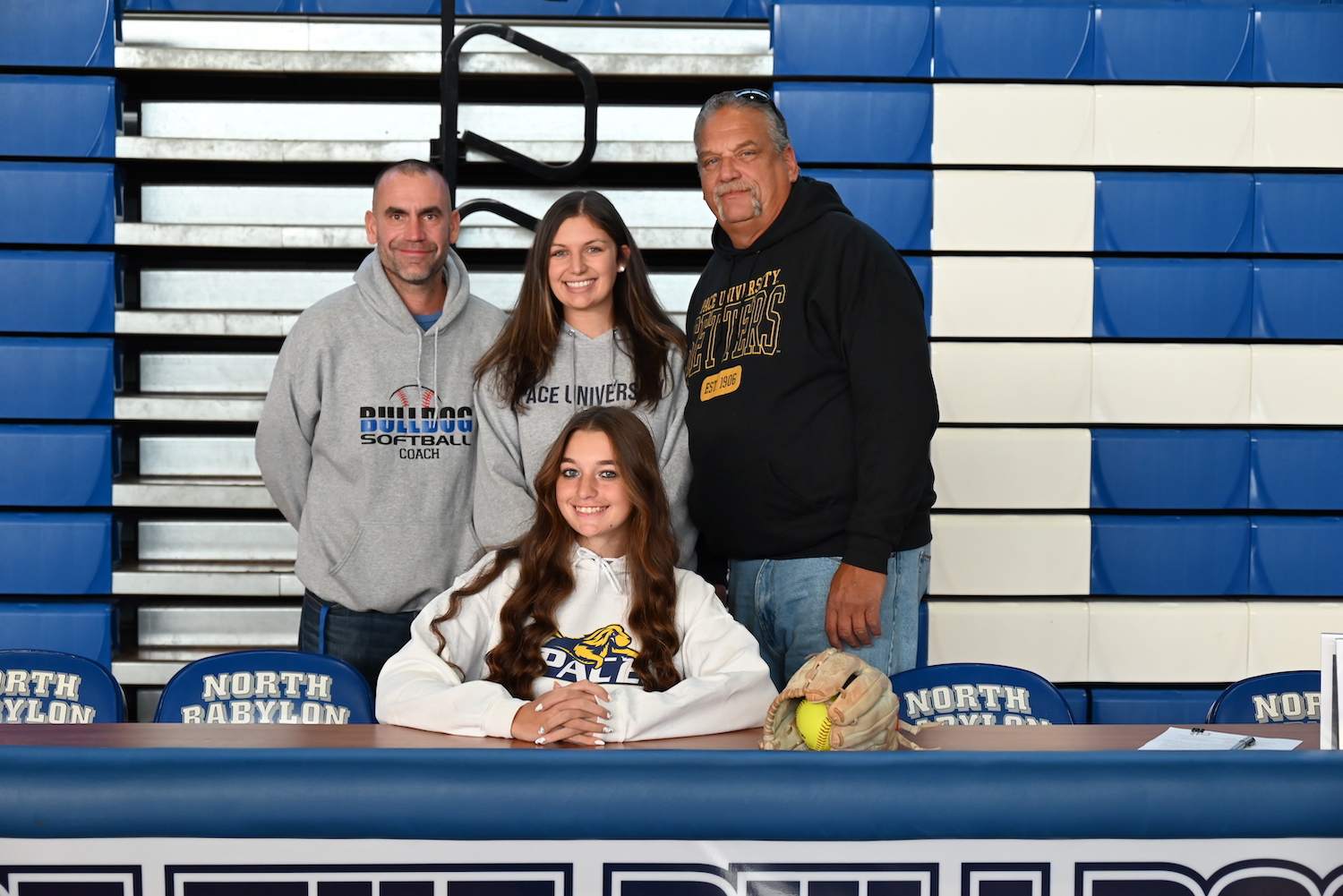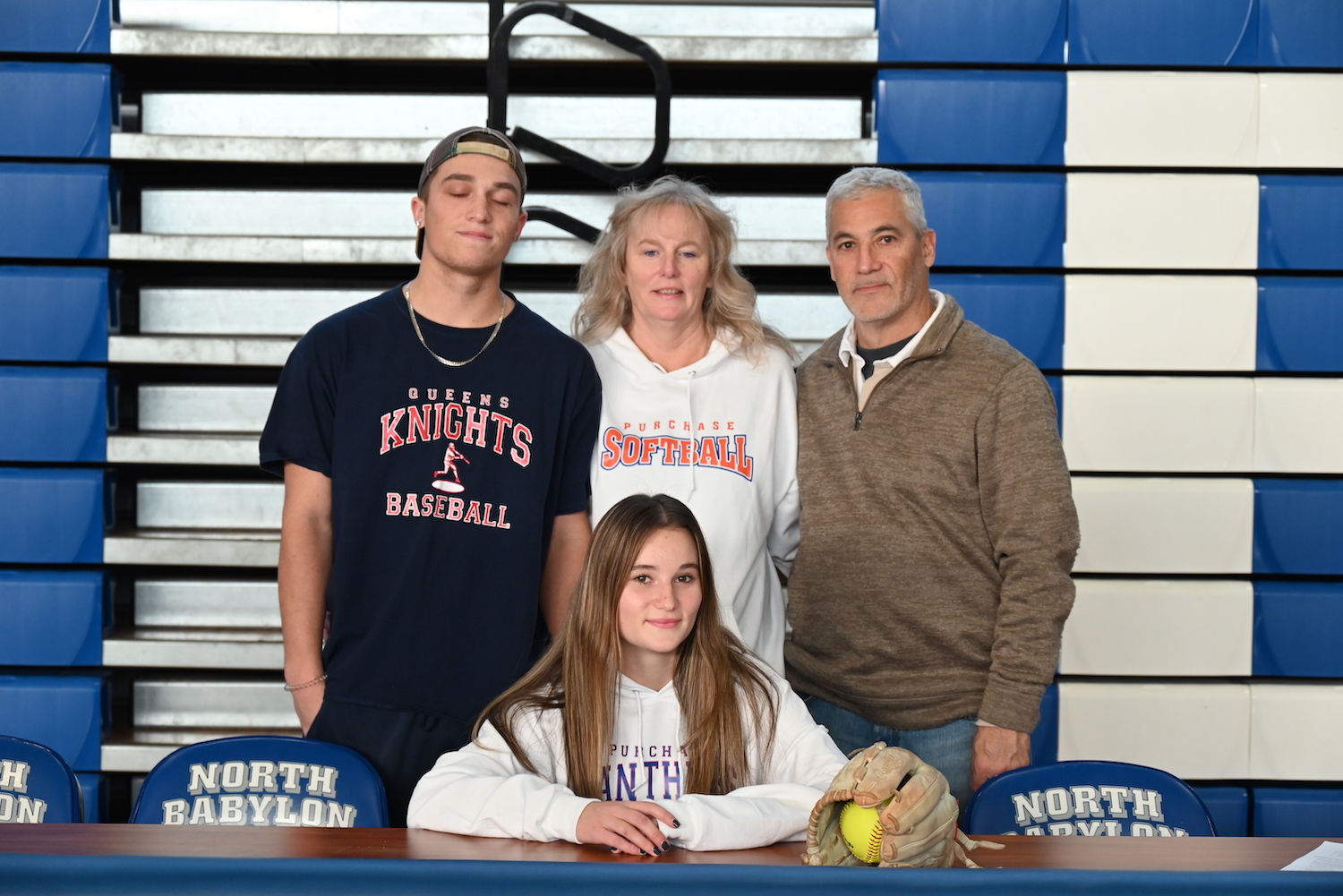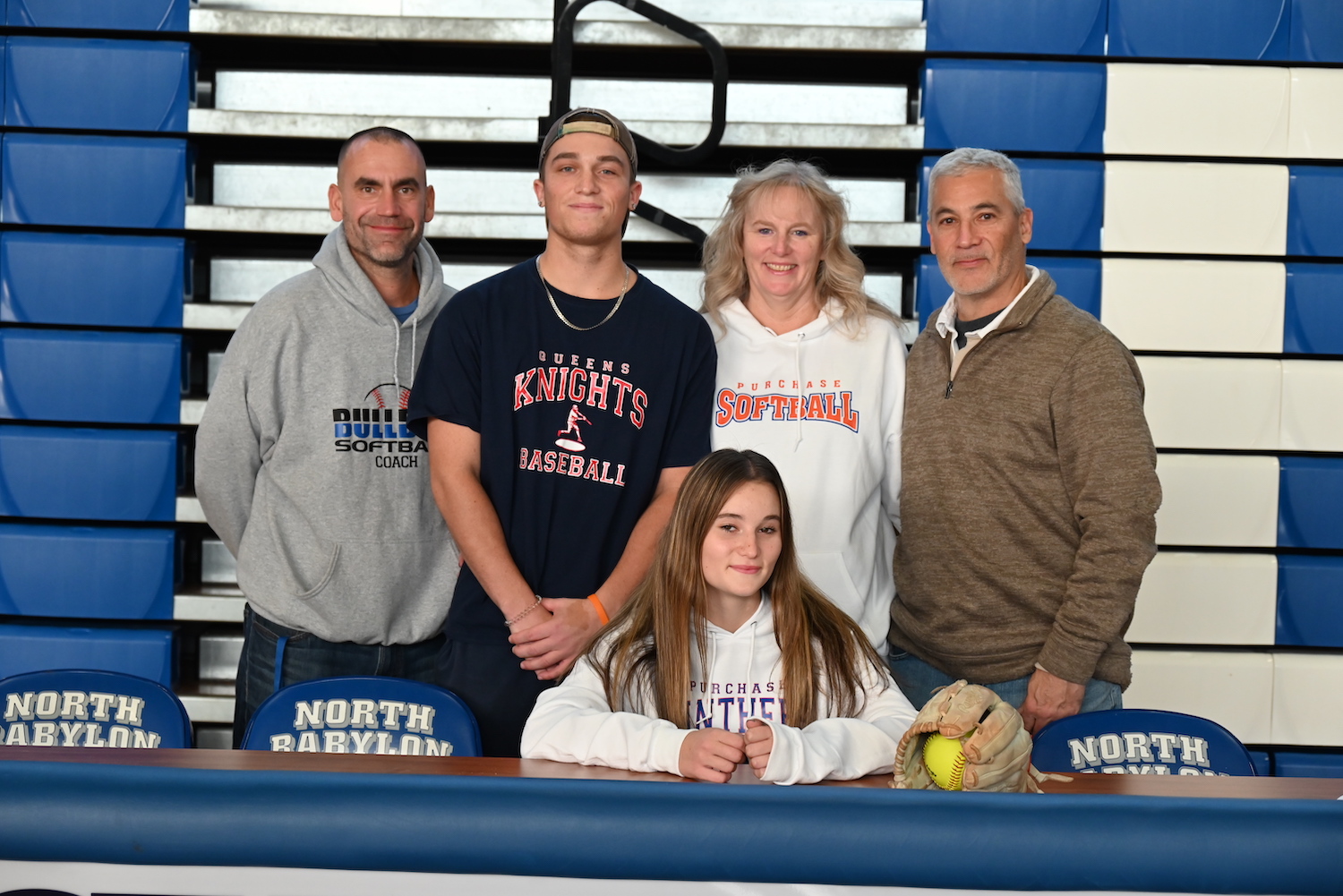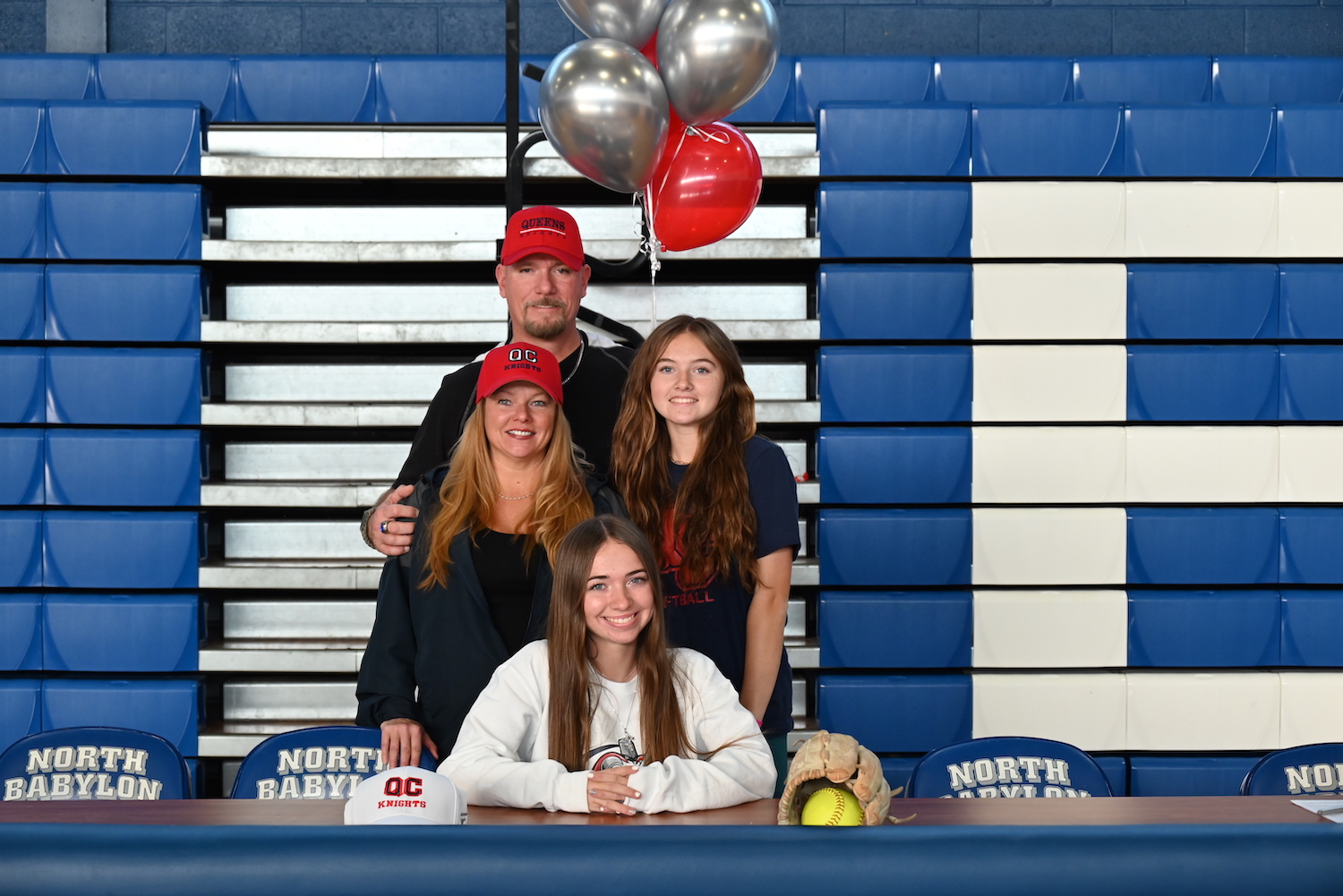 Grateful Gathering at Woods Road
Fourth graders at Woods Road Elementary School celebrated the upcoming Thanksgiving holiday with a gratitude and gratefulness gathering on Nov. 22. Joined by family members, the students spent the morning playing tic tac toe with each square representing something for which they are grateful. Afterward, the students and their guest crafted gratitude jars to be filled with different reasons they are thankful each day.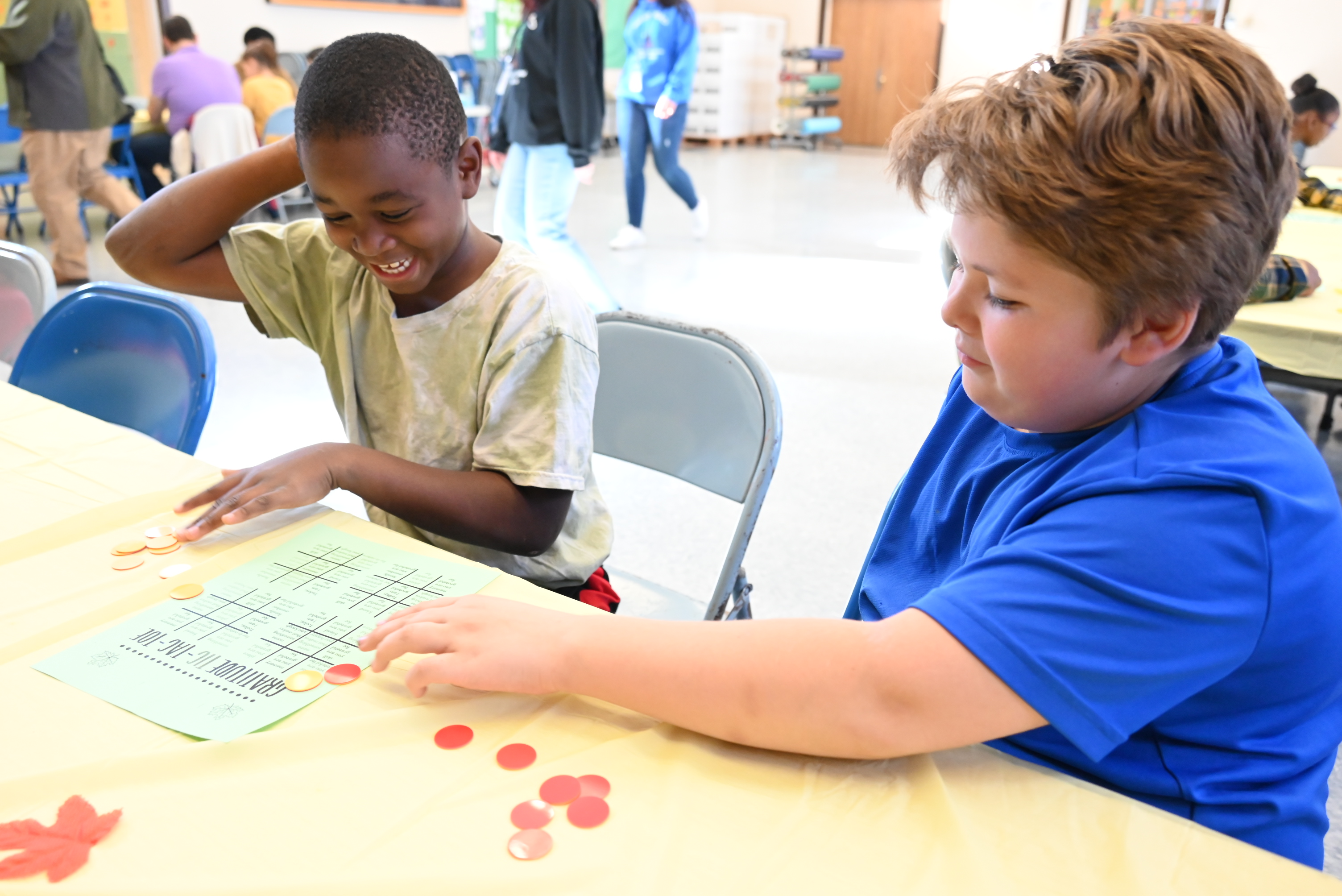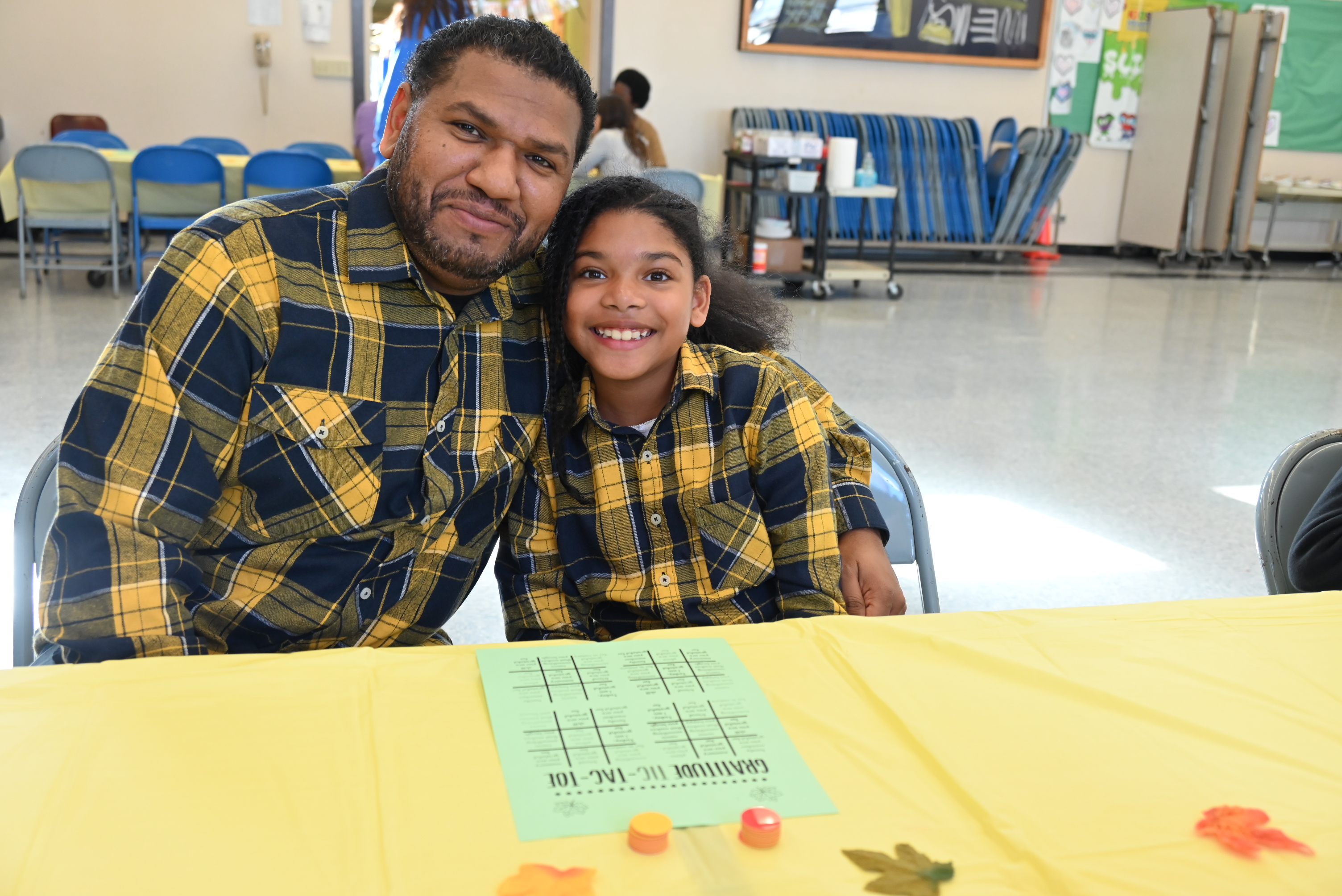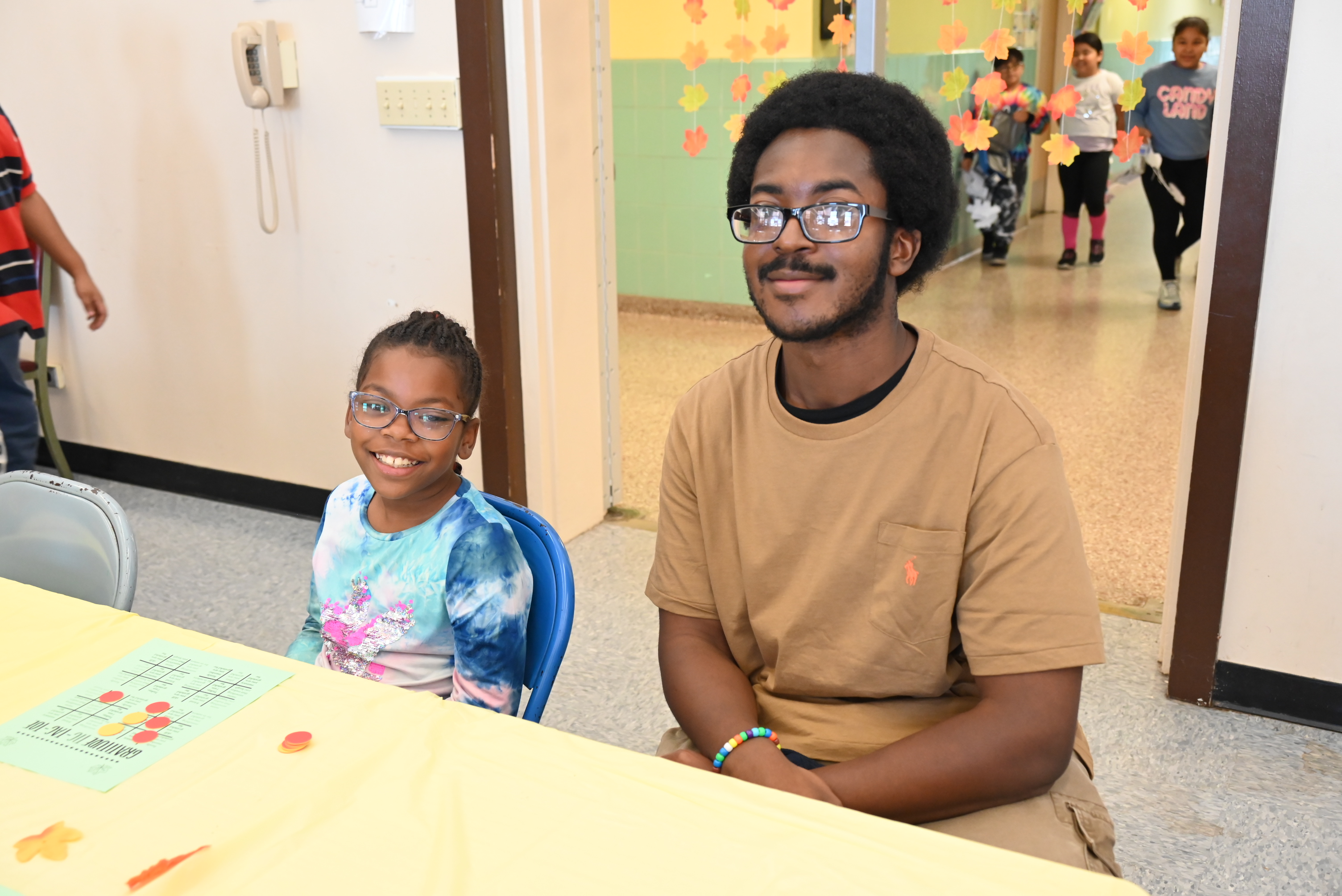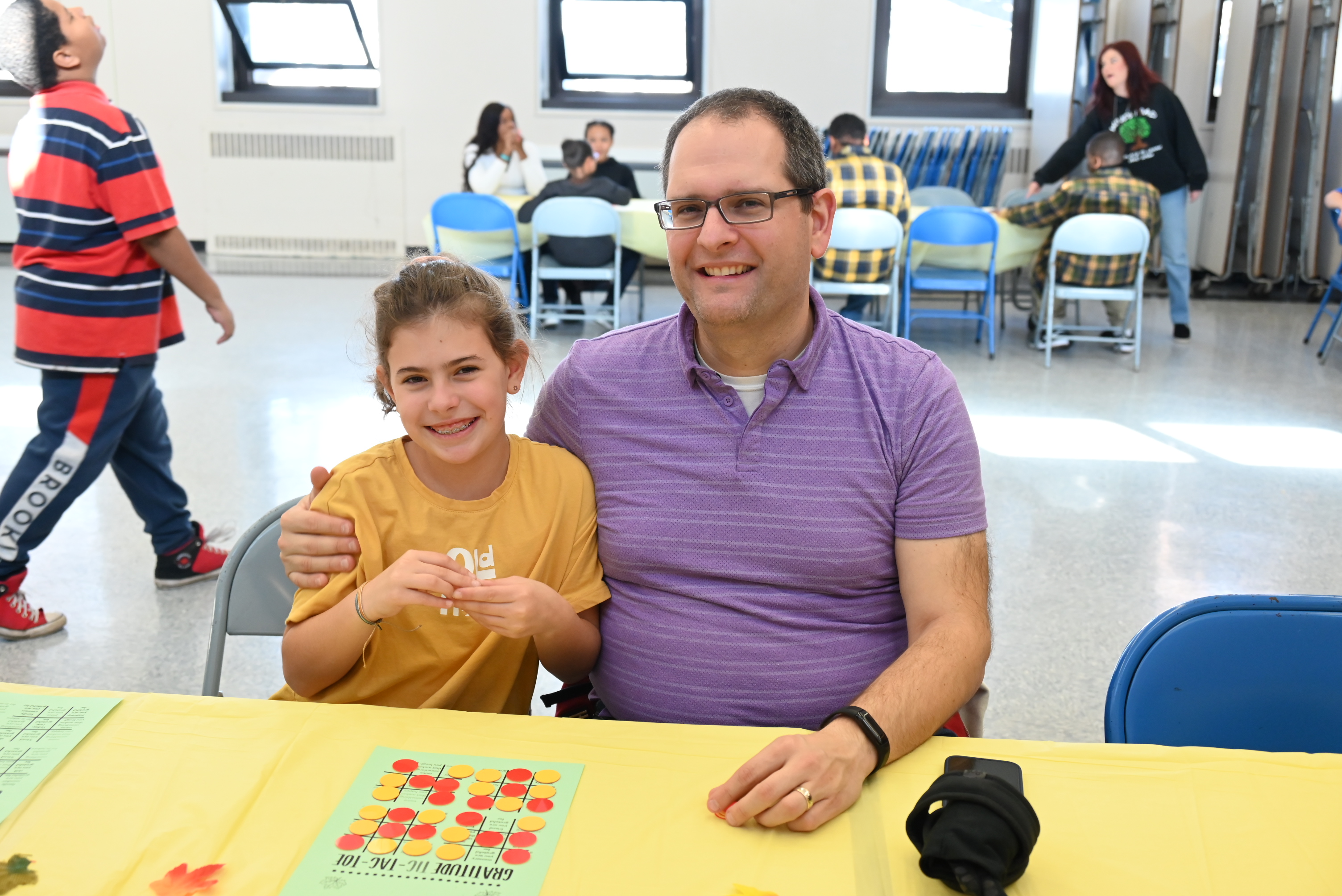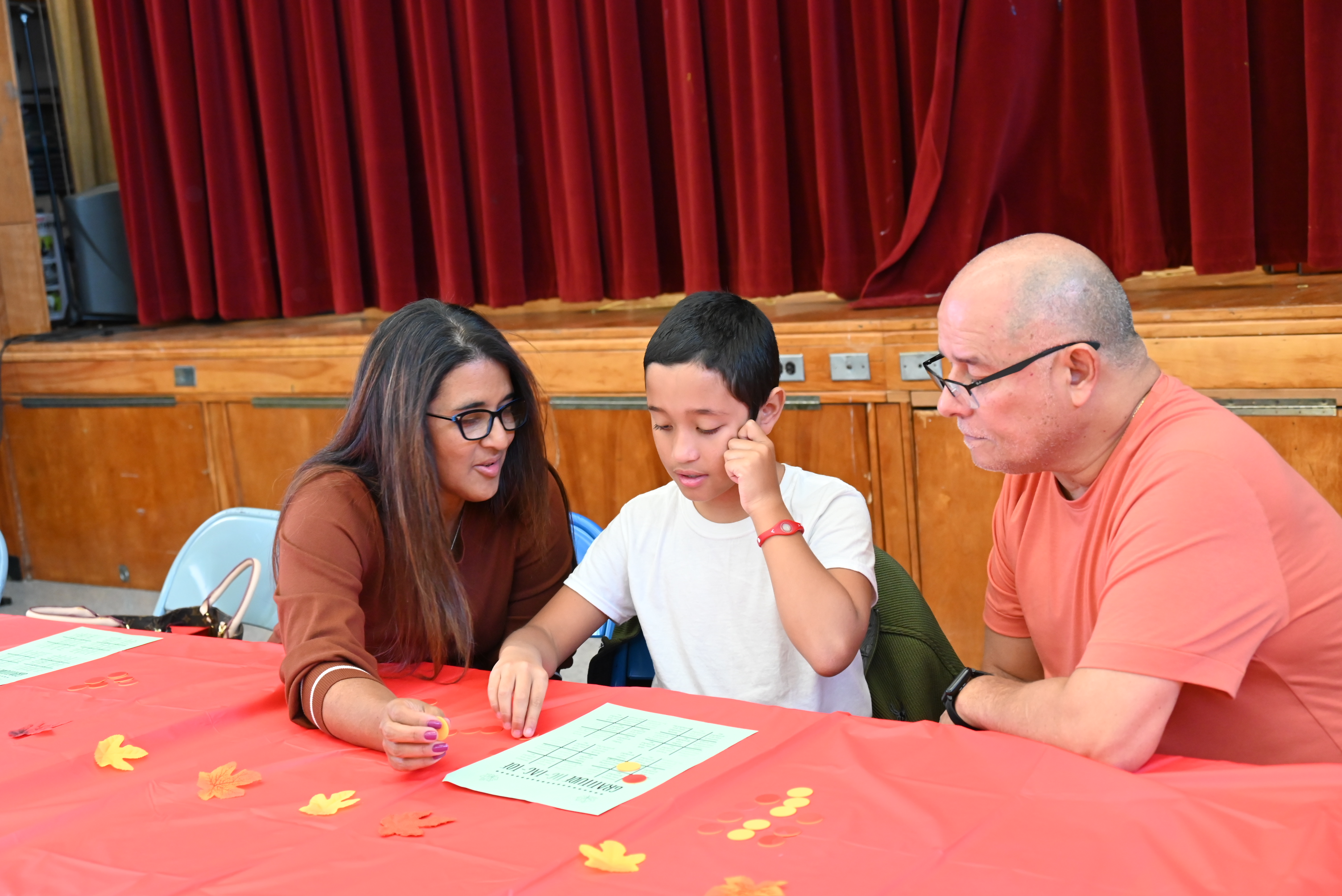 Stephanie Hasandras Named Principal at Robert Moses
North Babylon School District has appointed Stephanie Hasandras as principal of Robert Moses Middle School, effective Sept. 14.
Ms. Hasandras most recently served as the assistant principal at Robert Moses Middle School since 2017 as well as co-principal of the district's RISE alternative high school. She previously worked as an assistant principal at the Henry Street School for International Studies in New York City.
Board of Education President Matthew Lucchetti said, "Ms. Hasandras is a dedicated leader who has worked diligently over the past eight years in service to the North Babylon School community as the assistant principal at the high school and the middle school. Her passion and vision to lead the school will ensure that all students feel safe, secure and most of all, valued to reach their fullest potential. We are looking forward to seeing all that the Robert Moses Middle School will achieve under Ms. Hasandras leadership."
Ms. Hasandras holds a bachelor's degree in secondary education from SUNY Stony Brook and a master's degree from Cambridge College. She also has an advanced certification in administration and supervision from Touro College.
"Words can never express how truly humbled and excited I am to serve all the students, staff, parents and every member of our learning community," Ms. Hasandras said."I look forward to working with my Robert Moses family in moving the school to the next chapter of our shared story together. I truly believe this is our time."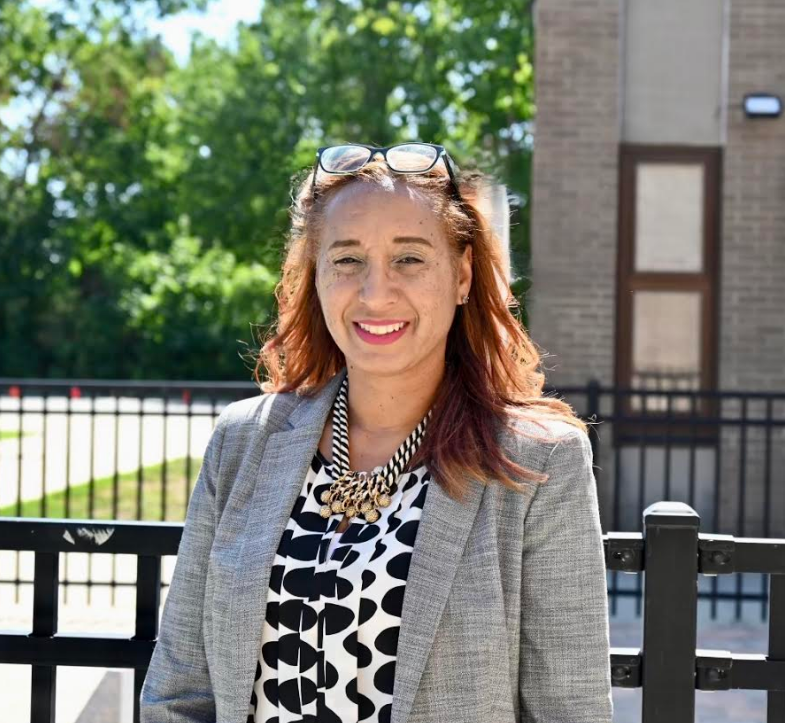 North Babylon Appoints New Director of Guidance
North Babylon School District has appointed Stephen Dombo as its new director of guidance, effective Oct. 17. Prior to joining North Babylon, Mr. Dombo worked as a guidance counselor at the West Babylon Senior High School since 2010. He also served as the assistant director for night school and adult education for the West Babylon School District. He has prior experience as a guidance counselor at Holy Trinity Diocesan High School.
Mr. Dombo holds a Bachelor of Arts in history from SUNY Cortland and a master's degree in education/school counseling from Hofstra University. He also possesses an educational leadership certification from SUNY Stony Brook. "I am excited for my new role in the North Babylon School District, and I look forward to working with the entire community," he said.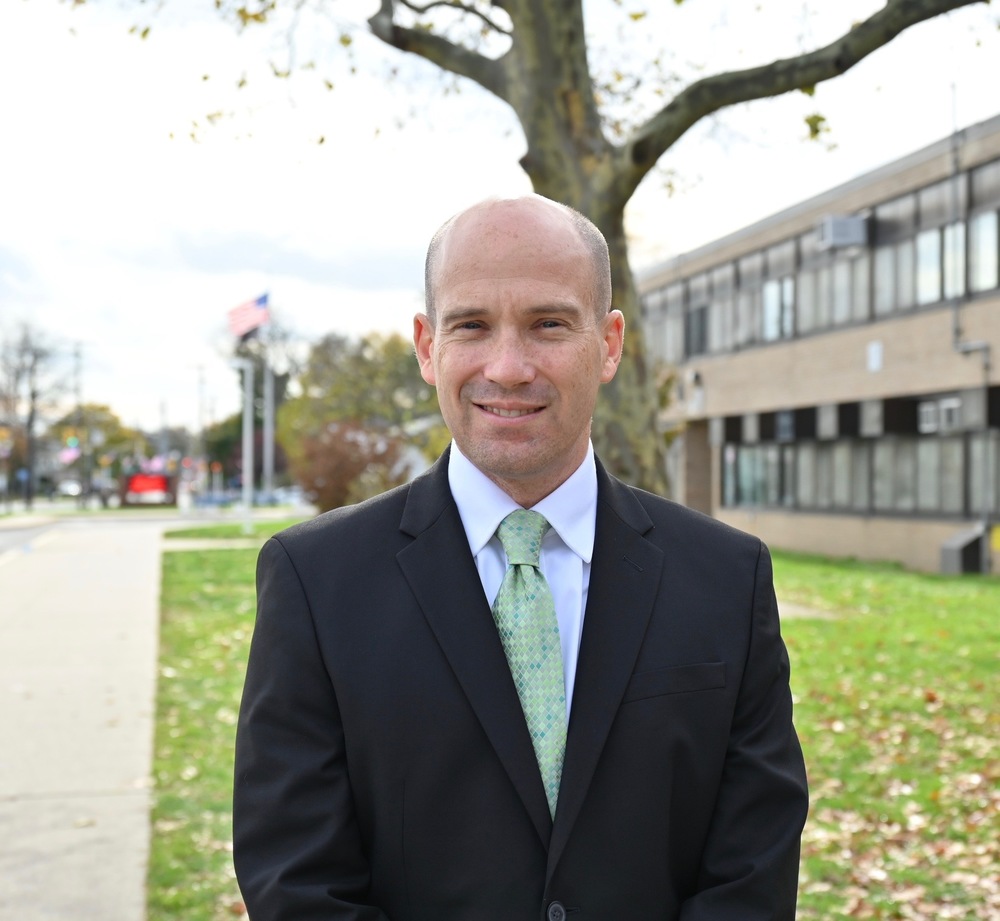 Woods Road Pays Tribute to Veterans
Woods Road Elementary School paid tribute to veterans with a ceremony held at the school on Nov. 9. Sailor Dabney Brignoni shared words with students about being kind and how they are the future. North Babylon interim Superintendent of Schools Dr. Larry Aronstein spoke about the history of Veterans Day and the bravery of the men and women who join the armed forces. Councilman Terence McSweeney echoed the sentiments of Dr. Aronstein and spoke about the bravery of soldiers.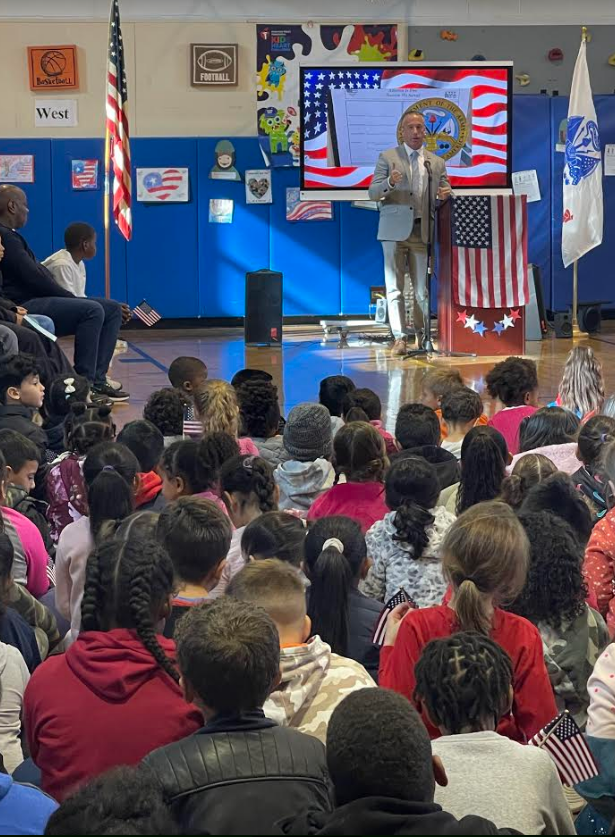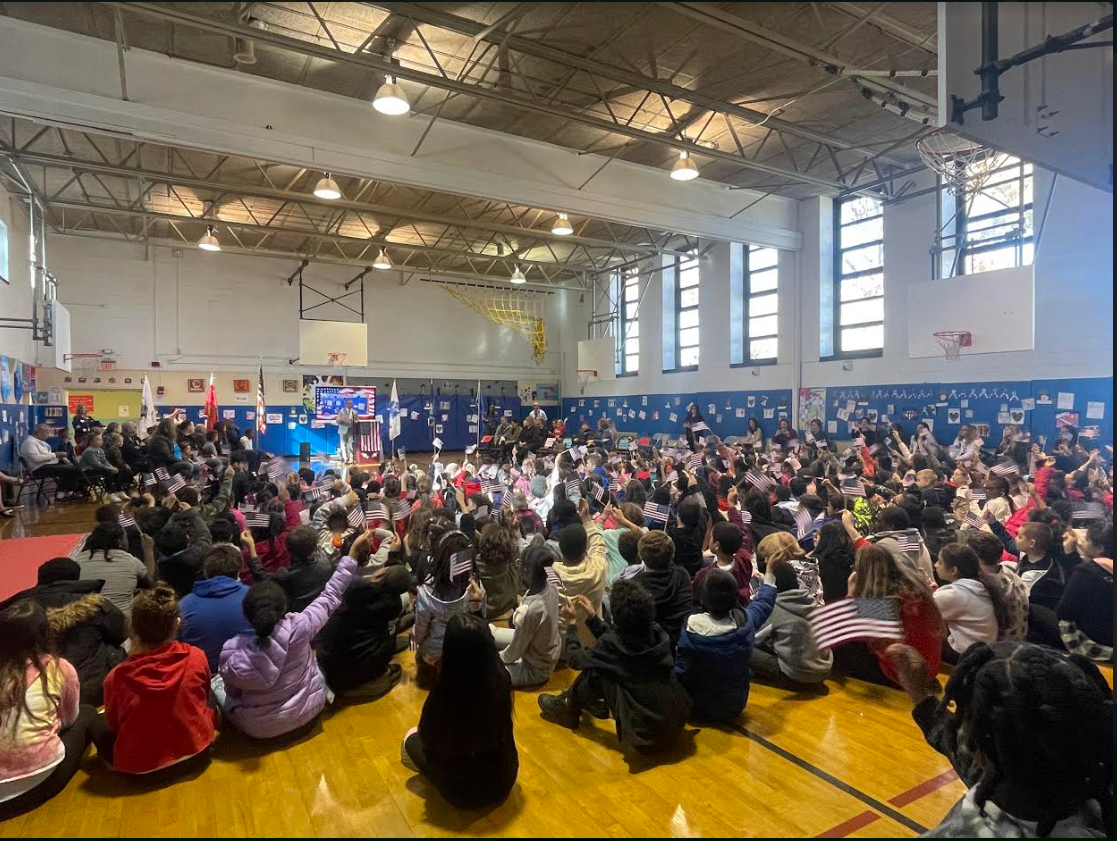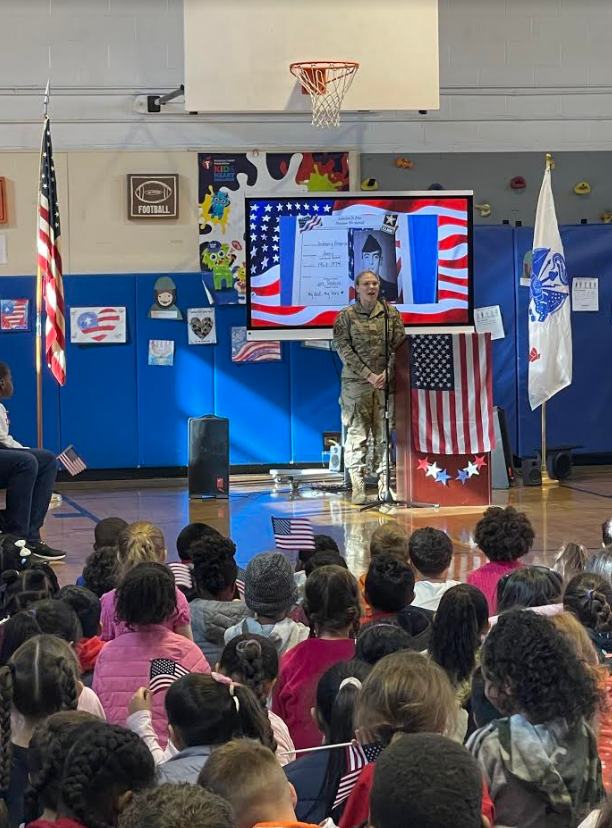 Lessons in Fire Safety for Elementary Students
Students at William E. DeLuca Elementary School had a special visit from the volunteers at the North Babylon Fire Department on Nov. 7. Students learned about fire safety and prevention, as well as what firefighters look like with all their gear. The students visited the fire safety trailer, where they could safely climb out of a window. The fire department parked multiple emergency vehicles outside the school for students to tour and learn about their different functions.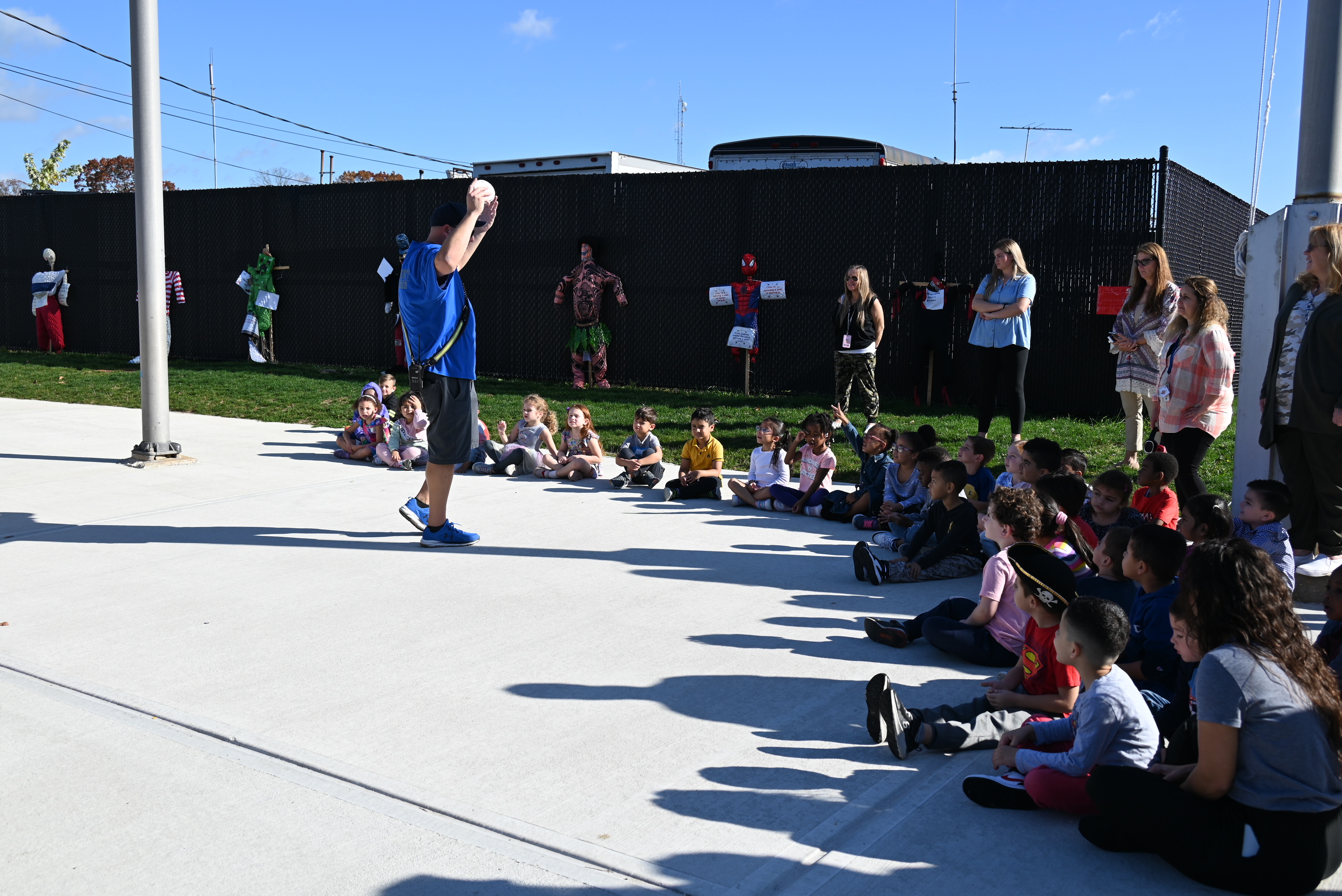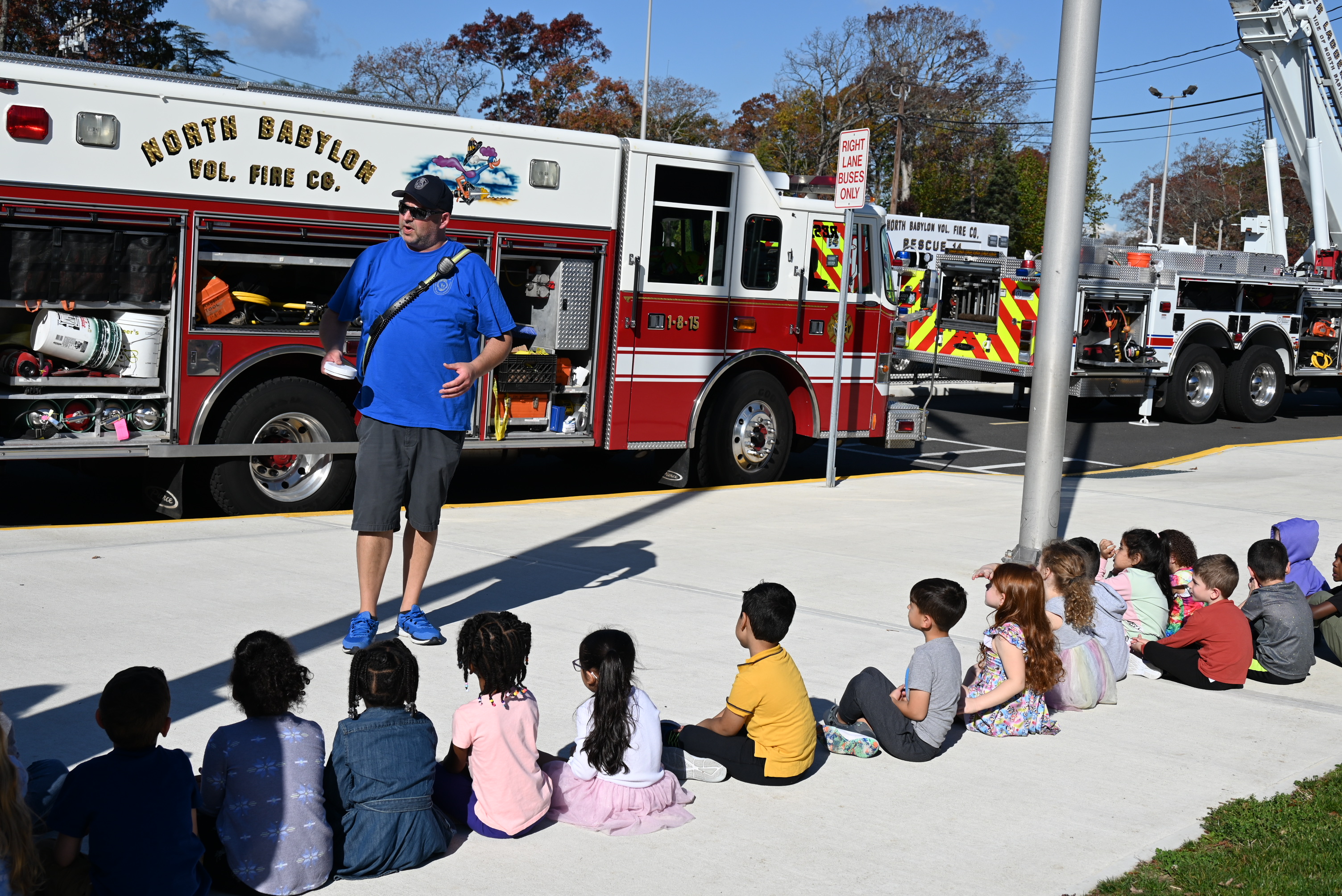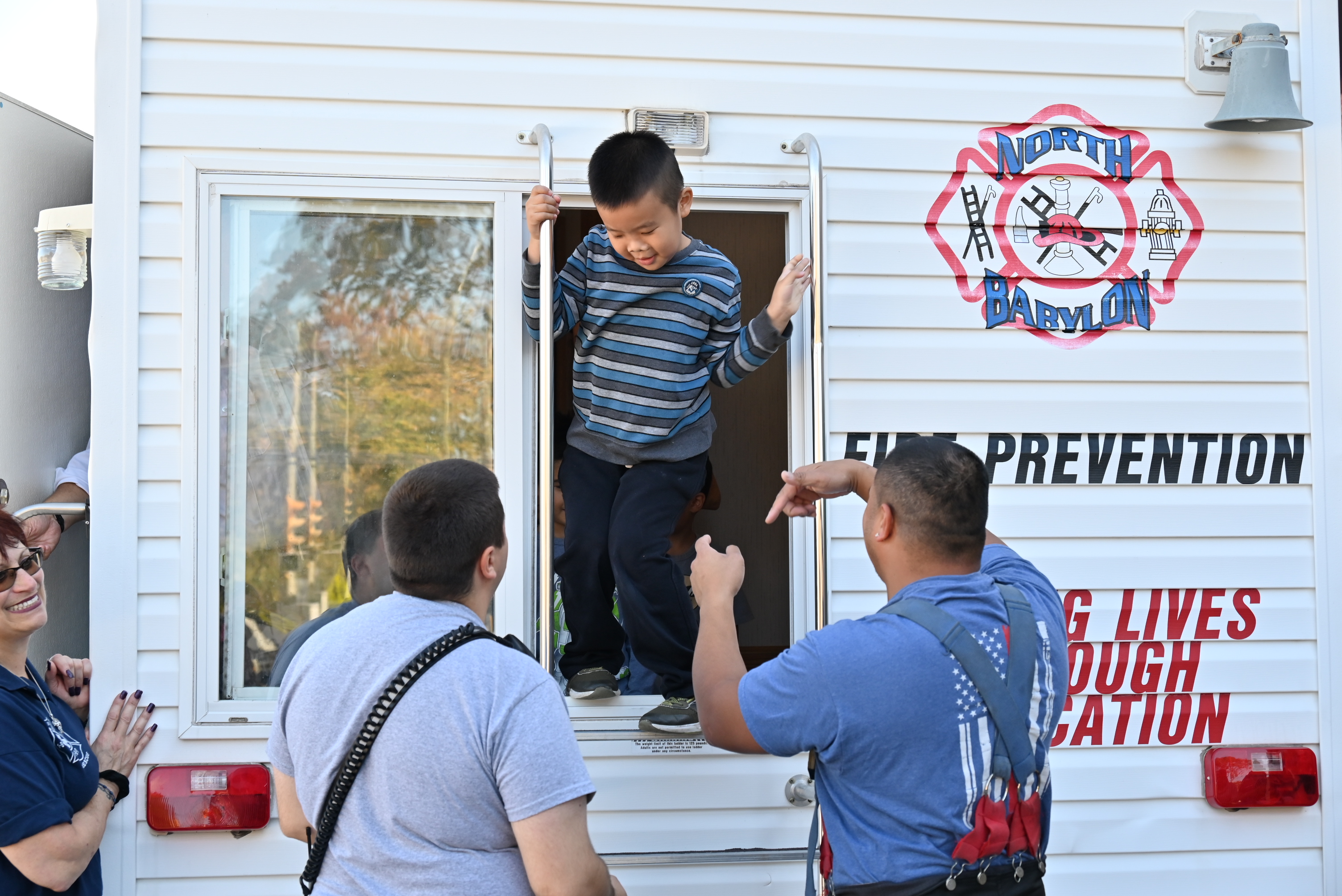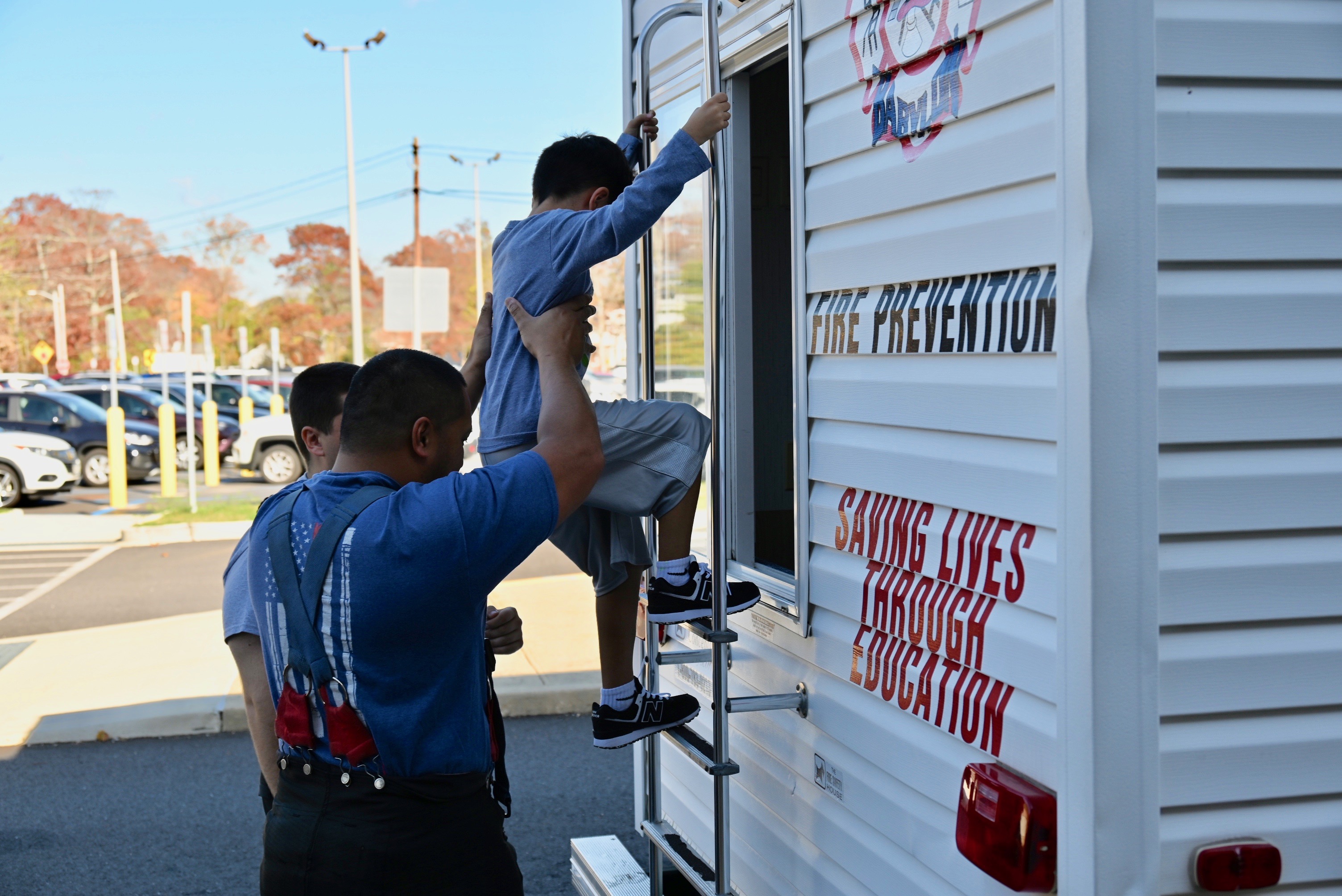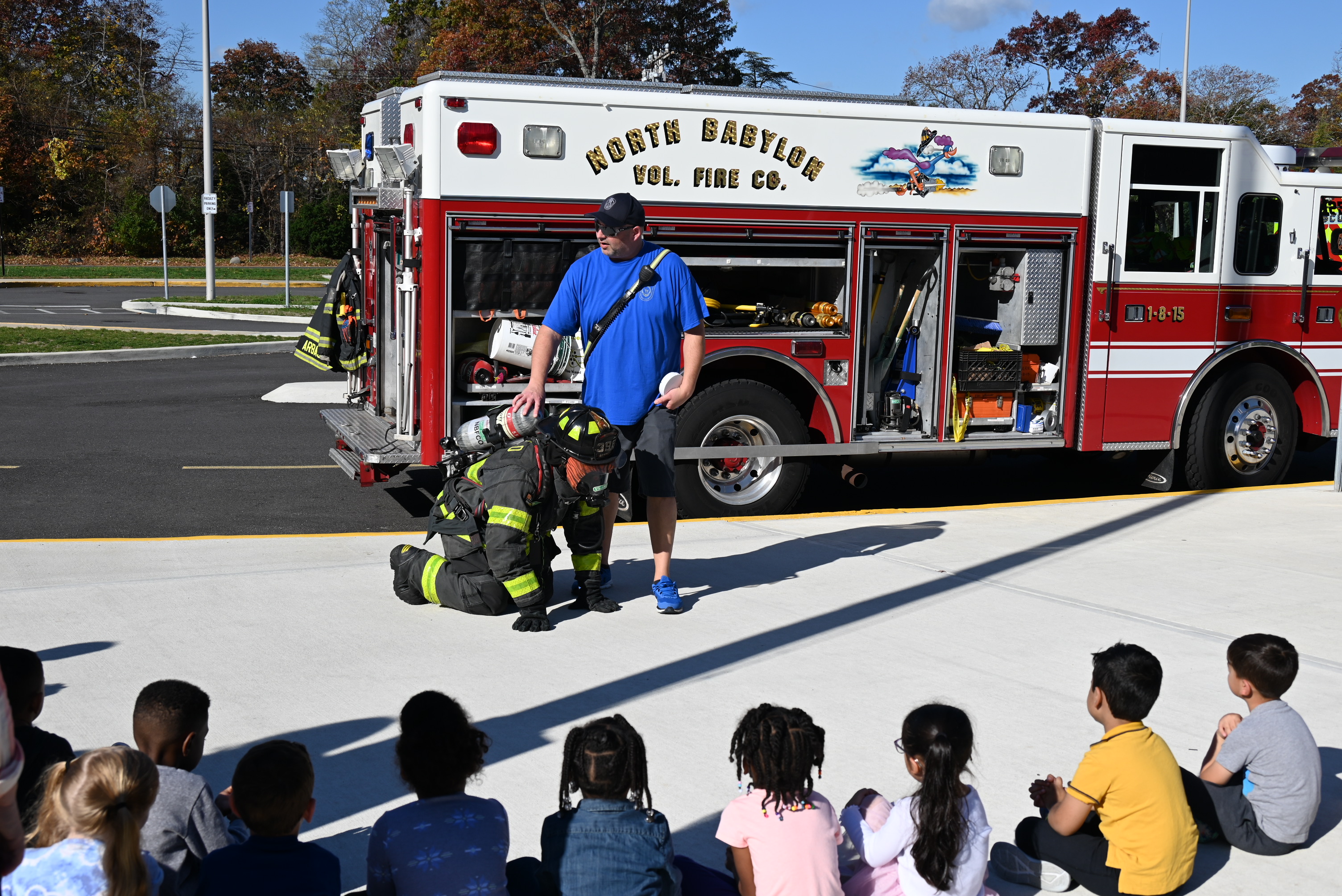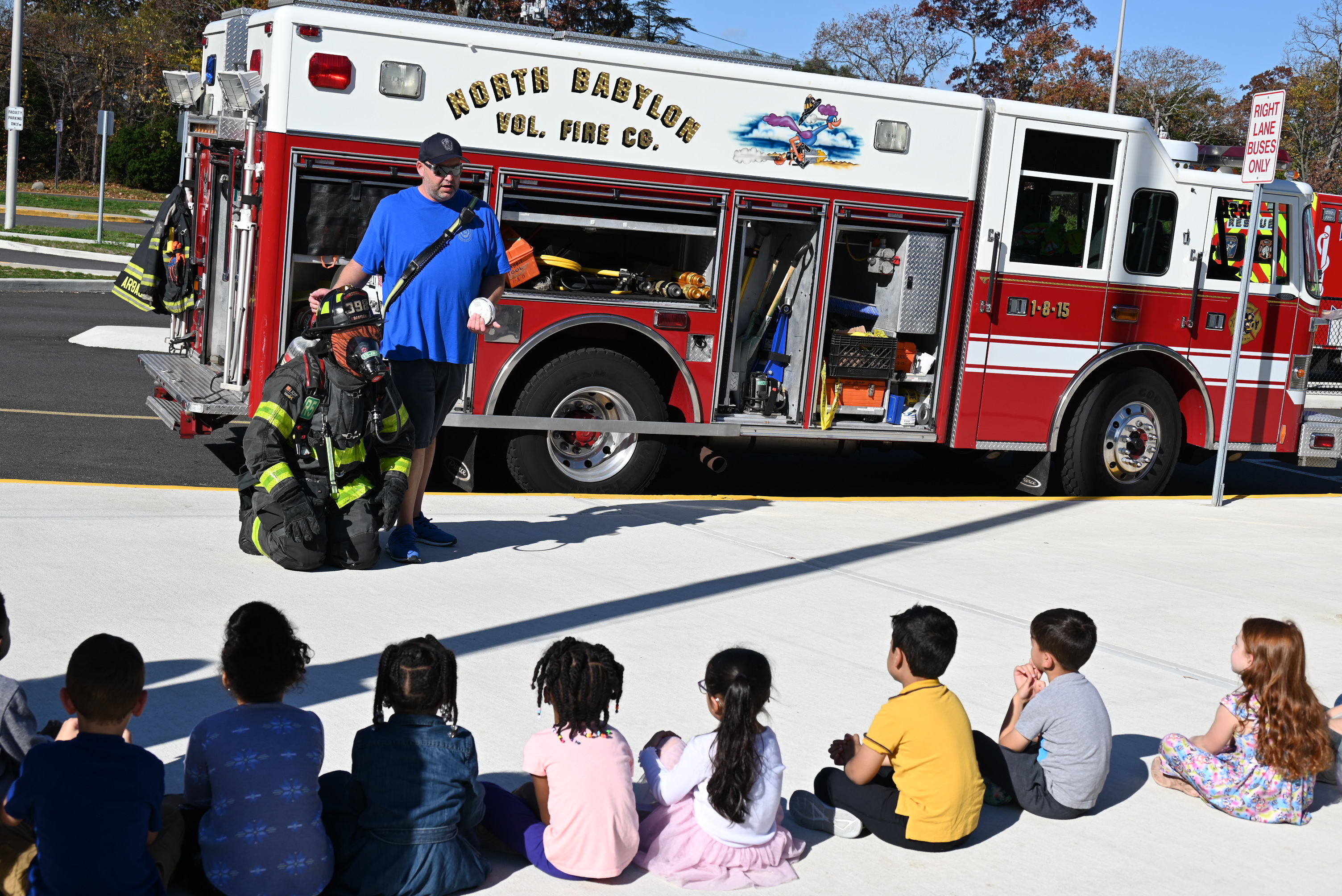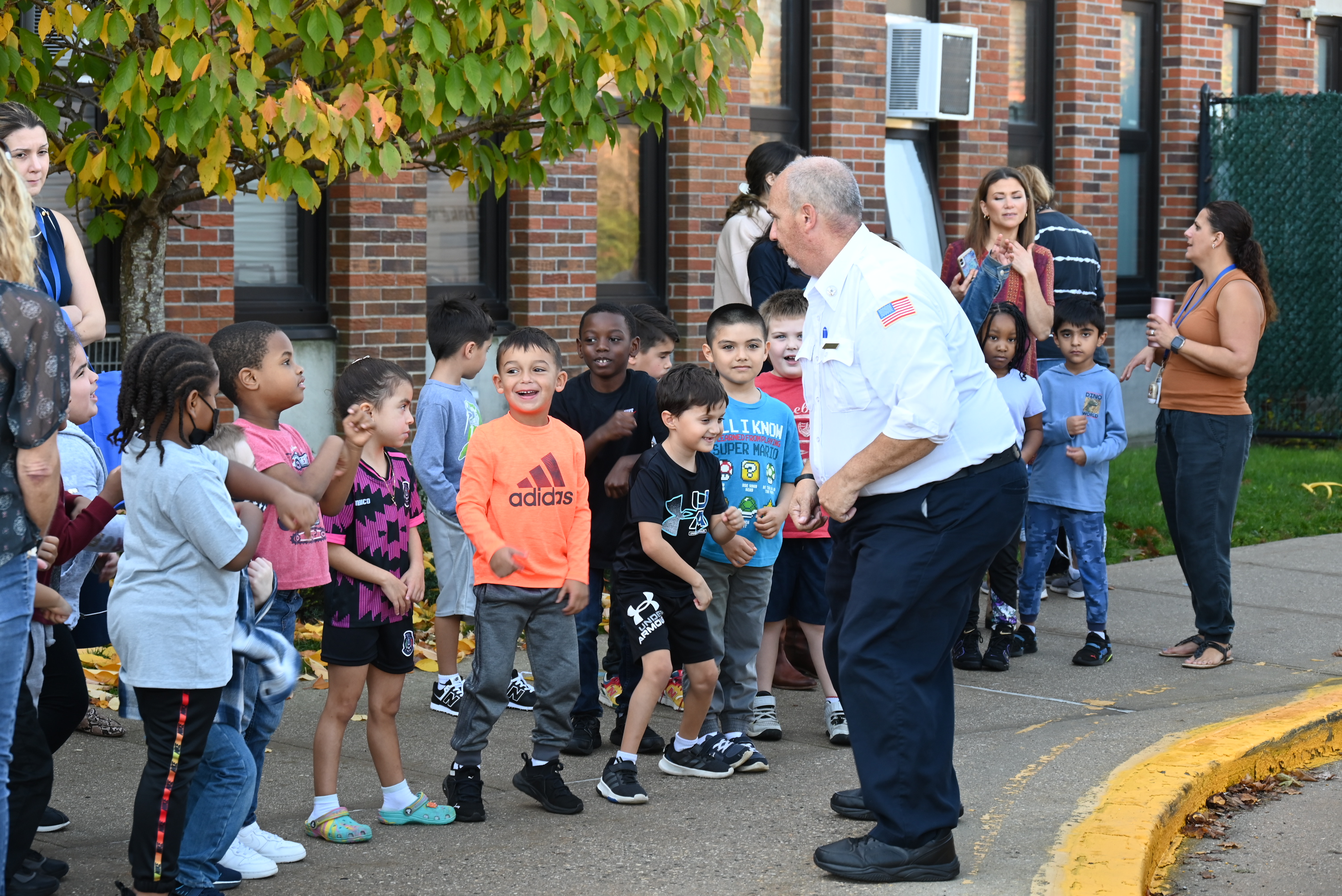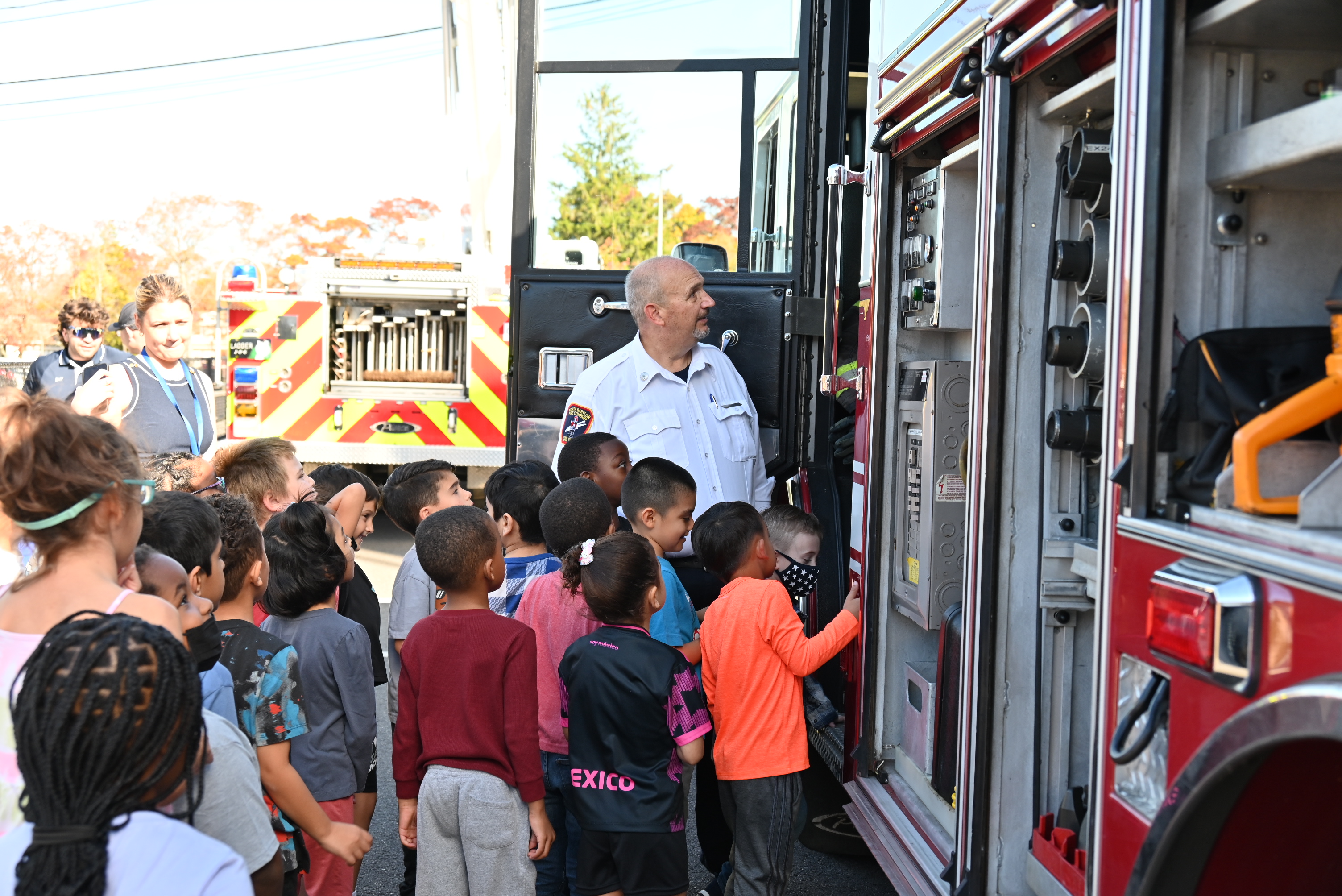 Celebrating Language at Family Night​
North Babylon School District's world language department held an English as a New Language and Dual Language Family Night on Nov. 1 at North Babylon High School. Families were offered a host of informational sessions throughout the evening. Volunteers from the National Honor Society and bilingual student volunteers helped to translate and guide guests though the evening.
Following a brief welcome by North Babylon Director of English as a New Language and World Language Director Gaetano Vaccaro, families had the option to attend four of workshops throughout the evening led by community groups including Ona Long Island Immigrant Community Navigator, the Long Island Regional Bilingual Education Resource Network, the Health and Welfare Council of Long Island, Long Island Crisis Center, La Fuerza Uida and Suffolk County Community College.
While parents attended any of the informational sessions, students had the opportunity to engage in literacy skills, dancing, coloring and more. Prior to dinner, students presented songs and dances to the audience. The kindergarten and first graders performed "Soy Una Taza" and second grade presented "Soy Huesitos." The third graders closed out the performances with "Soy Bilingue."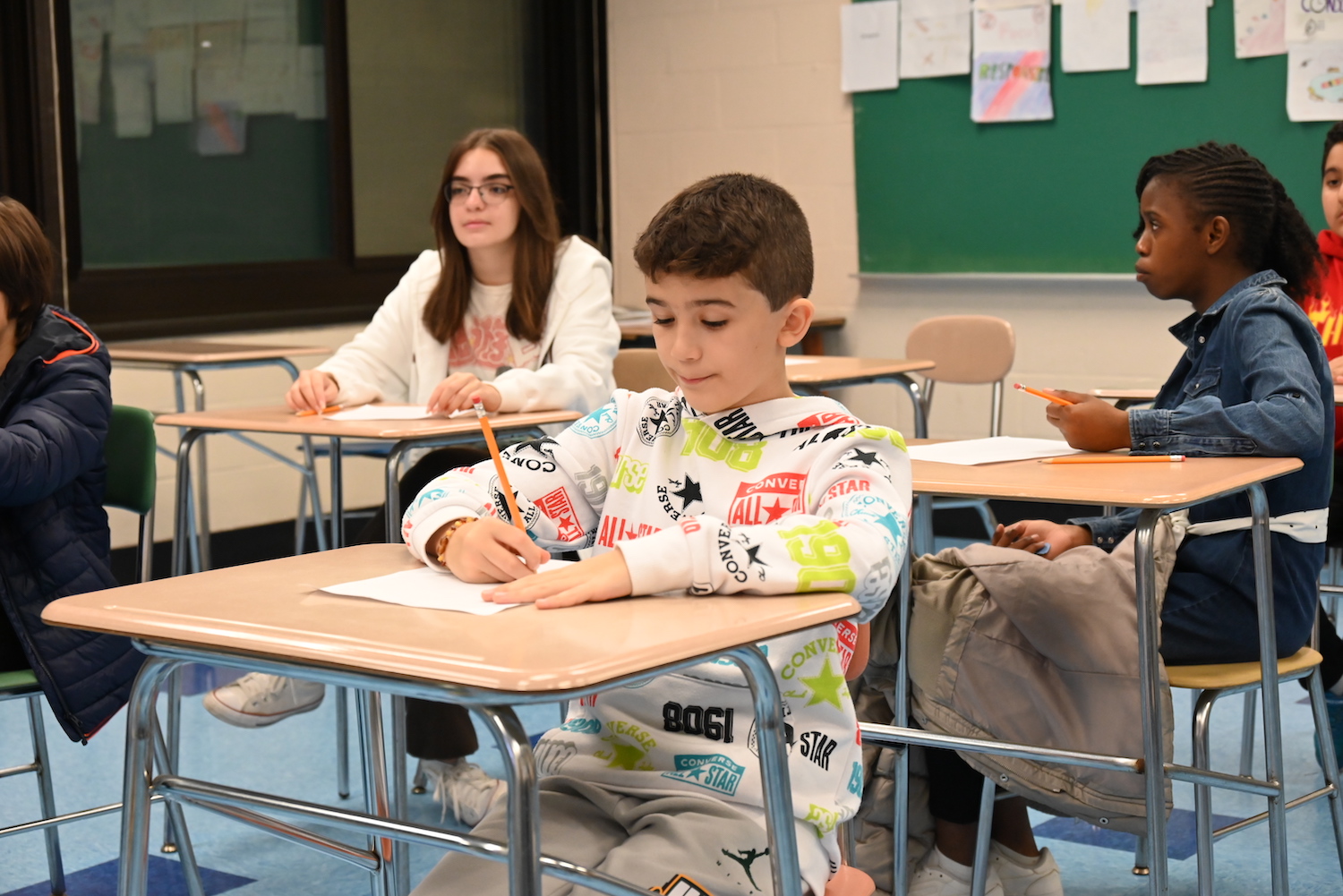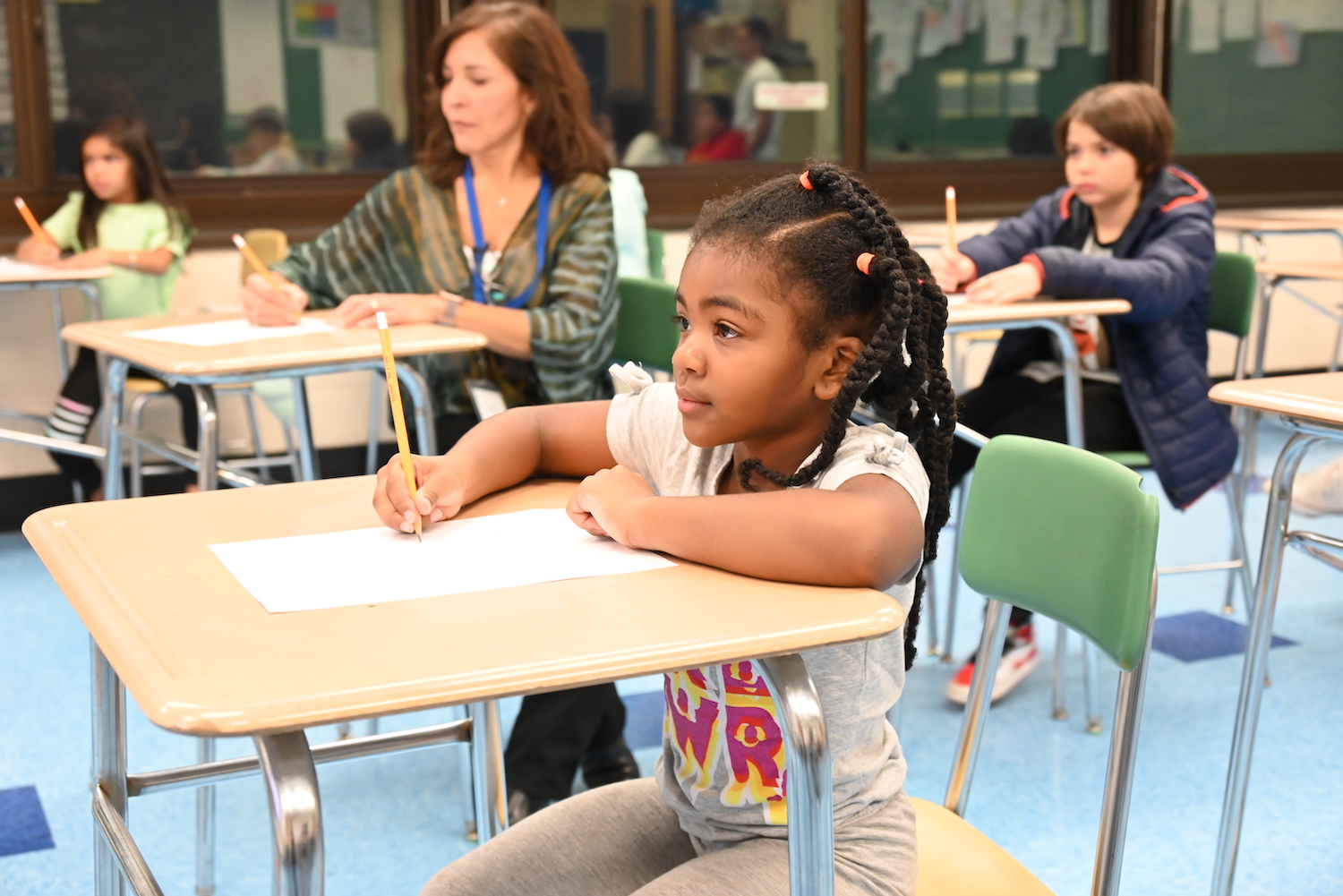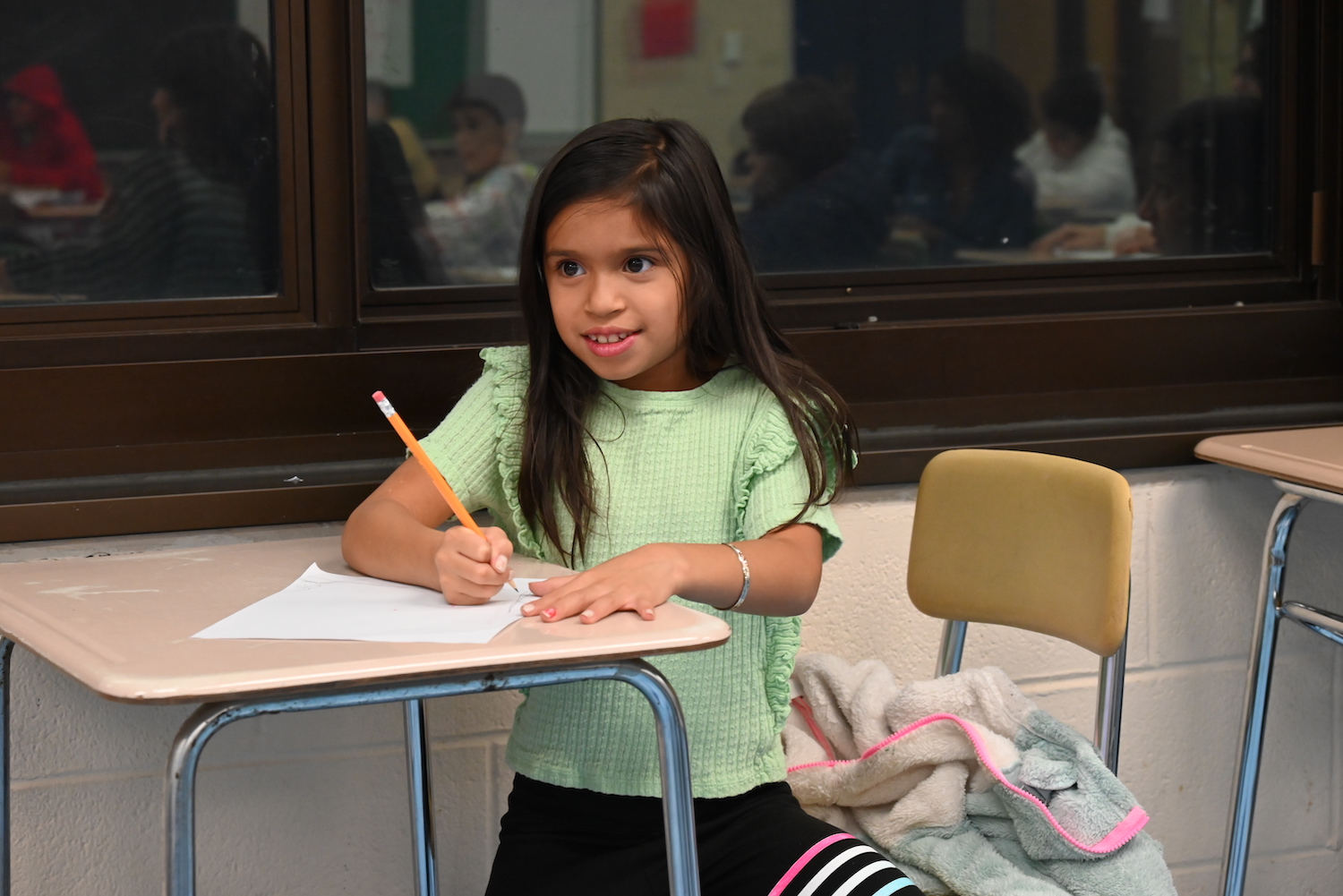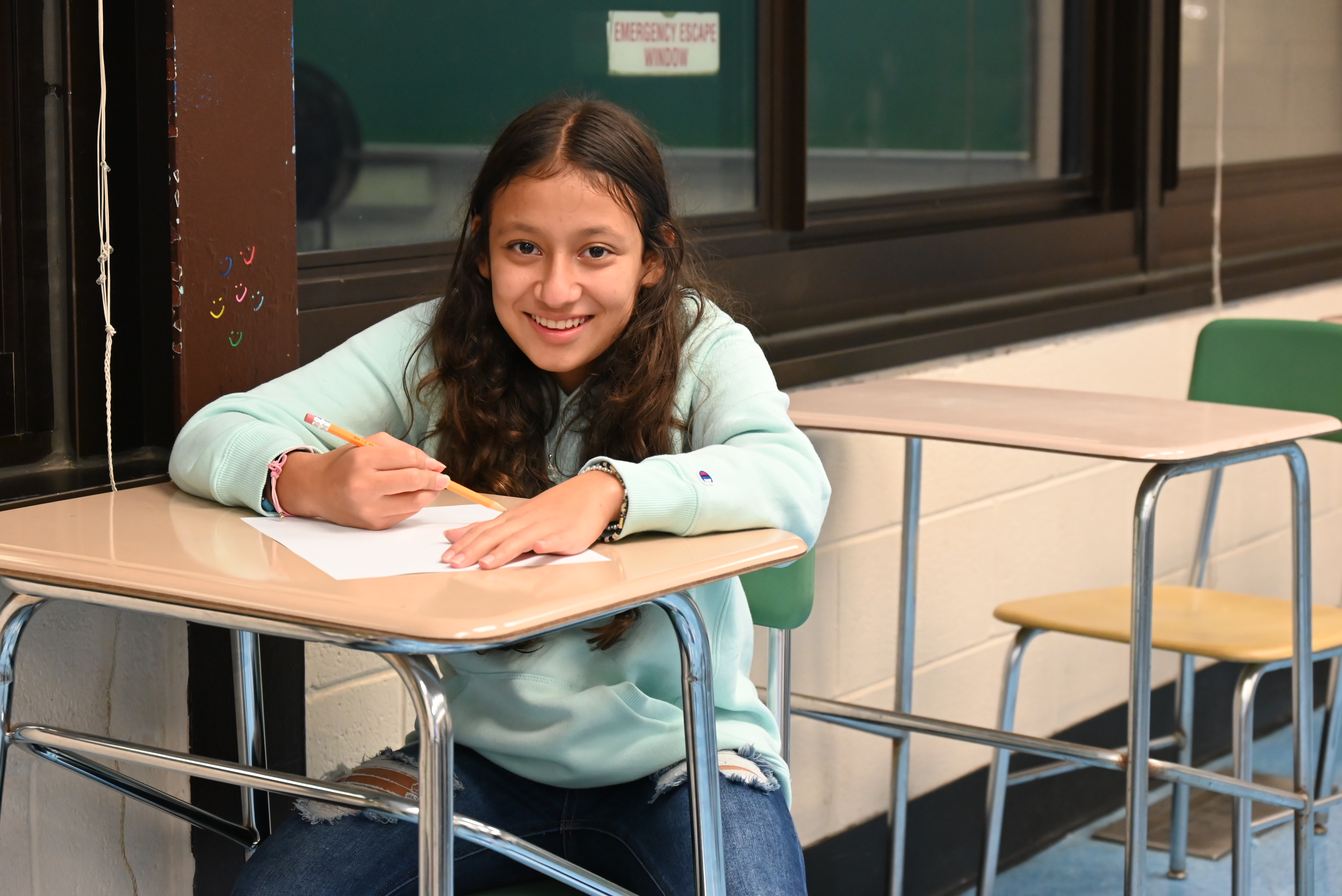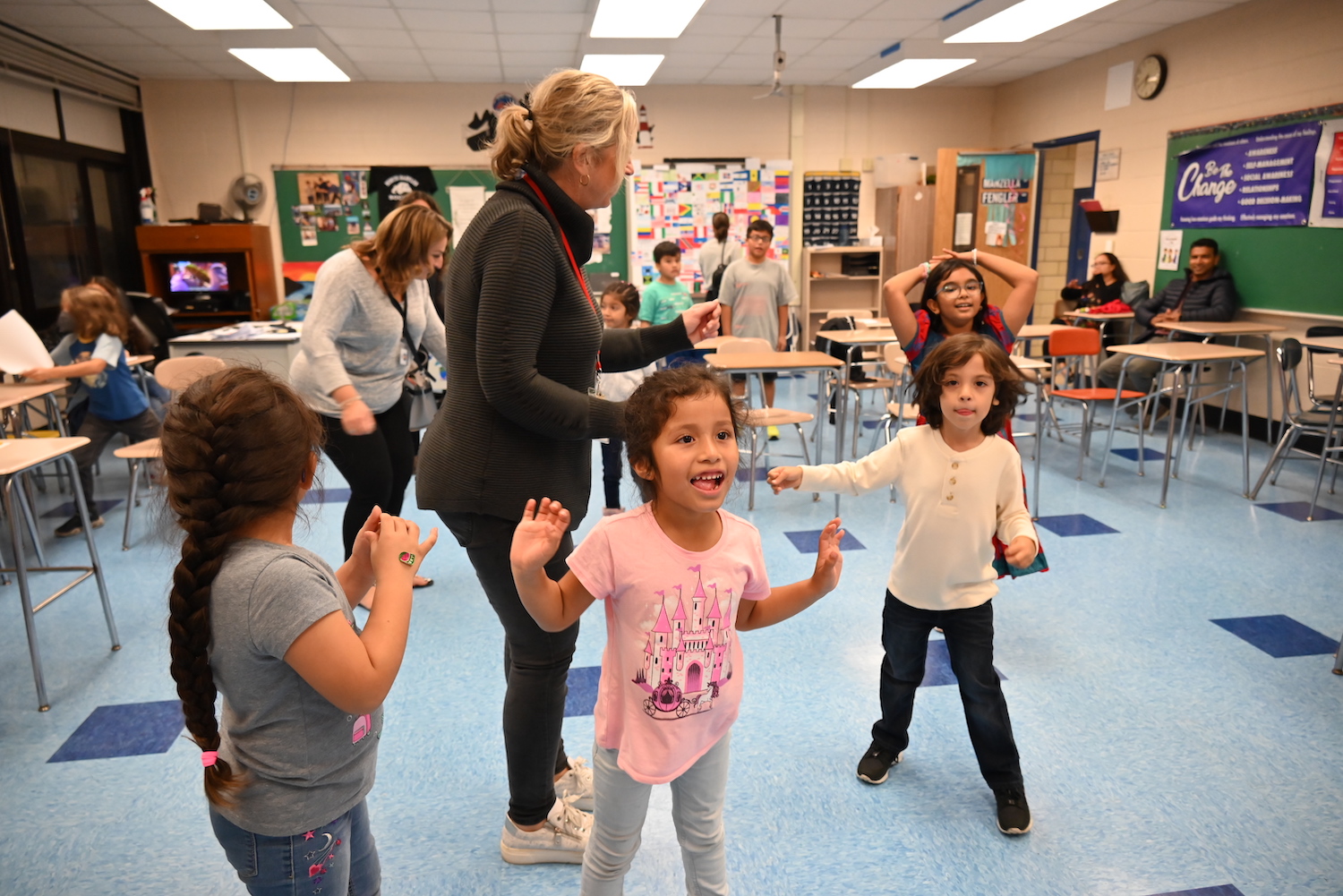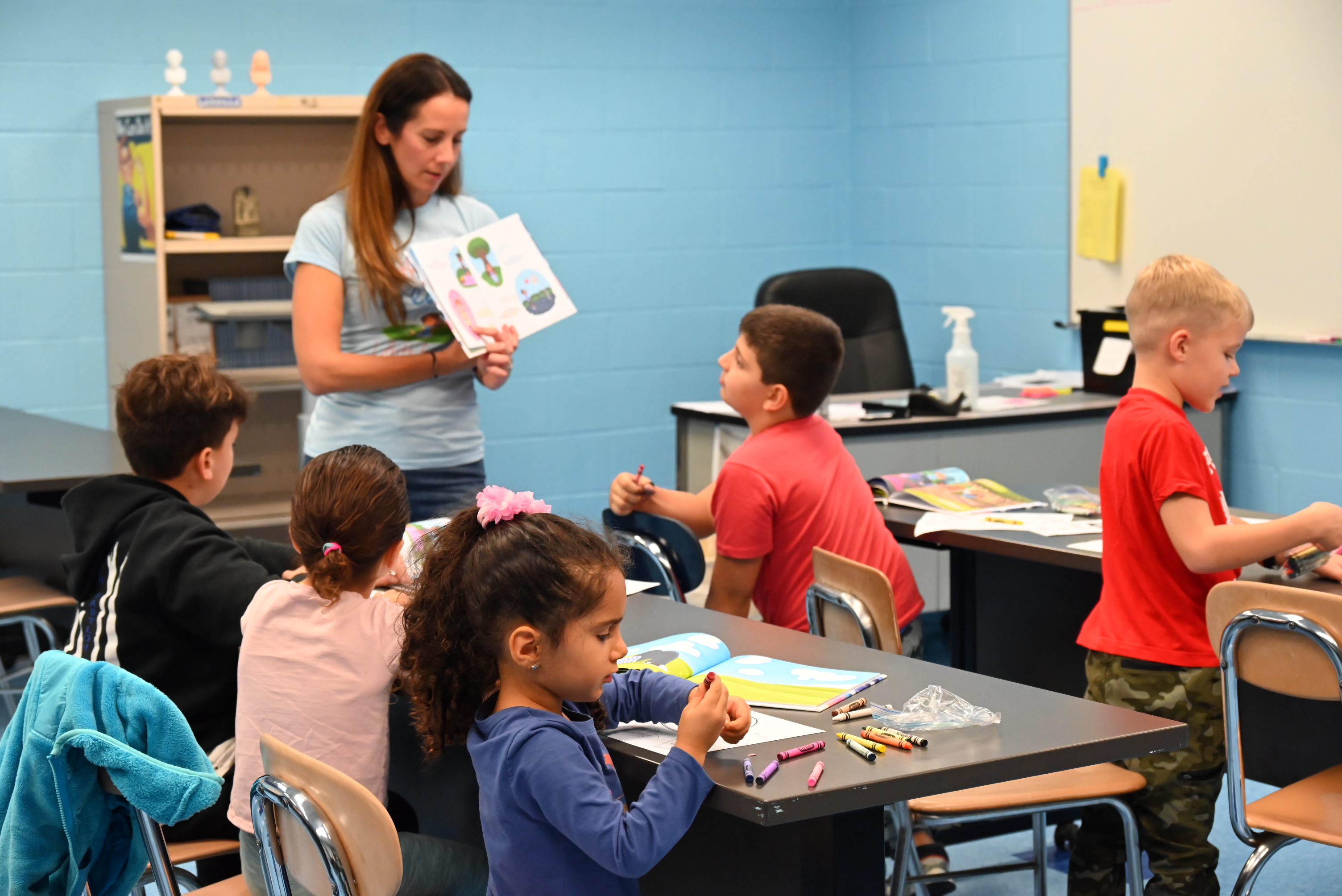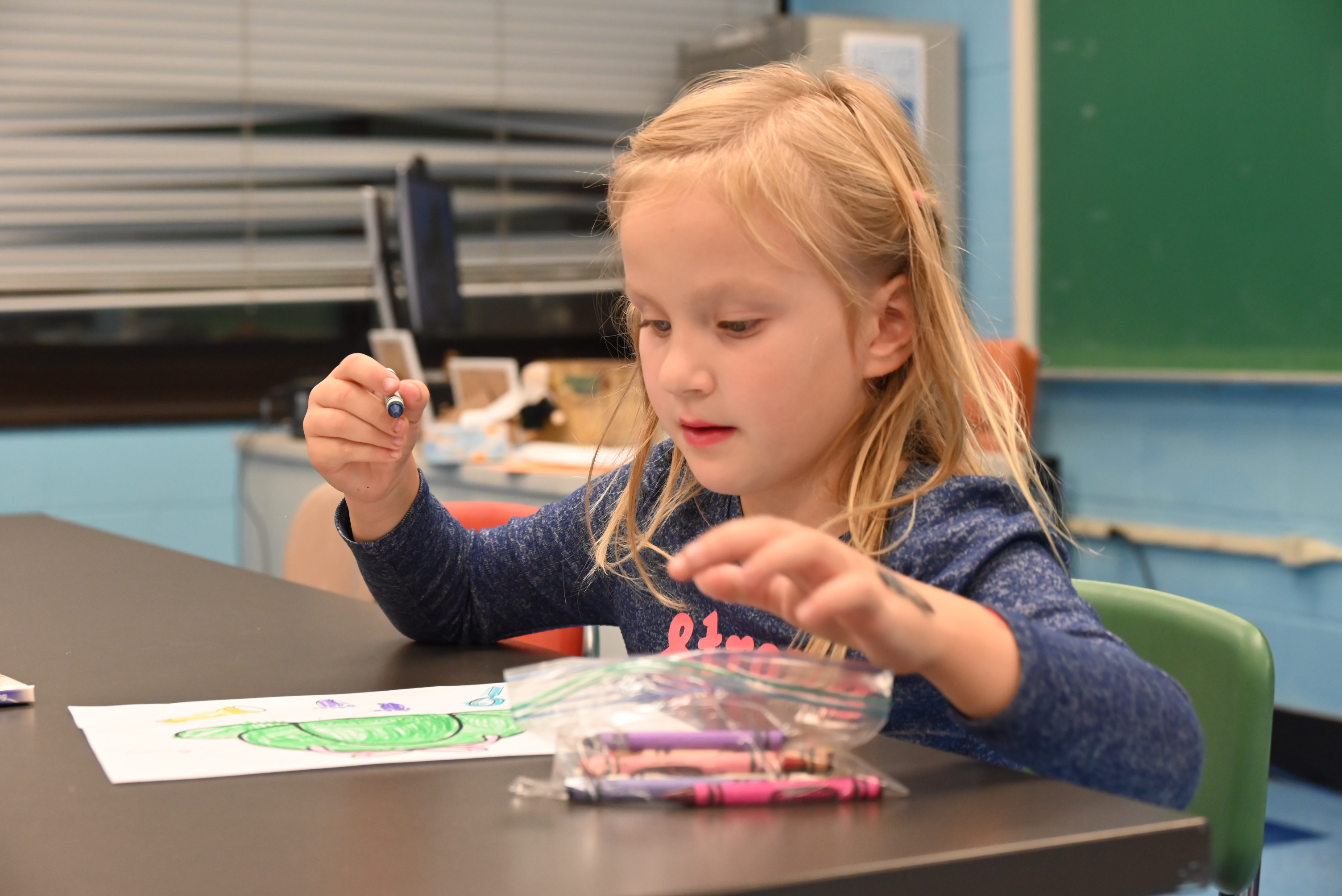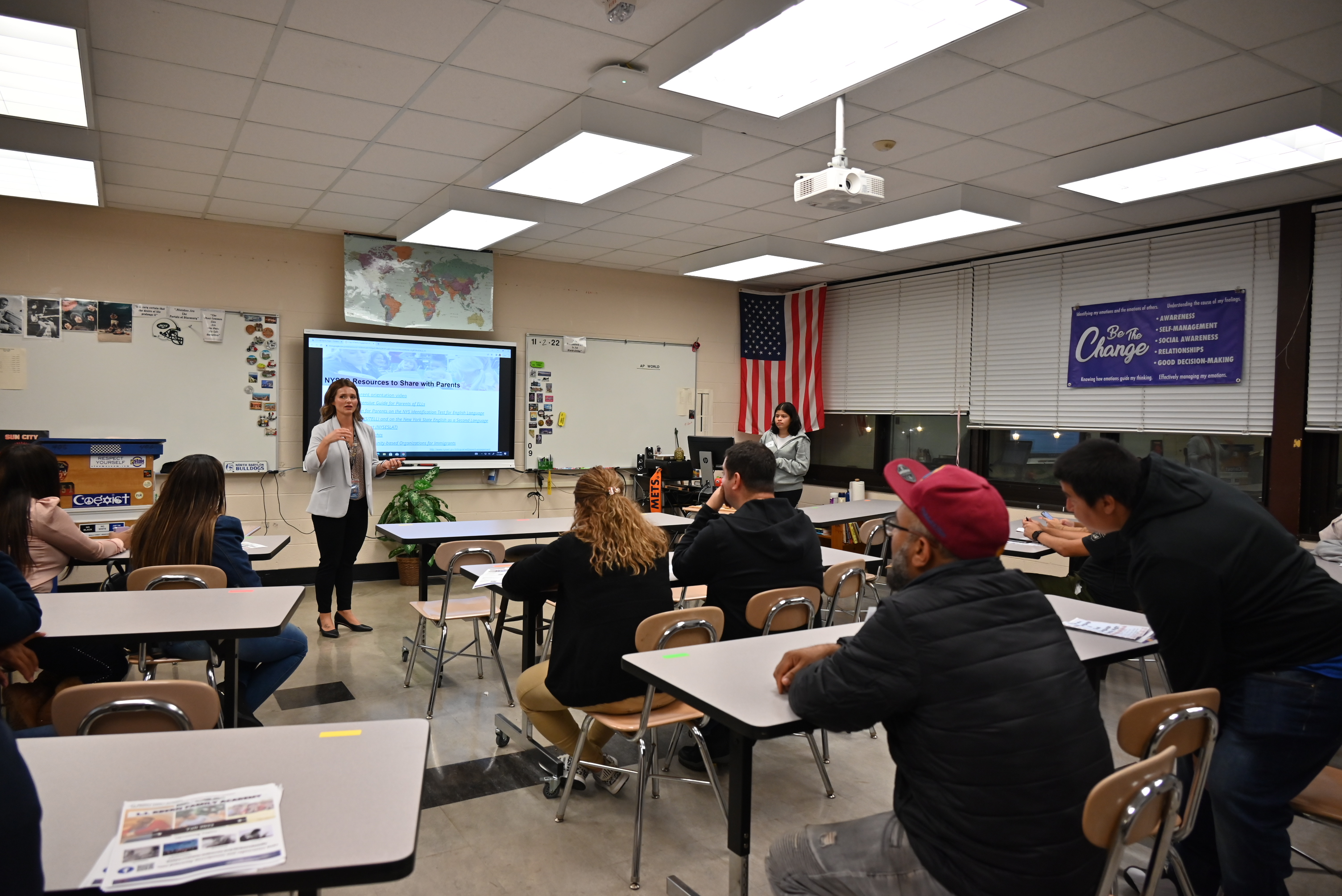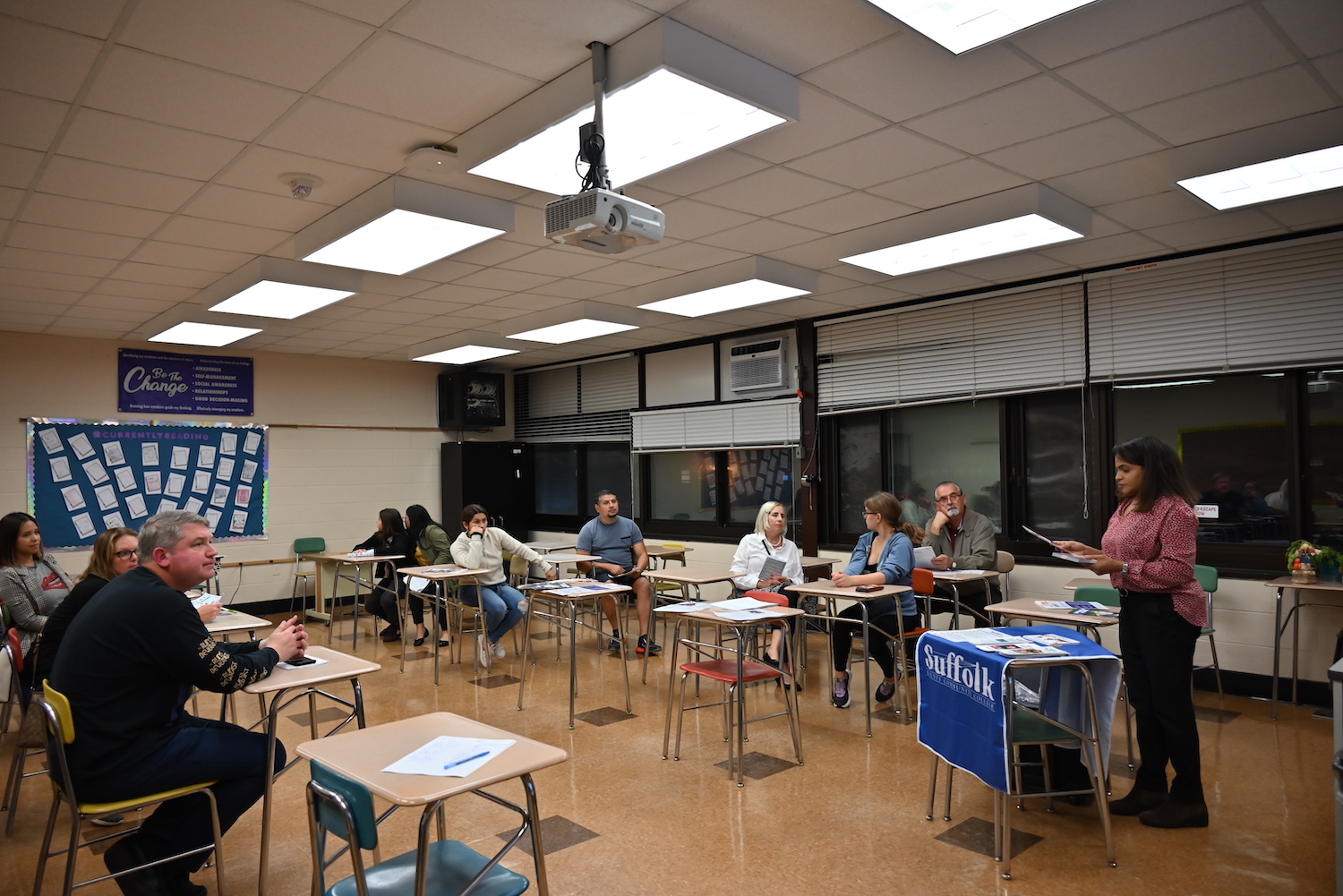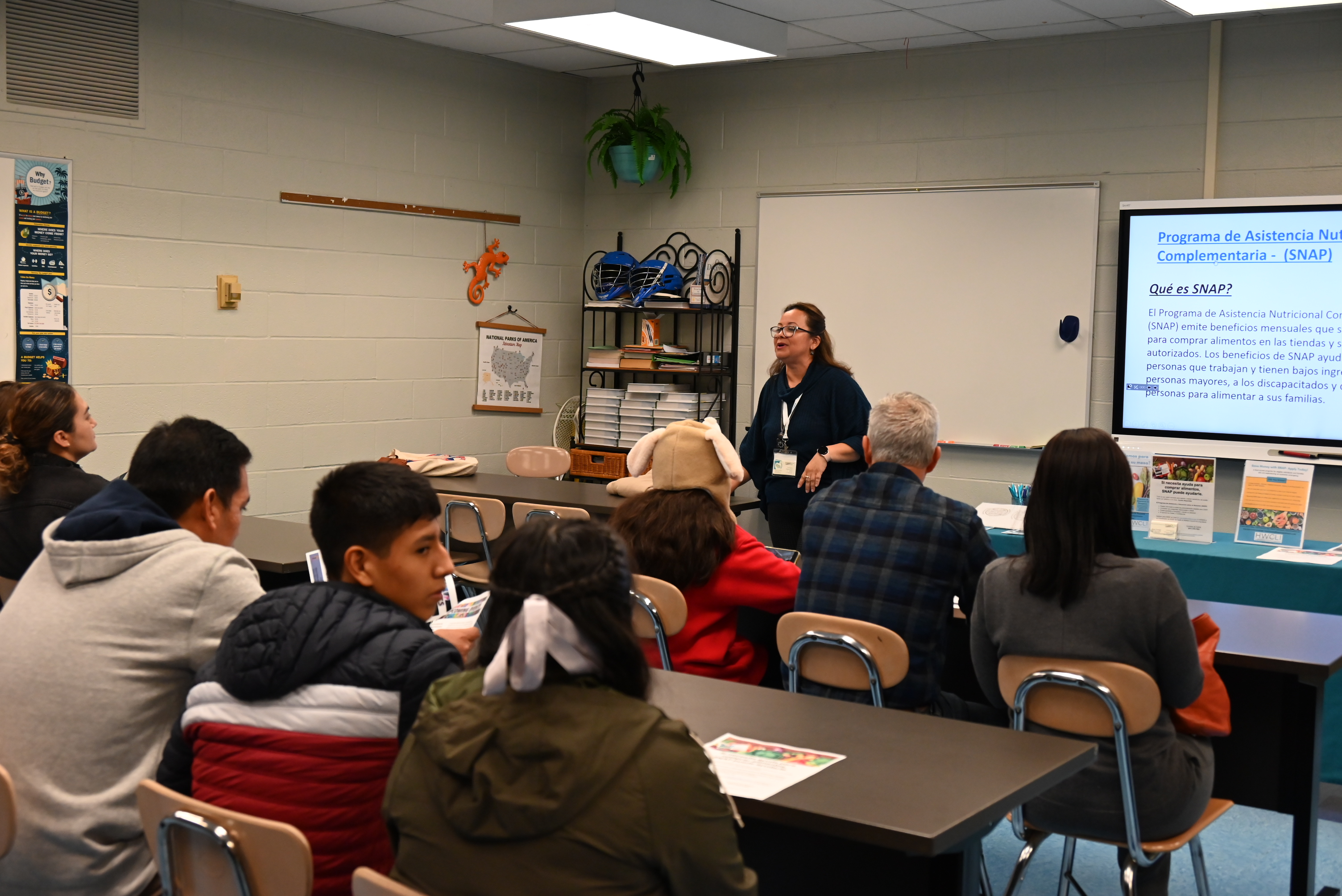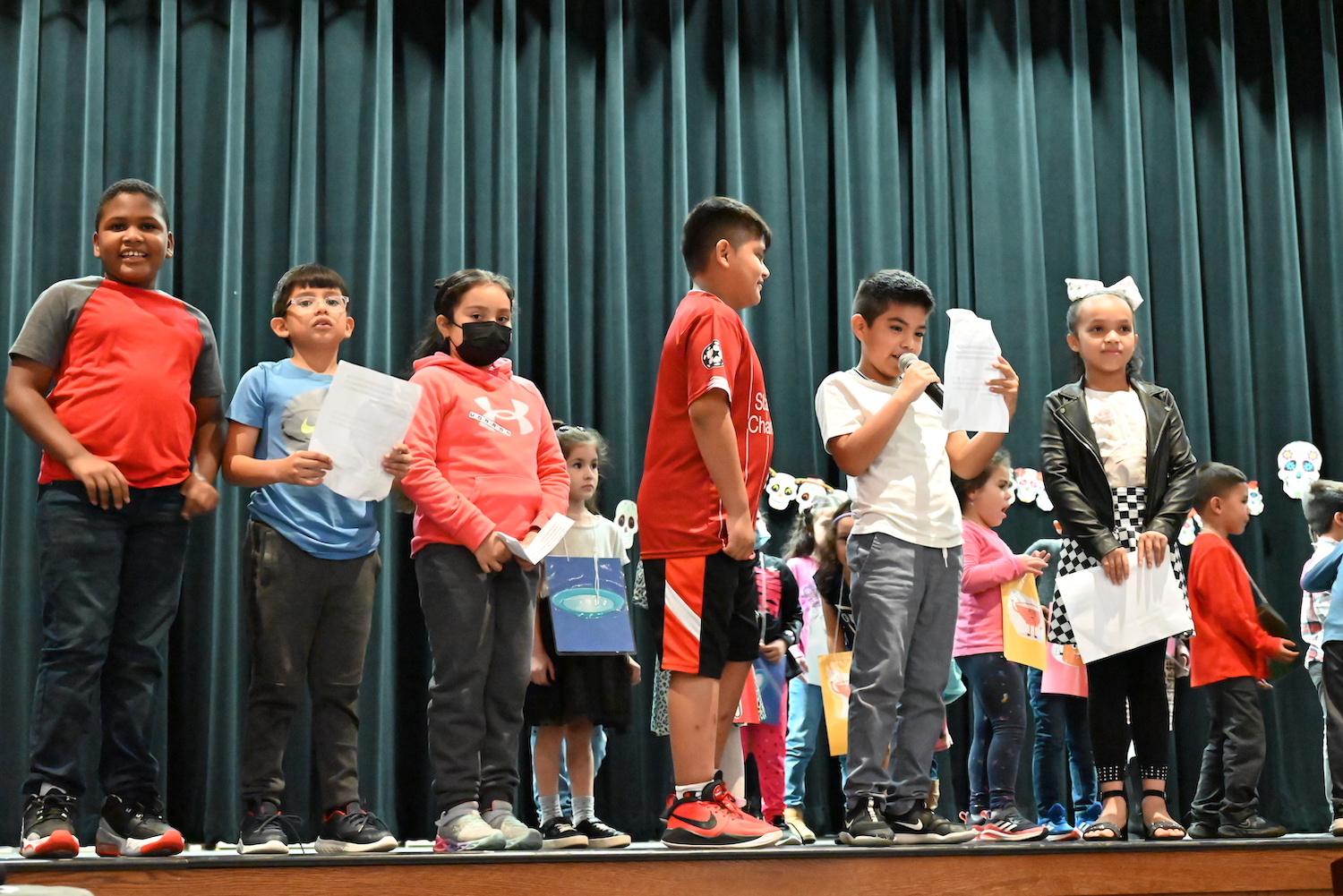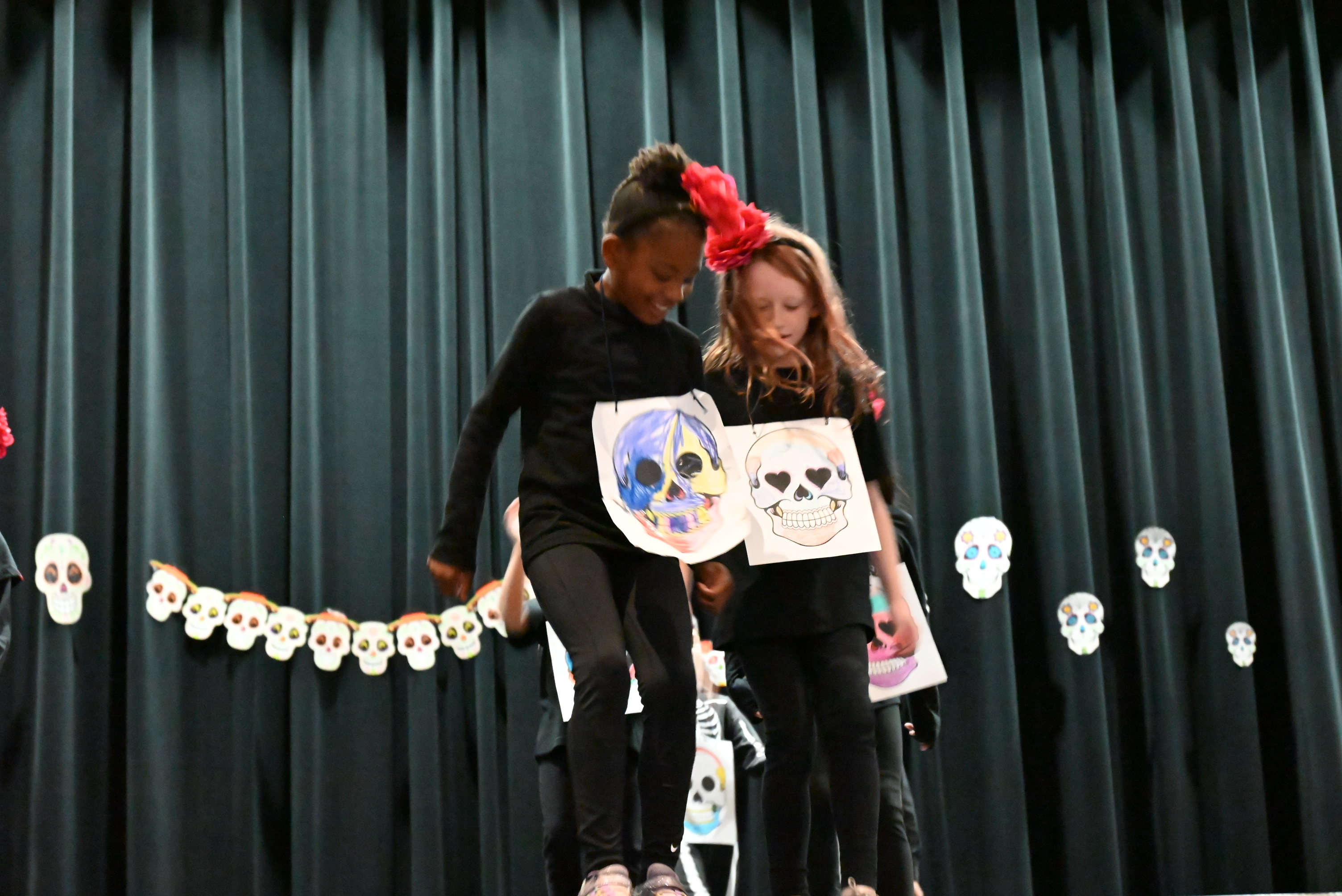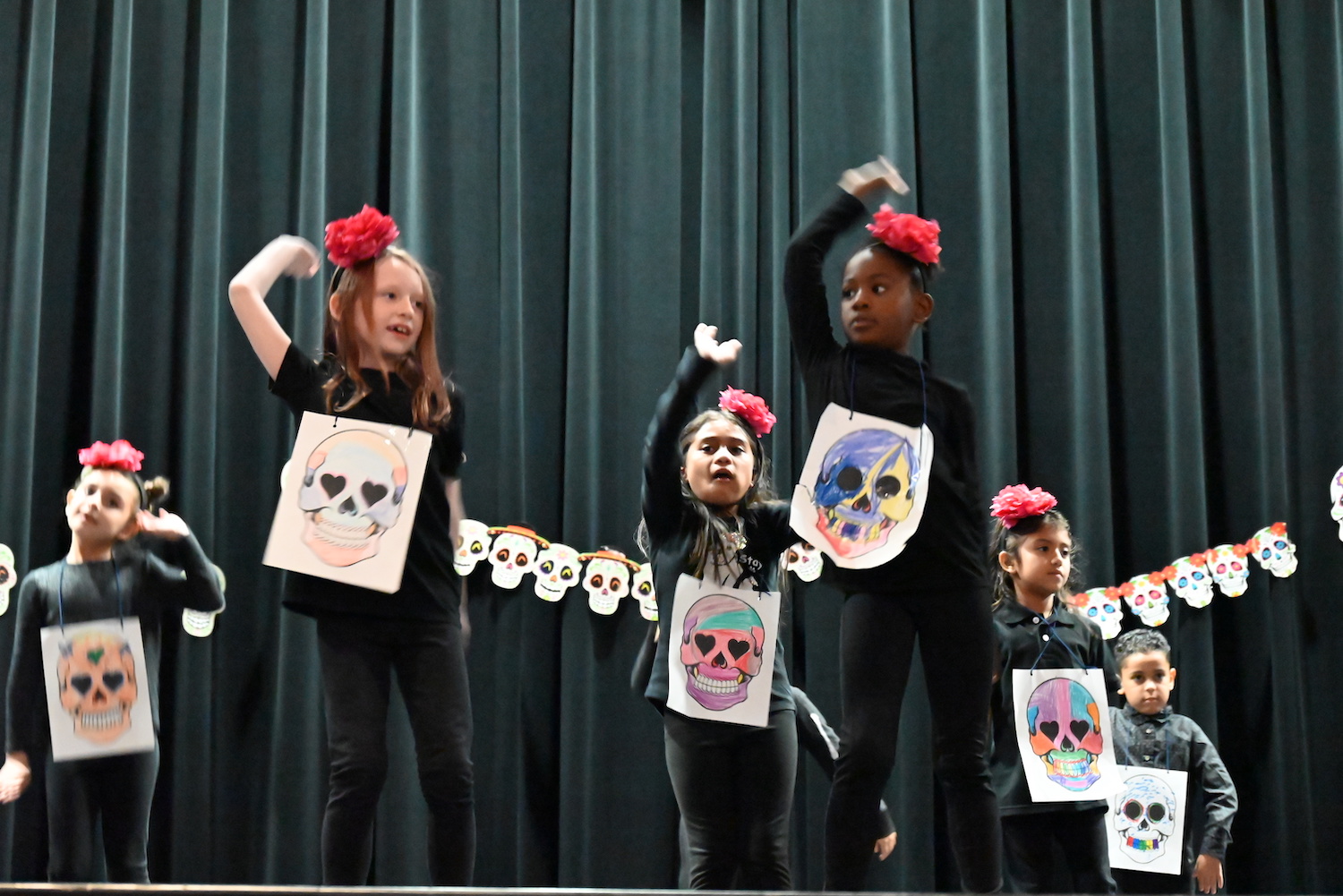 First Graders Focus on Fall-Themed Lessons
The first graders at Marion G. Vedder Elementary School spent the last week of October engaged in fall-themed activities. As part of a literacy activity, the students wrote
the different steps to carving a jack-o-lantern. To hone their fine motor skills, the first graders made skeleton crafts out of Q-tips. For their STEM lessons, the students first tested candy corns in different liquids and
predicted which would dissolve the quickest. The students also worked in small groups during their STEM lesson to build the largest structure out of candy pumpkins and toothpicks.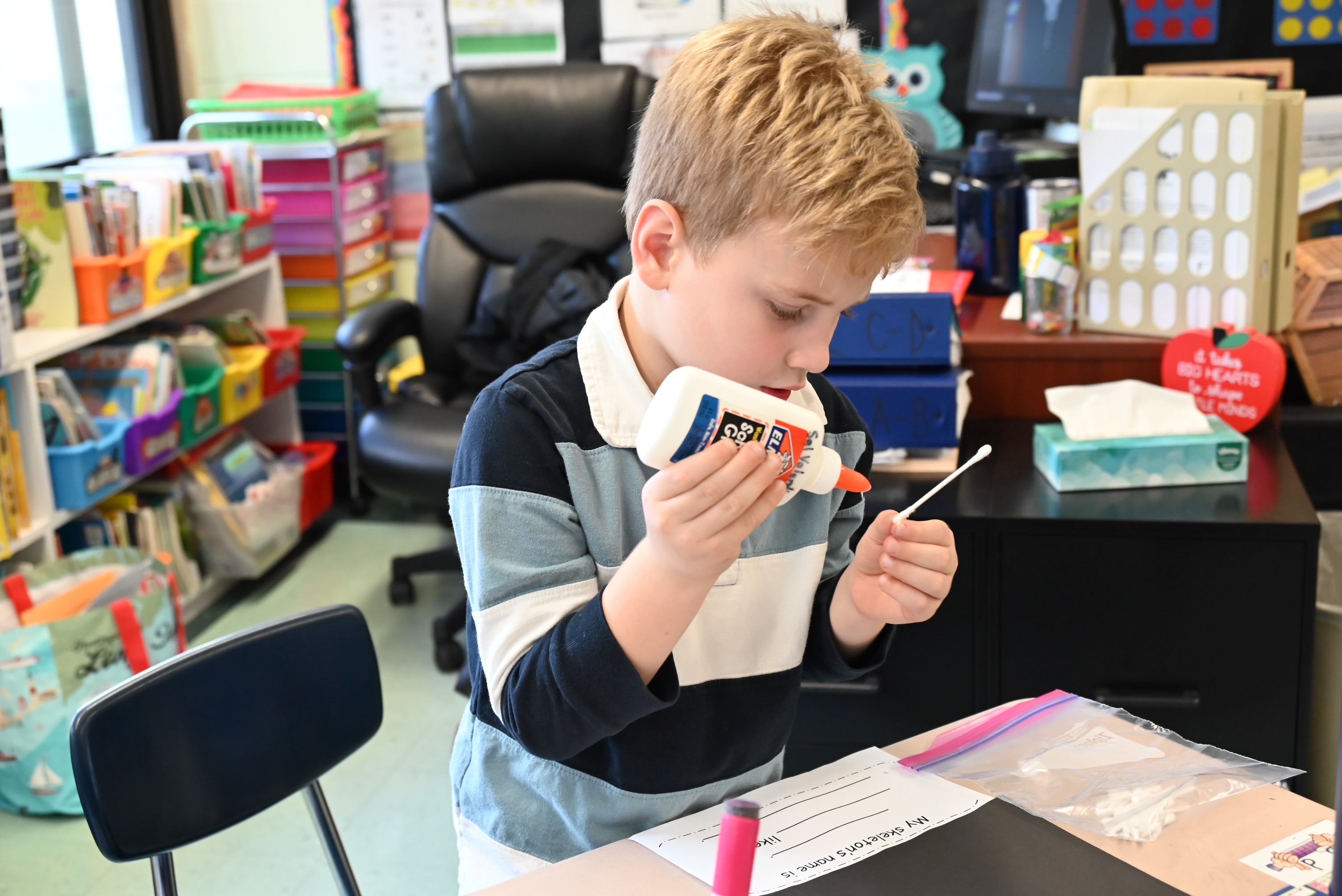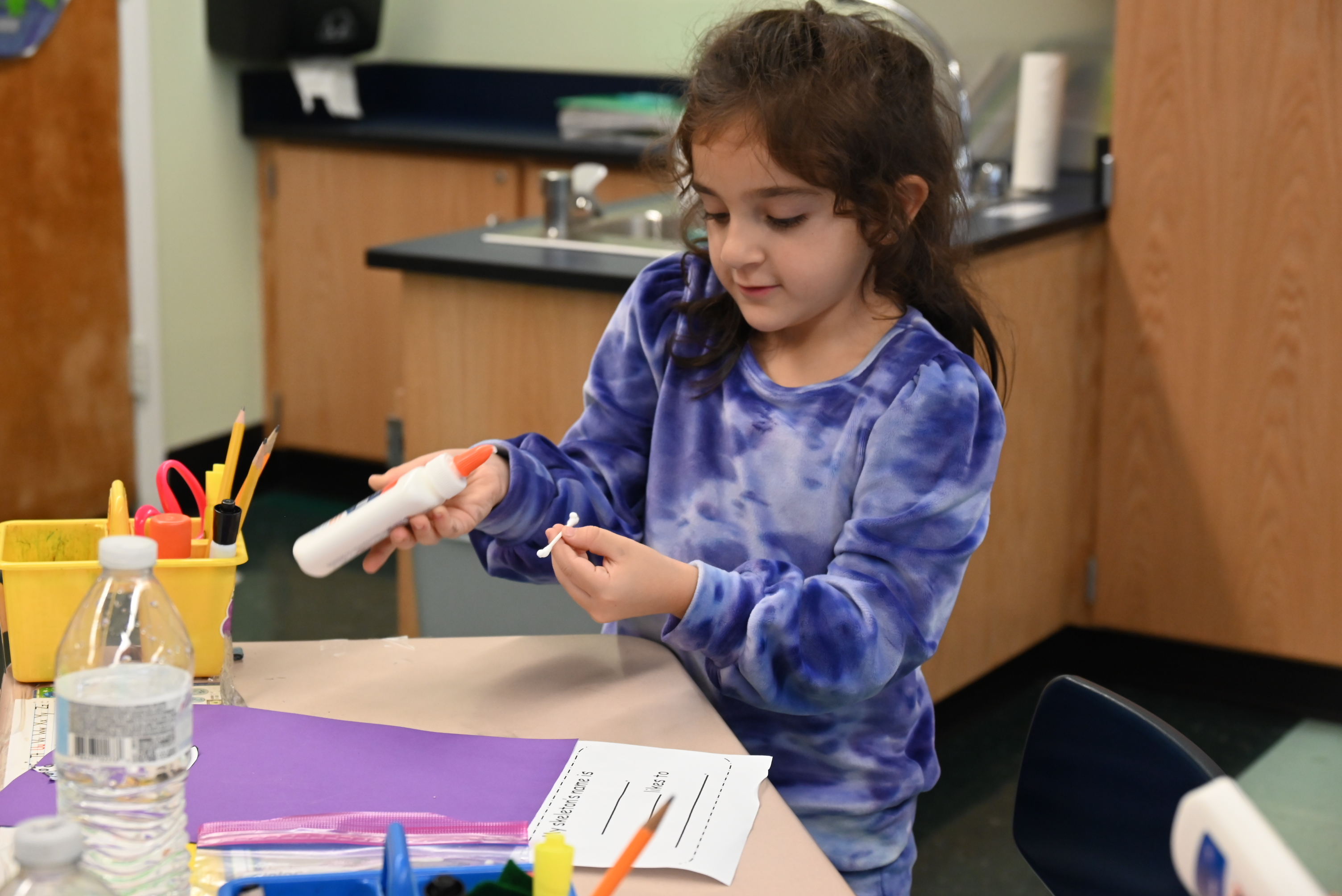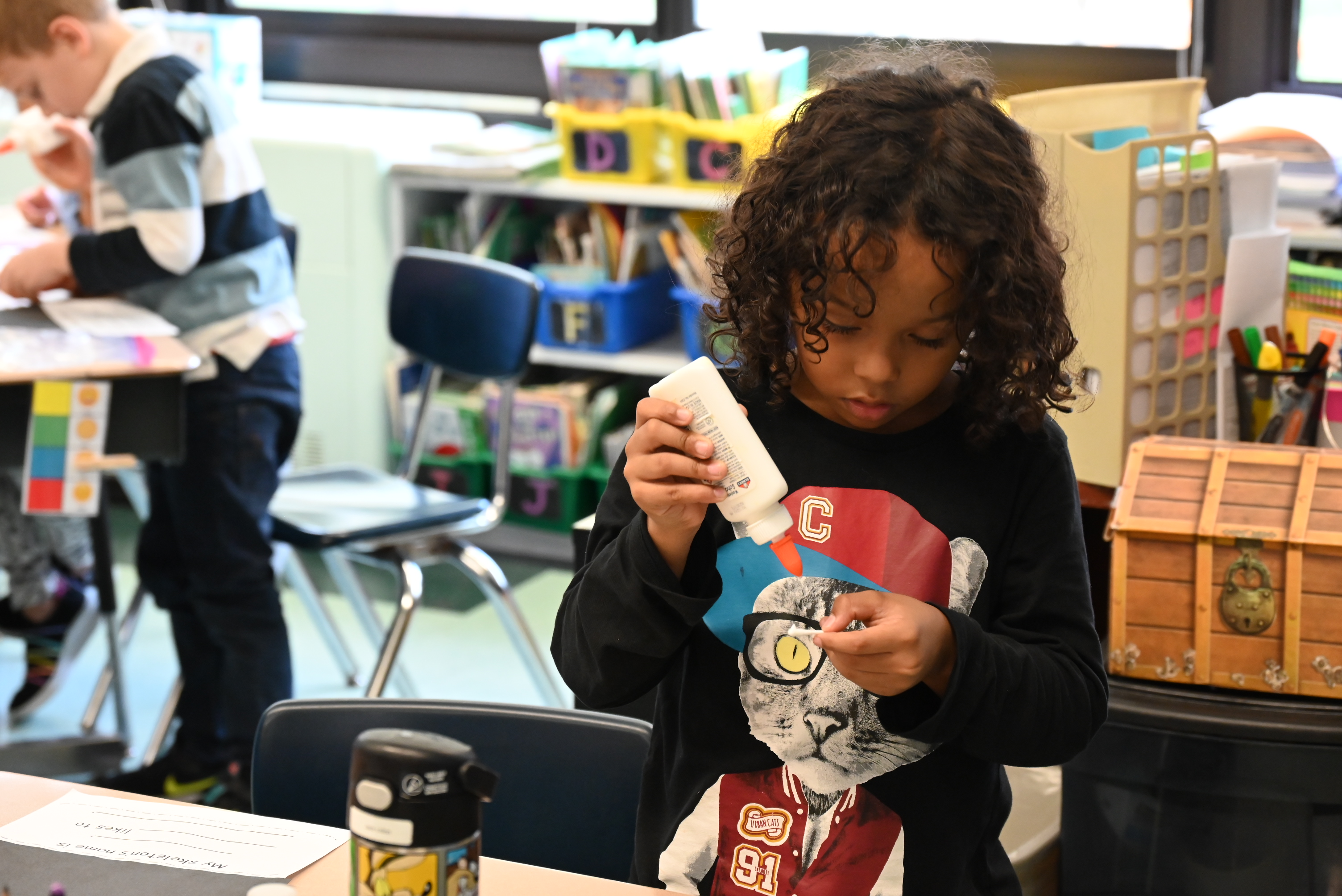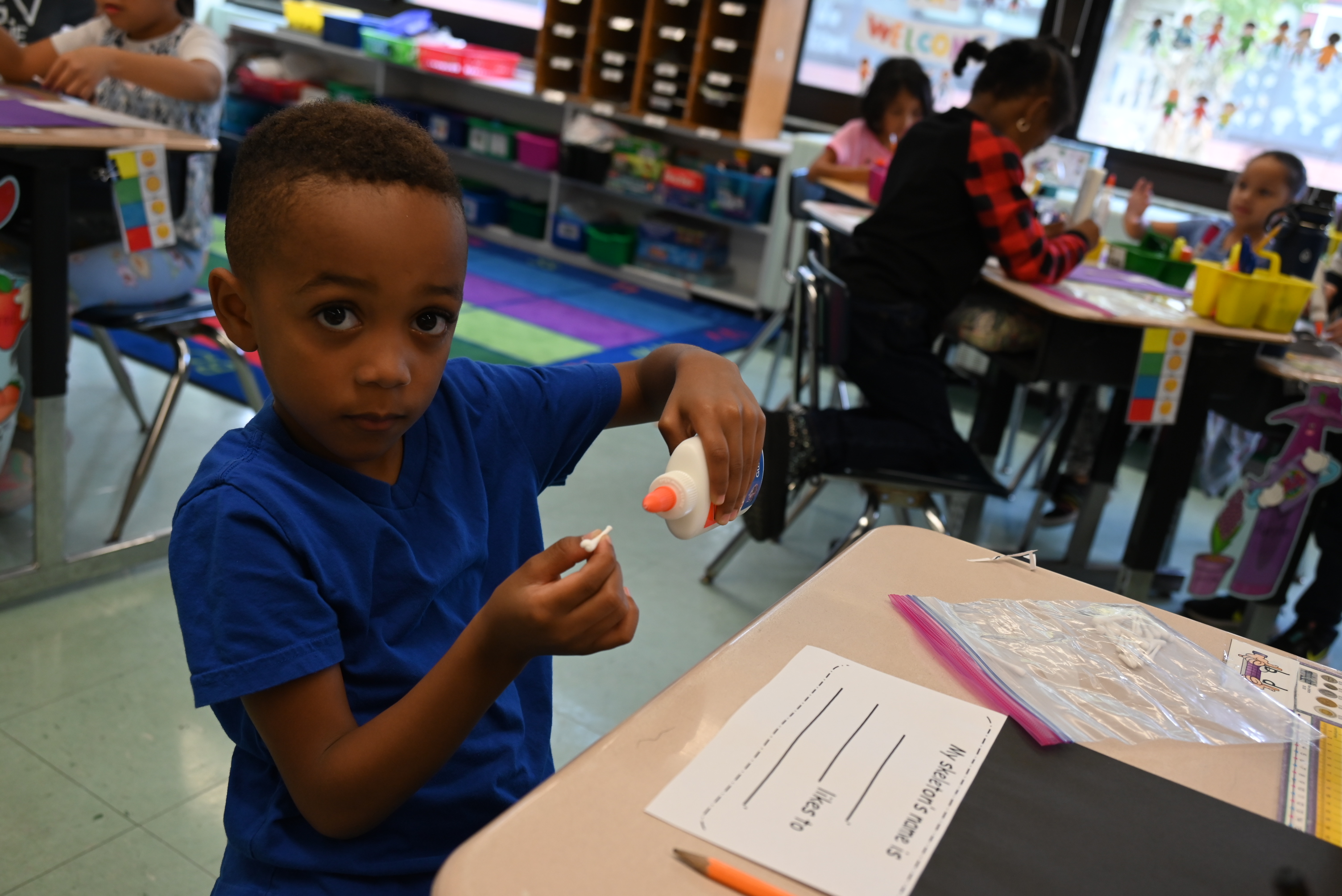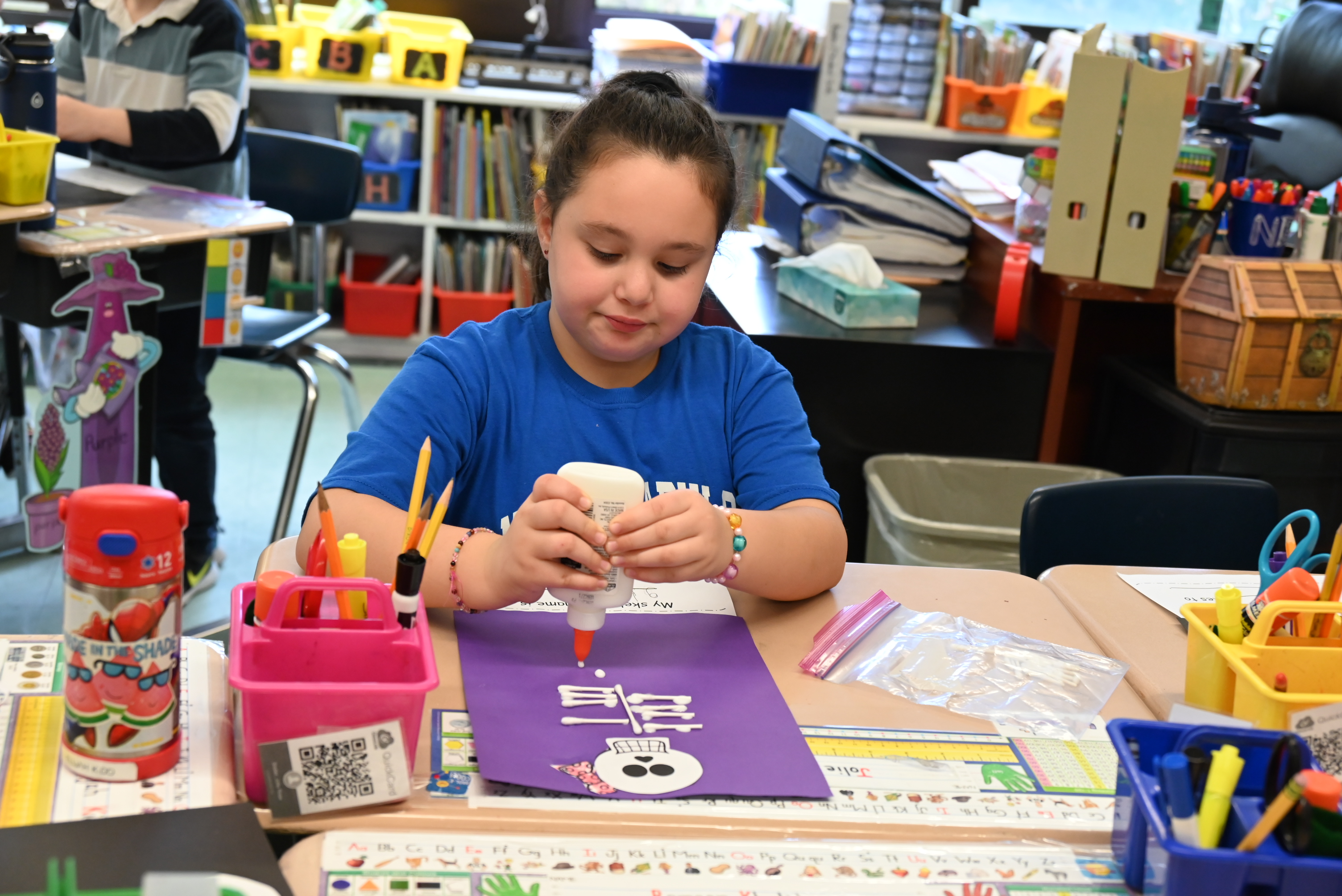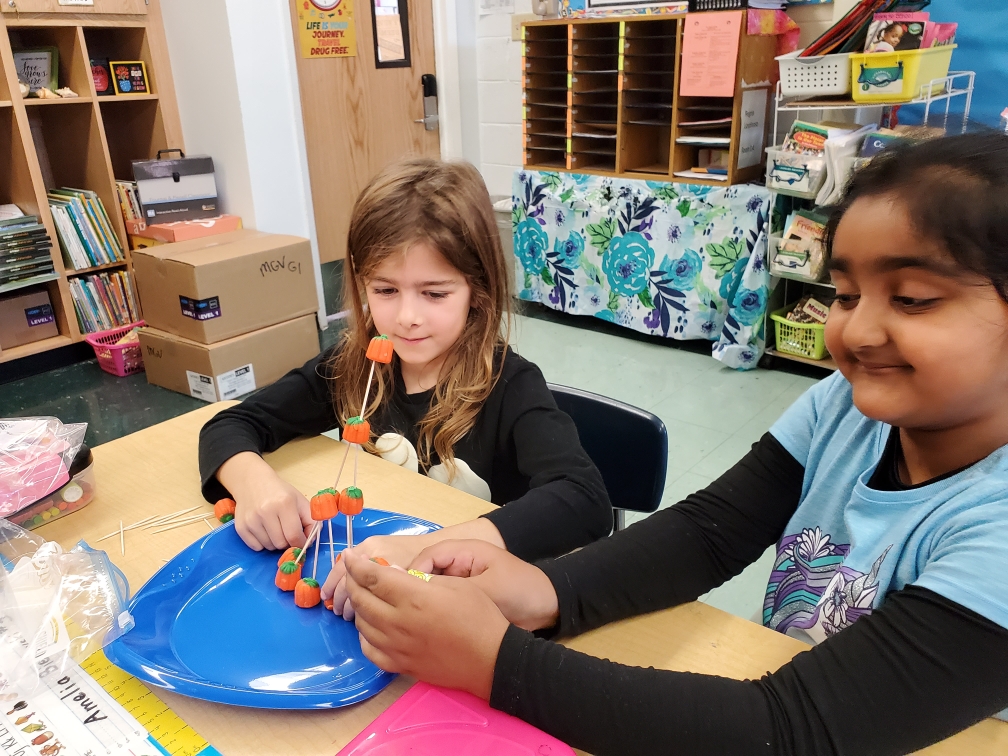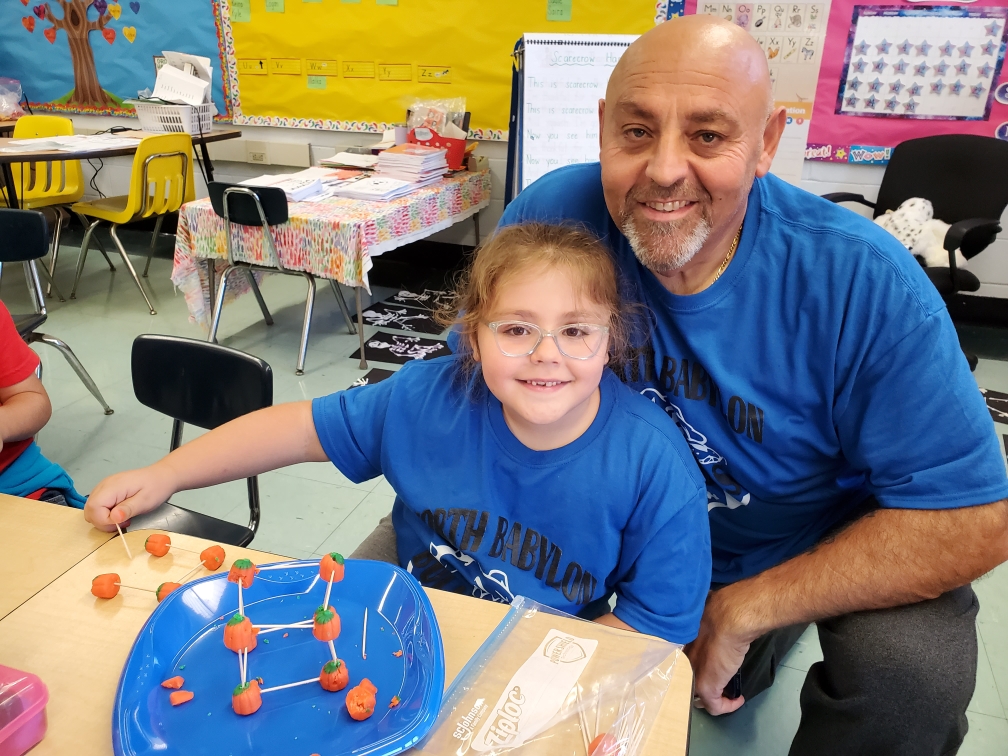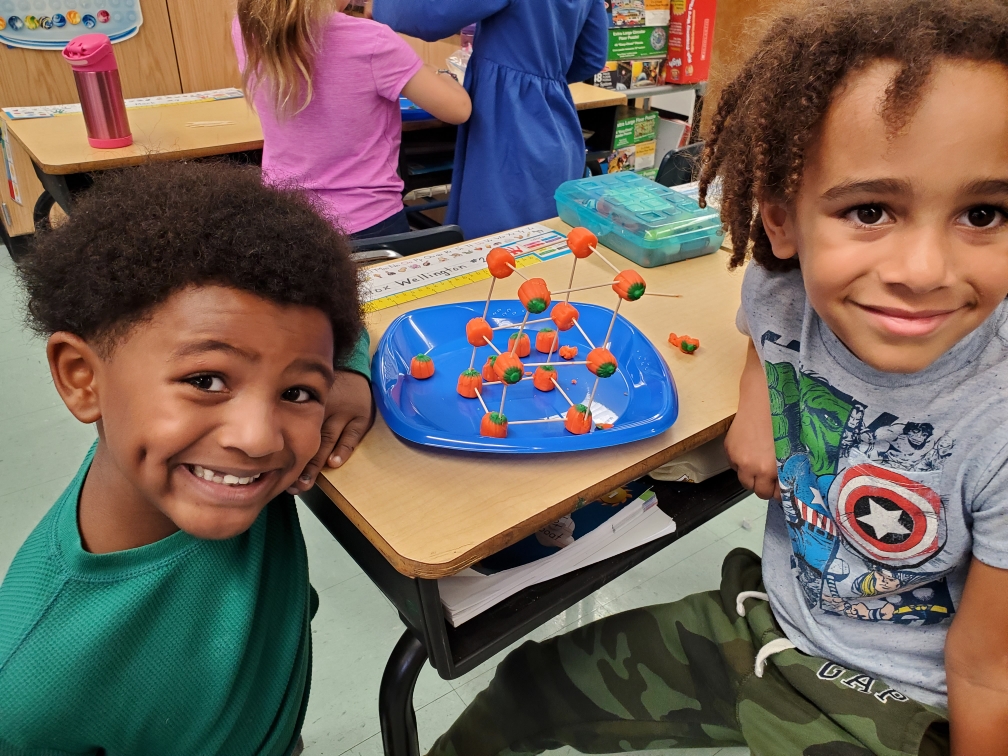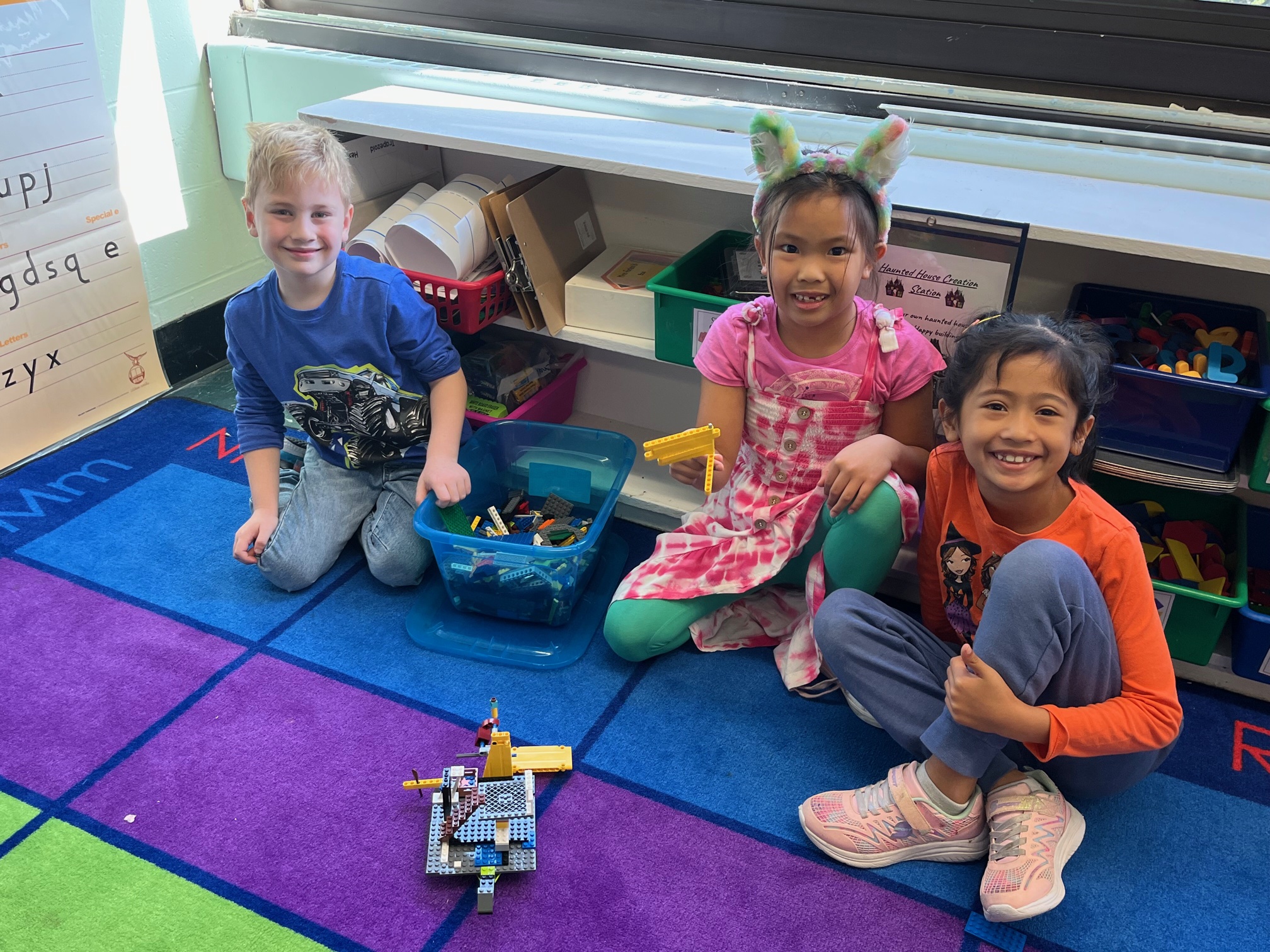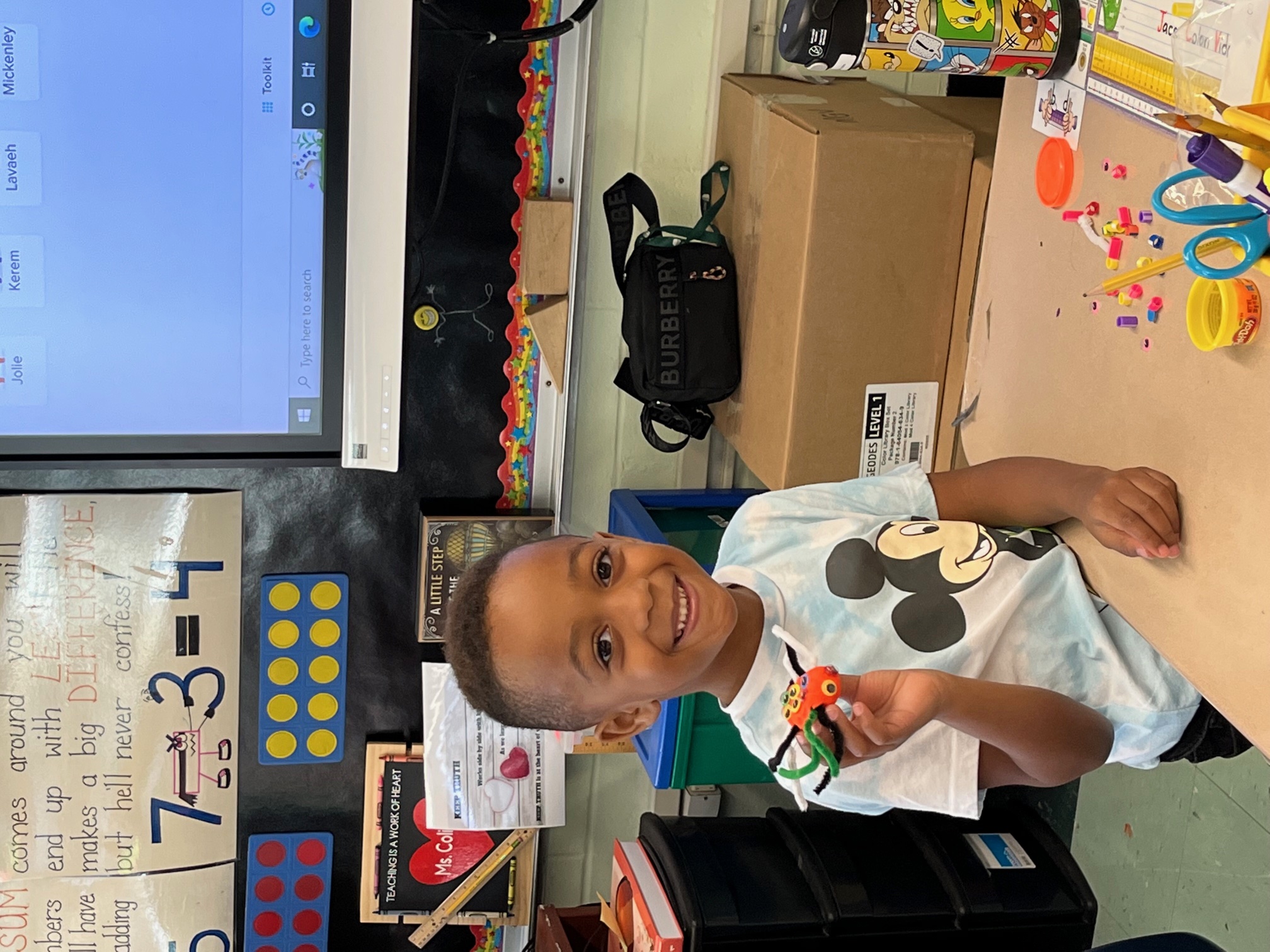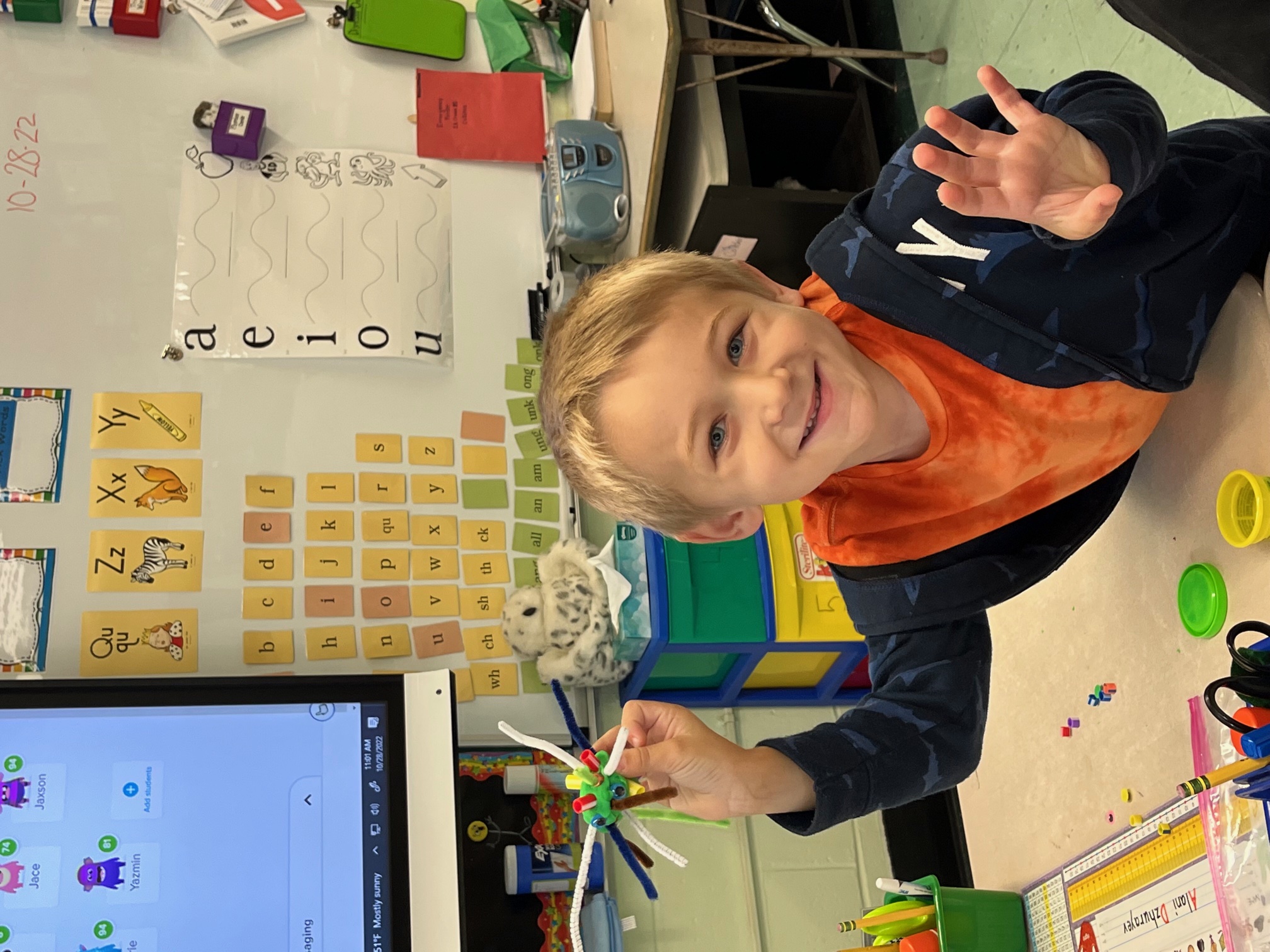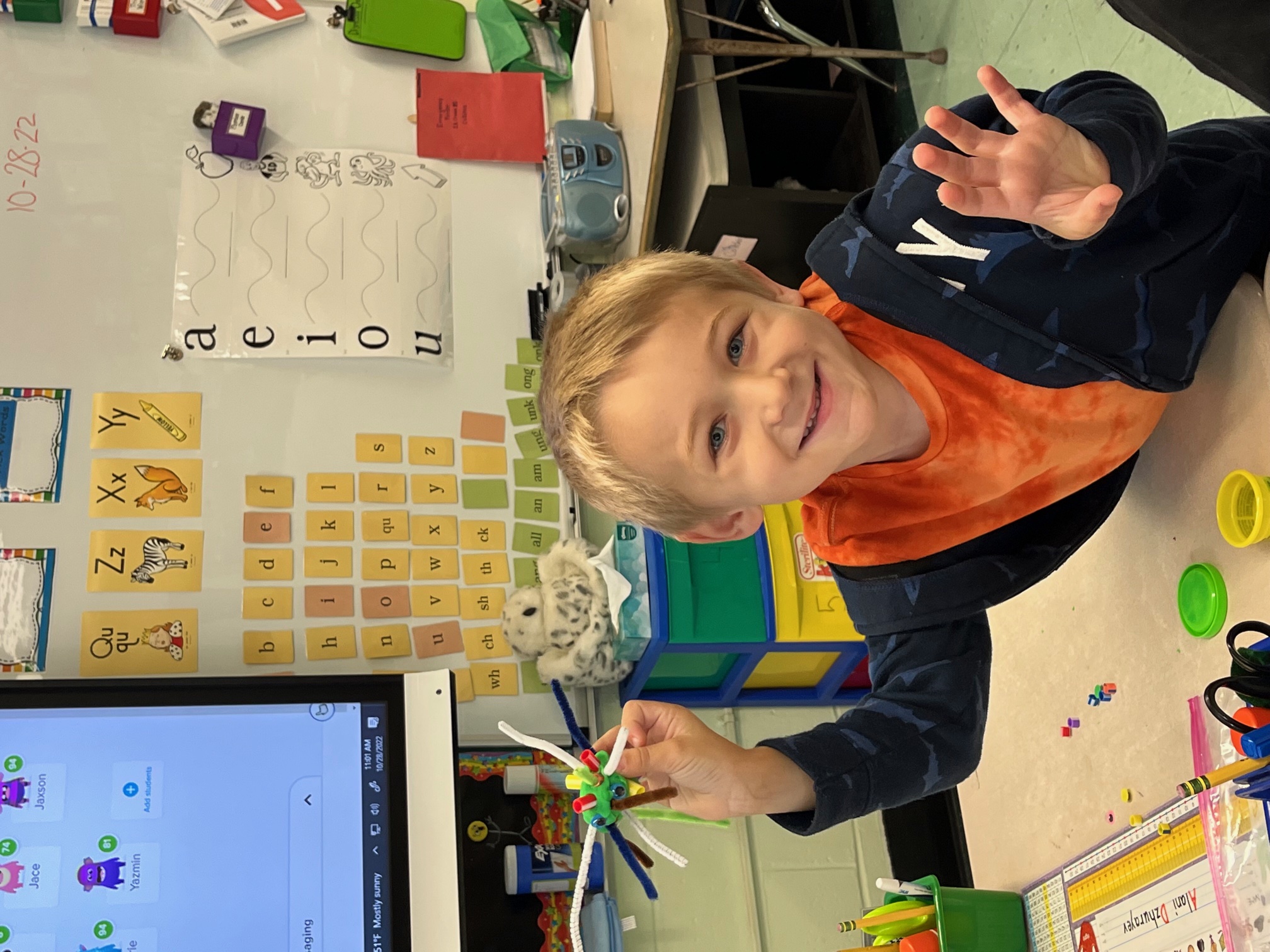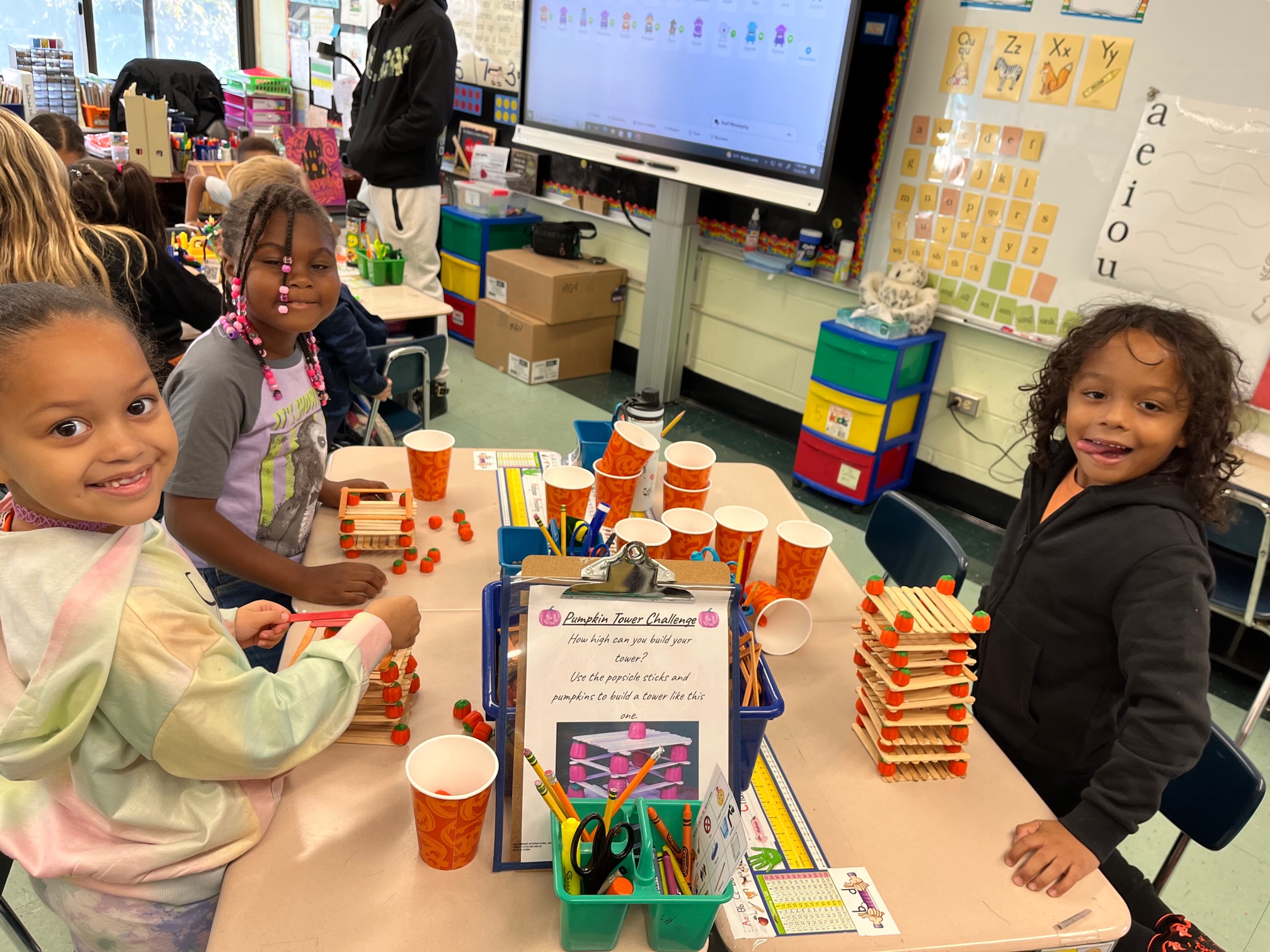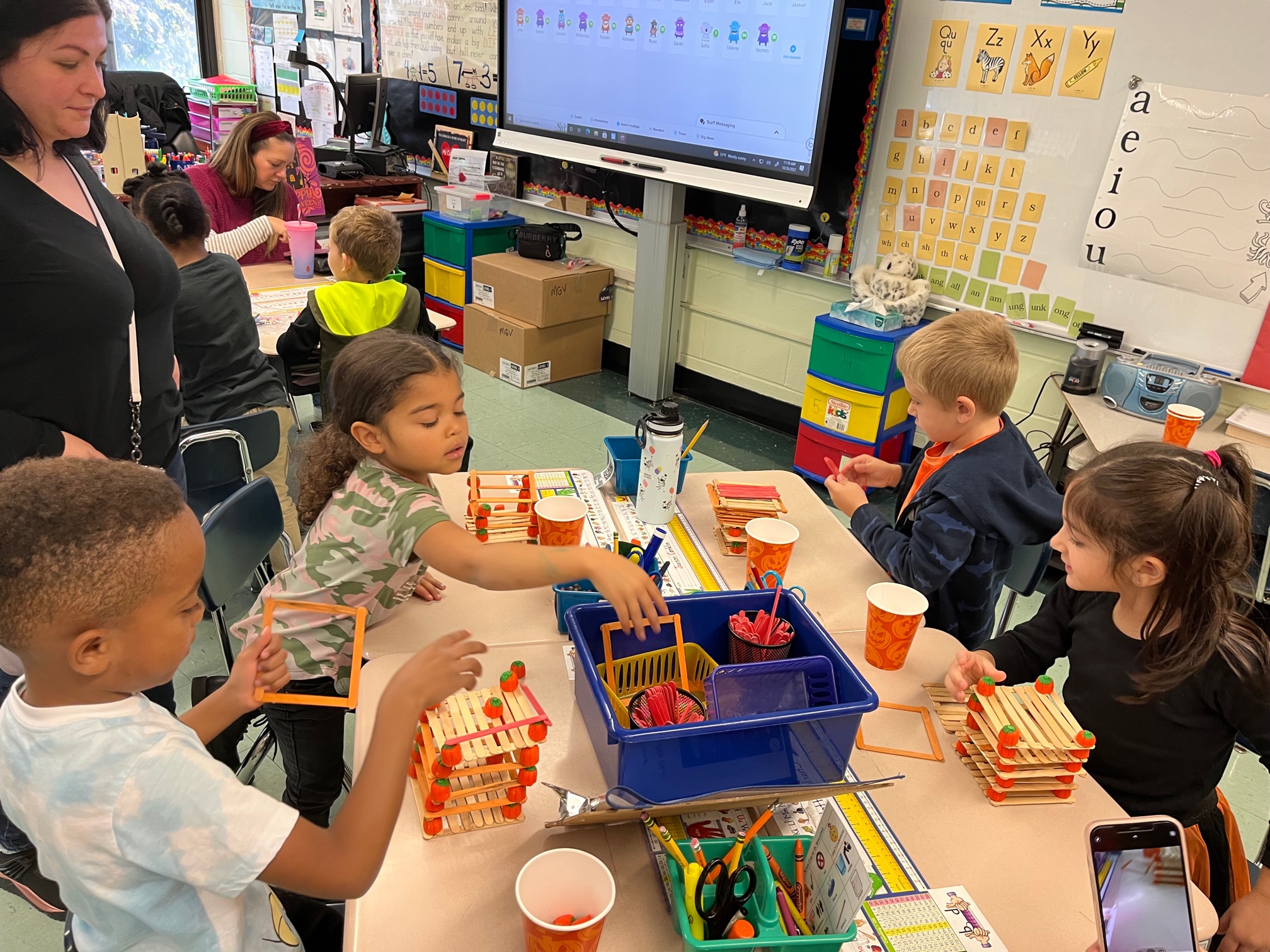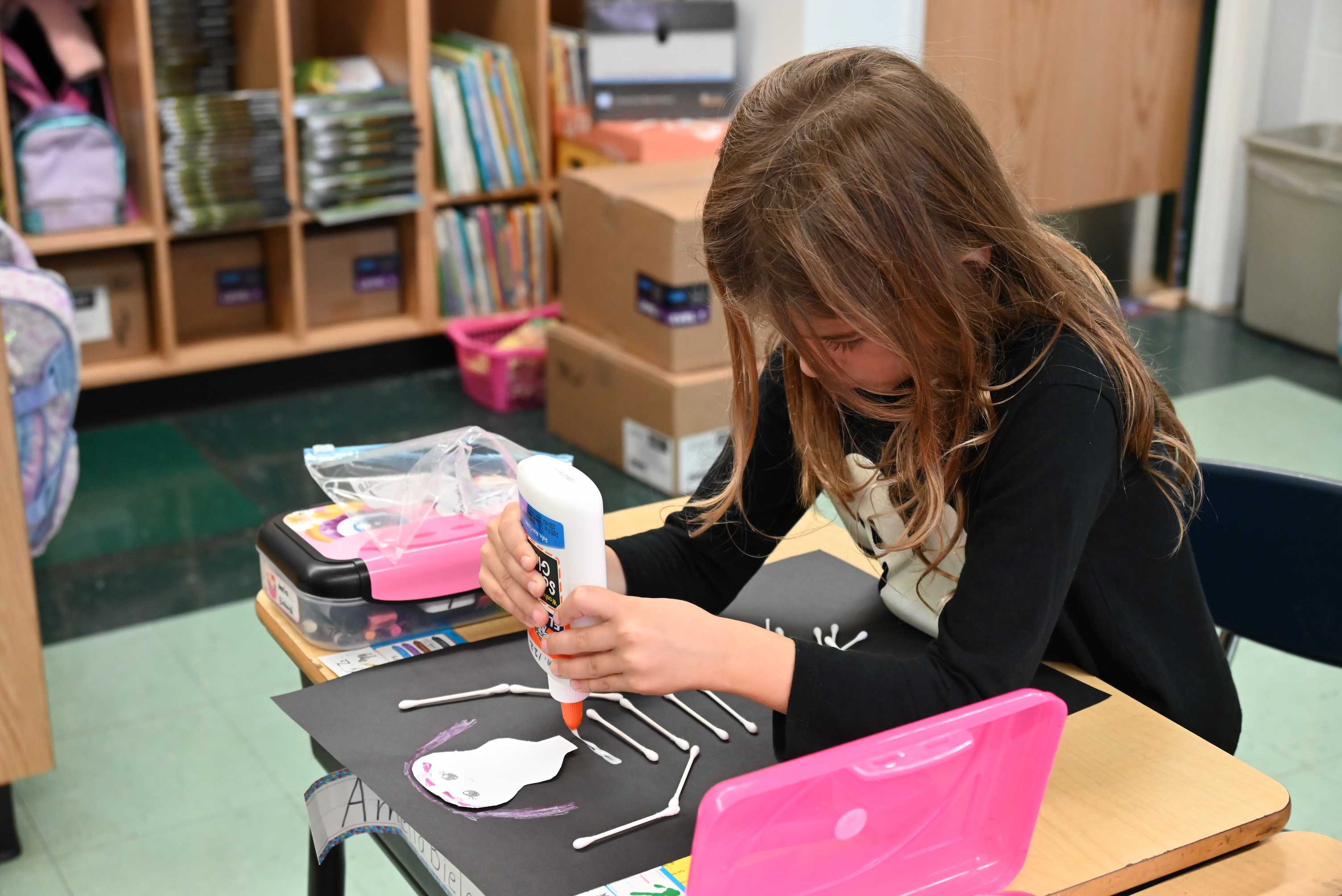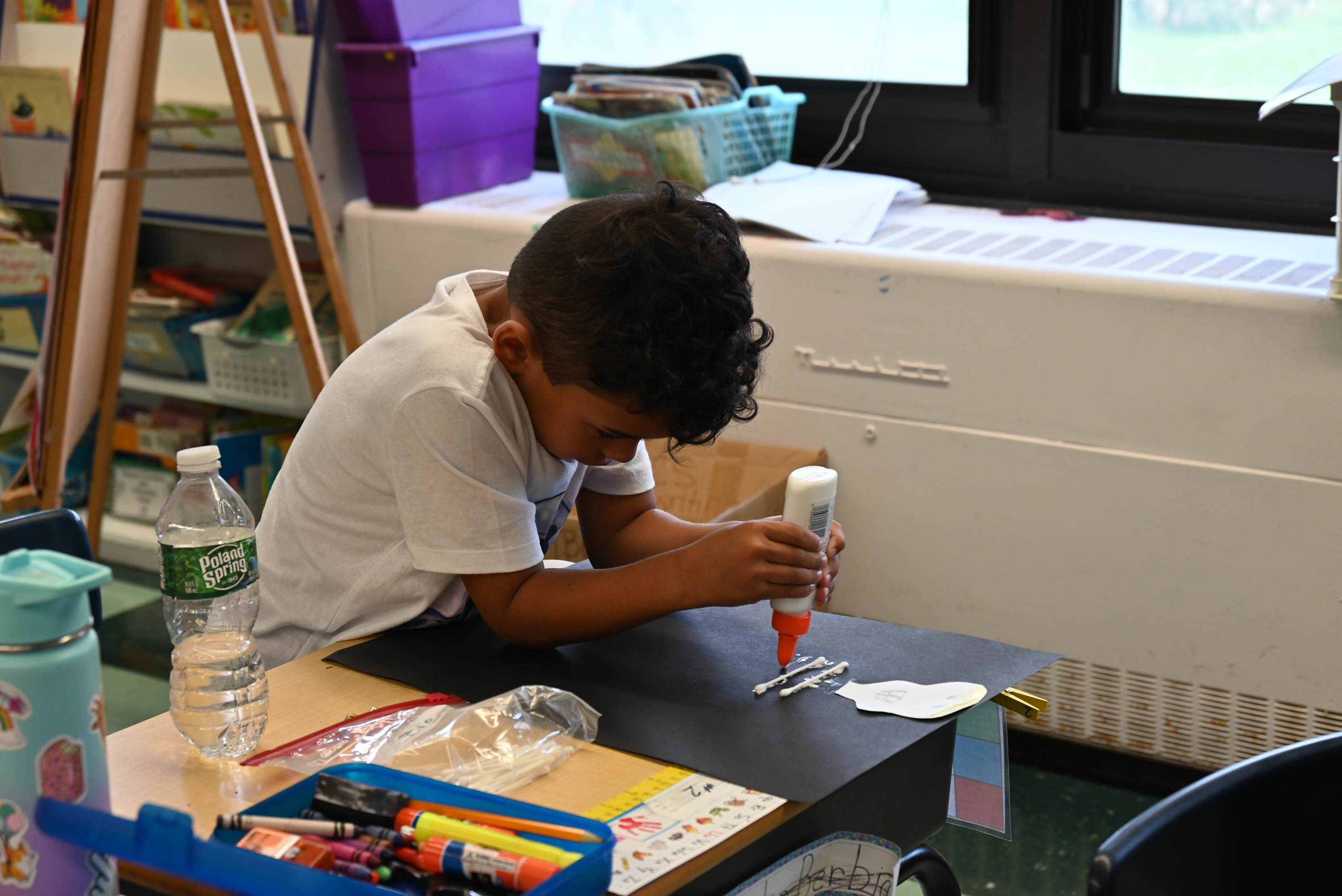 New Native Garden Coming to Parliament Place
Parliament Place Elementary School will soon be the home of a new native garden, thanks to a partnership with Seatuck Environmental Association. Seatuck presented an educational program to the third graders at Parliament Place to teach them about native gardens and how they impact the environment. Seatuck takes a multi-pronged approach to its education program and looks to connect lessons back to the environment. The organization works with schools to help reimagine their outdoor space and teach students about the many benefits of having a native garden. Students learn about the plants, insects and birds and understand their importance during lessons that take place right outside their classroom.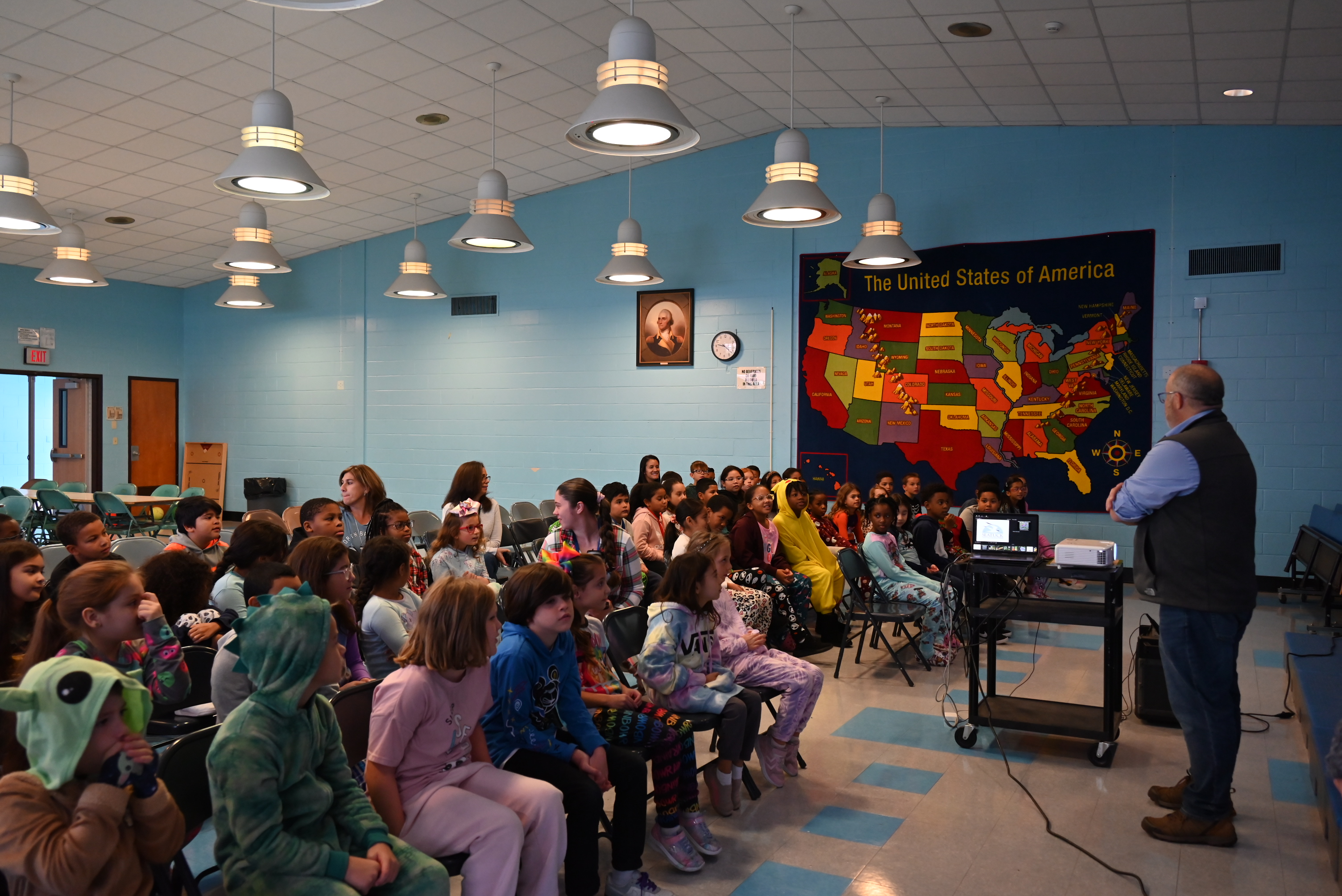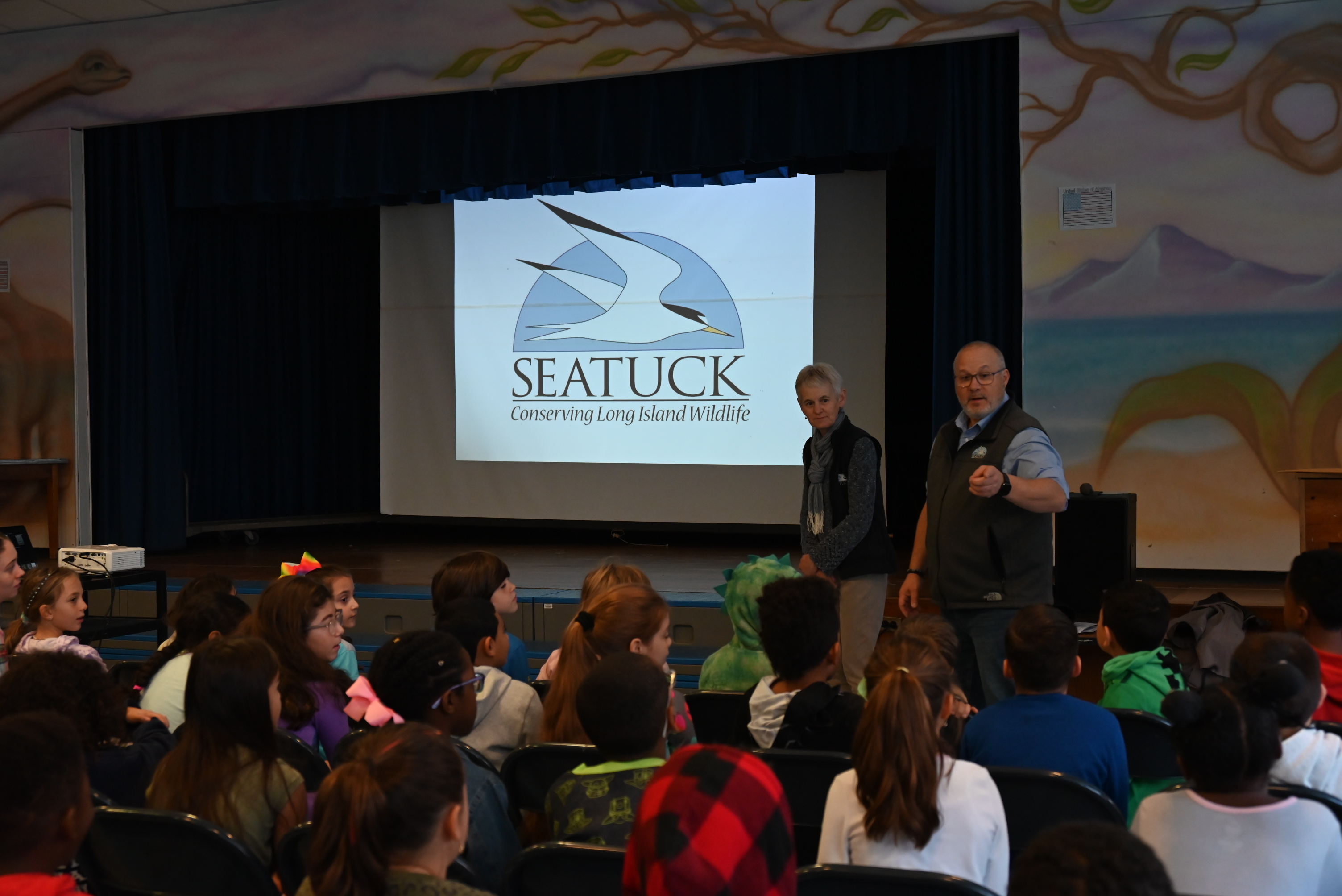 Achievements Honored during Board Meeting
The North Babylon School District showed its gratitude for the board of education during the Oct. 27 meeting as part of School Board Recognition Week. Board of education members were presented with small gifts and certificates of appreciation.
Members of the North Babylon High School choir sang "The Star-Spangled Banner" prior to the start of the meeting. The board of education and central administration also recognized various achievements of students and staff throughout the district. Senior running back Nathaniel Griffith was honored for breaking three separate records on Oct. 1. Griffith made history during the homecoming game, breaking the North Babylon High School, Suffolk County and Long Island single game rushing yards record with 38 carries, 489 yards and seven touchdowns.
Director of Athletics Jason Friesen was honored for the North Babylon School District's recognition as a School of Excellence for having 75 percent of its student-athletes named as scholars. Lastly, the Board of Education honored social studies director Dr. Krystle Barnett for her work by the Town of Babylon for Hispanic Heritage Month.