Woods Road Elementary School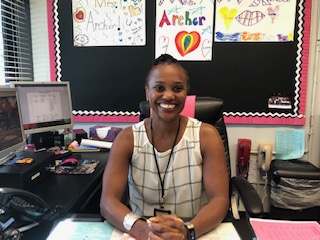 A Message from Mrs. Archer
Dear Parents/Guardians,
Welcome to Woods Road Elementary School! We are excited and look forward to working with your child(ren) as we embark on a new year. Woods Road is committed to learning and growing where we educate hearts and minds. Our mission is closely aligned with the North Babylon School District's mission of building character and teaching students to be thoughtful and productive citizens in a diverse and democratic nation. It is our shared vision that students will develop analytic minds, a love of learning and work collaboratively with others.
Woods Road is a nurturing environment that fosters academic and social emotional growth. Our staff is committed to creating independence and problem solvers guided by an appropriately challenging curriculum to prepare students for college and career readiness. We hope that students develop long lasting friendships as they advance from one grade level to the next.
Family involvement is strongly encouraged to enhance the programs here at Woods Road. Volunteers are often needed to support the various activities planned for the year. We have a strong and dedicated PTA that is actively recruiting new members. Together, we will create positive experiences and productive citizens.
We look forward to a year of growth and several successes!
Kind regards,
Celeste Archer
Principal