EDIT MAIN
Spelling Bee 2020
Congratulations to Ugochi from Mrs. Pellegrino's class and to all of the participants of the 2020 DeLuca Spelling Bee!
Unsung Hero Award
Congratulations to Mrs. Kresic and Effie Borsilli for receivng the Eileen Martin Unsung Hero Award! The PTA honored them for their outstanding voluntary work within the community.
P.A.R.P. Guest Readers
It was a PARPtastic day at DeLuca due to some very special guests. Mr. Sullivan and Mr. Pollock's 6th grade students visited each classroom to share their love of reading. Every class got to hear at least two stories, and some former students had the opportunity to reconnect with past teachers. This event was a wonderful way to celebrate PARP (Pick a Reading Partner).
Kindness Challenge
Student Council readies the last 14 bags of shoes they collected for the Kindness Challenge! Almost 300 pairs of shoes were donated during the program.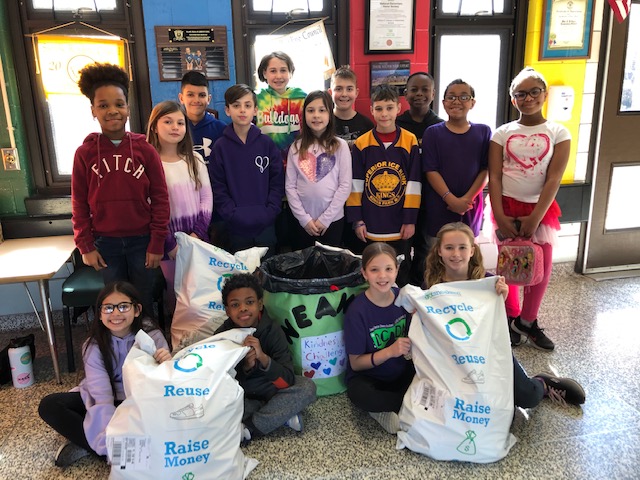 P.S. I Love You Day
Mrs. Hackett's Class on P.S. I Love You Day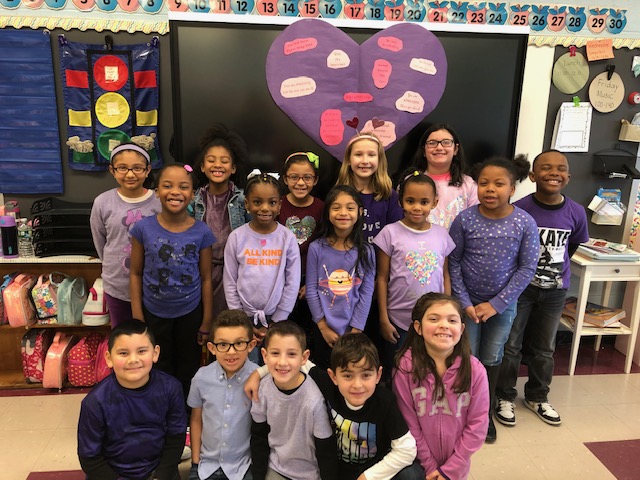 100th Day of School!
Makerspace Club
Students were challenged to make the biggest snowmen based off the book The Biggest Snowman, and asymmetrical Snowflakes after reading Snowflake Bentley.
Special Persons Dance
Mrs. Coromilas shares a few snapshots of her class at the DeLuca's Special Person's Dance.
Author Visit with Nancy Churnin
Mrs. Pellegrino's fifth-grade class was treated to a personal reading of Charlie Takes His Shot by author Nancy Churnin!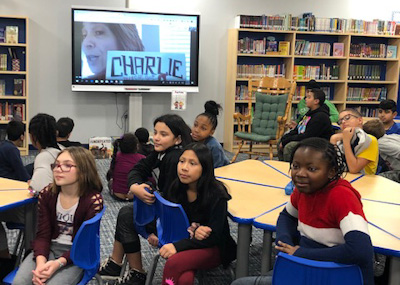 Green Screen up and running in the library!
Ms. Finelli's Enrichment class had the chance to try out the new Green Screen in the Library.
Groundhog's Day in Mrs. Coromilas' Class
DeLuca celebrates Dr. Martin Luther King Jr.
Faculty and Staff wore blue in remembrance of Thomas Valva.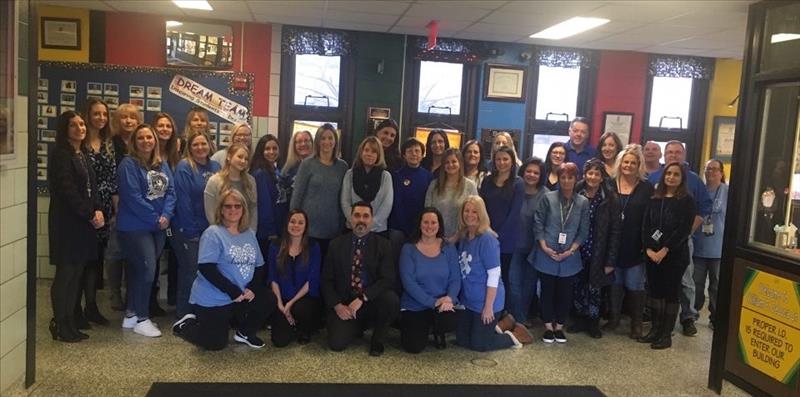 Mrs. Kresic's fourth-grade class finding factors of numbers and least common multiples on our new mats!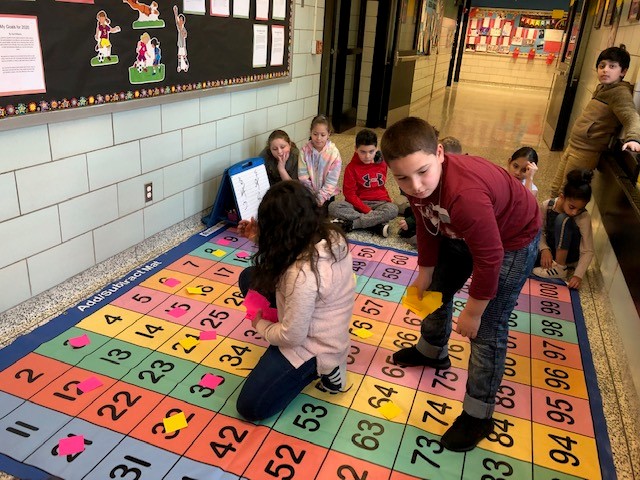 STRIVE Striving
Our Student Council members collected donated items to fill up Holiday stockings that will be delivered to Sagamore Children's Hospital.
Mrs. Stone's Class Makes Cookies for the Veterans
Mrs. Stone's class made and packaged cookies to be given out to the Veterans attending the Veteran Day Parade!
Human Food Chain 2019
Halloween Parade
Students and Staff had a blast showing off their Halloween costumes for our annual Halloween Parade.
Scare Away Drugs Red Ribbon Week
Thank You to the PTA for helping scare away drugs by contributing the scarecrows and materials used by the DeLuca students for Red Ribbon Week, and for making the Halloween maze such a huge success!
Mrs. Rebholz's Class Pumpkin Patch
Students from Mrs. Rebholz's class getting into the Halloween spirit.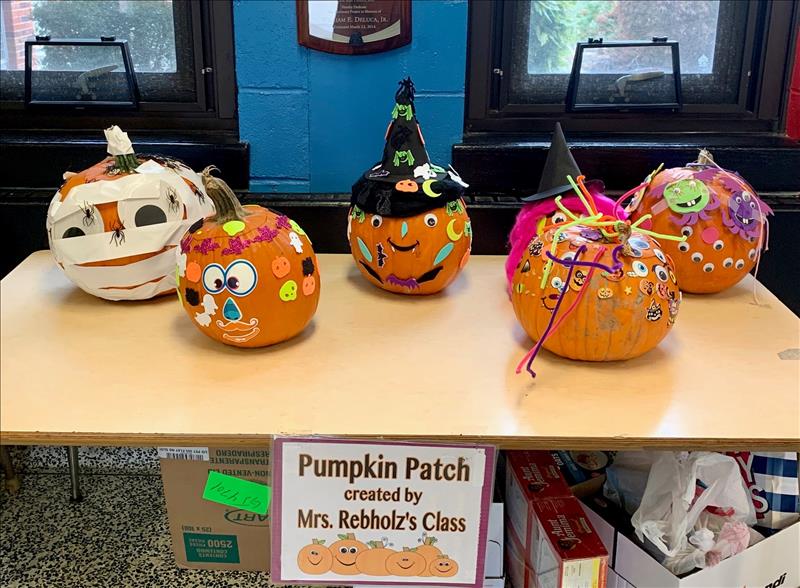 STEAM Club Fun
Ms. Finelli's STEAM Club working together to brainstorm ideas on how to best use the Marble Run from the Library's New Makerspace.
Art Club
The Art Club worked on Sugar Skull designs, a Mexican Traditional craft.
NEW Library!!!
Our brand-new Library is open and we are really excited to be in it!
Fifth Grade Car Wash 2019
Fourth Grade Lighthouses
Student Council
WED's Student Council helped collect 4,643 water bottles to be recycled! The bottles were recycled by The Boy Scouts.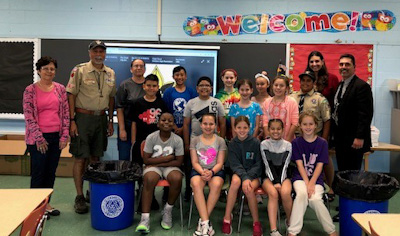 Teachers Appreciation Award
Ms. Gregorio and Mrs. Gregorek both recieved the Suffolk County Legislature's Teachers Appreciation Award. These distinguished educators are being recognized for being exceptional teachers who have made a positive impact on education. Congratulations to both of you! Well done!
Flag Day 2019
Relay For Life
In participation of the district-wide Relay for Life event this weekend, DeLuca students walked during their recess time to raise awareness for cancer.
'Be Victorious' Winner
Congratulations to Nicholas S. ocecieving the 2018-2019 Be Victorious Award! Please see his news article here.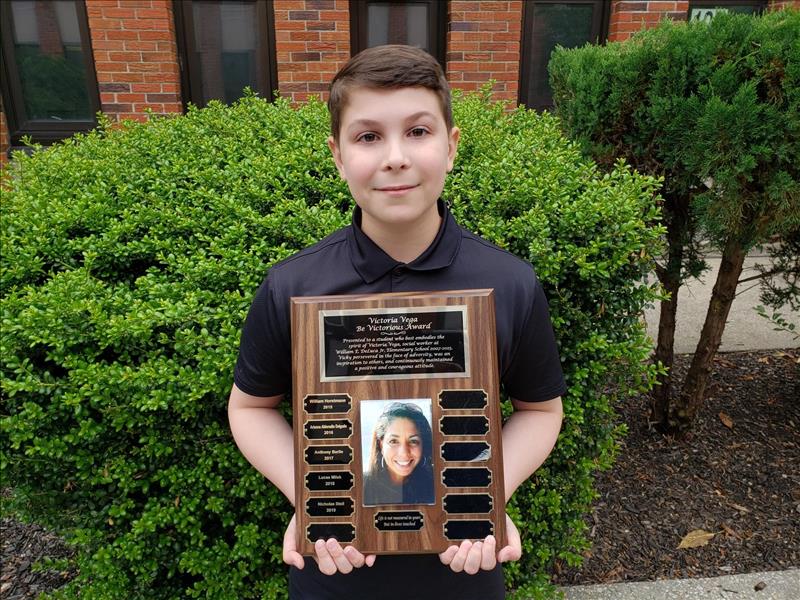 The B.E.S.T. of BEST!
Students were honored at our recent B.E.S.T. assembly celebration. These students have shown Bravery, Empathy, Sincerity, and Teamwork characteristics throughout the school year. Congratulations to all, especially the B.E.S.T. of the Best award winner, Nicholas C.!
DeLuca celebrates Autism Awareness Day
William E. DeLuca Jr.s 2019 Spelling Bee Participants/Winners
Mrs. Belgrod's ELL Class Trip
Variety Show 2019
Ms. Gregorio, Mrs. Tweeddale, and our very talented students worked very hard to put on a spectacular performance.
Kids Inquiry Conference
The Kids' Inquiry Conference (KIC) is designed to give students and parents the opportunity to work together on a science project at home.
5th Grade visits Heckscher Museum
ENL
ENL students Zaid, Bryson, and Emma work together in Mrs. Belgrod's class to complete a U.S.A. and a World Map puzzle.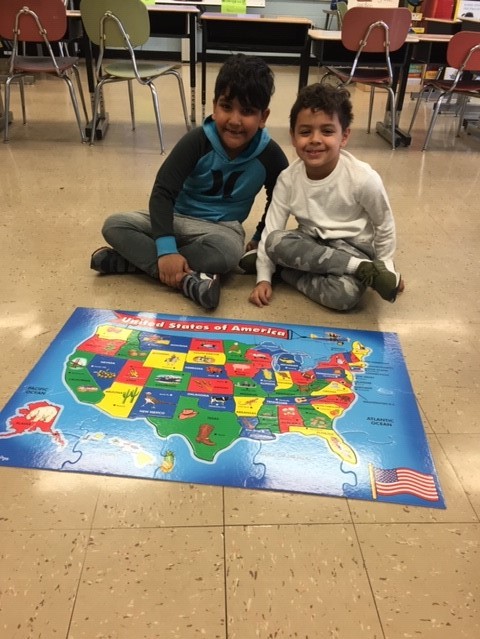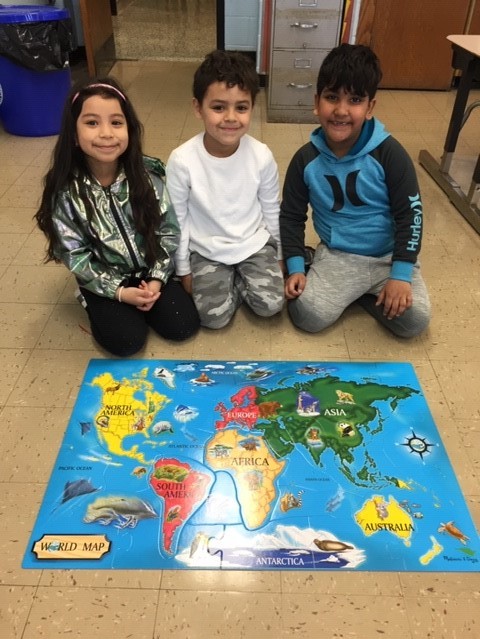 Dr. Seuss & Read Across America Week
Mrs. Inserillo, Mr. Fantauzzi, Mrs. Coromilas & Mrs. Baptist help celebrate Read Across America Week by dressing up as Things 1 & 2 and the Cat in the Hat.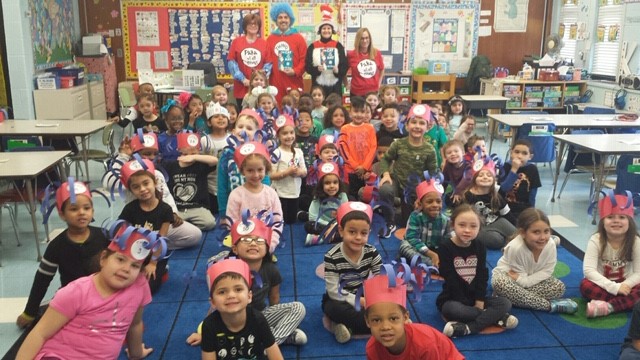 100th Day of School
The 100th Day of School celebrations in Mrs. Stone's & Mrs. Coromilas' classes.
Multi-Cultural Performance for Black History Month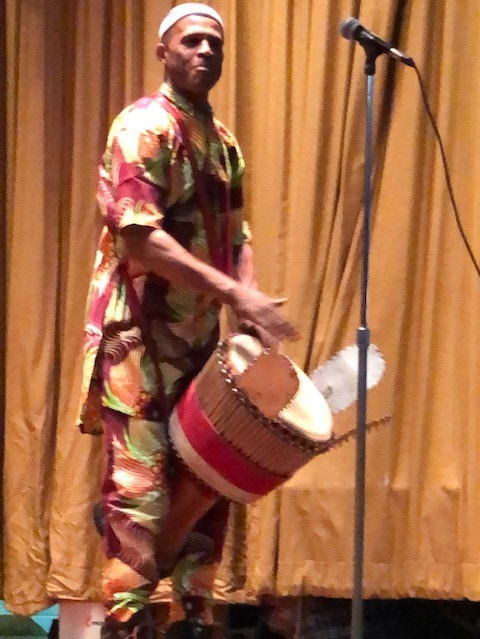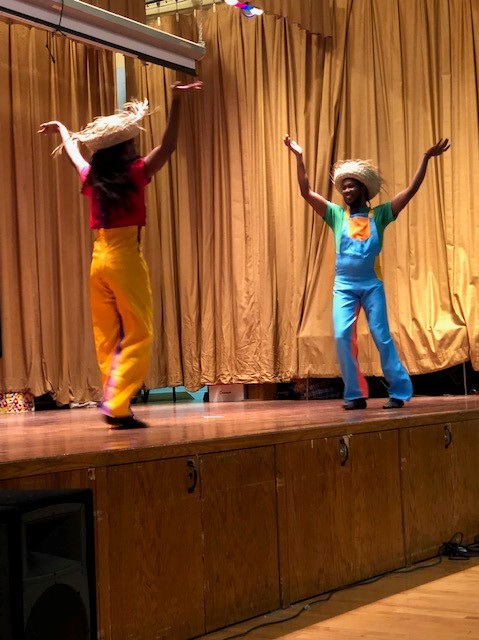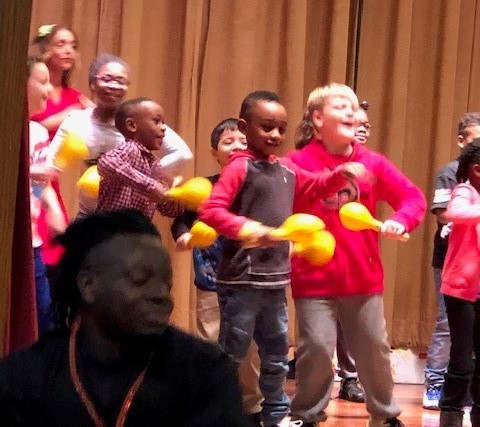 P.S. I Love You Day!
Students wore purple clothing and staff decorated the hallways with purple hearts to celebrate P.S. I Love You Day on February 8th.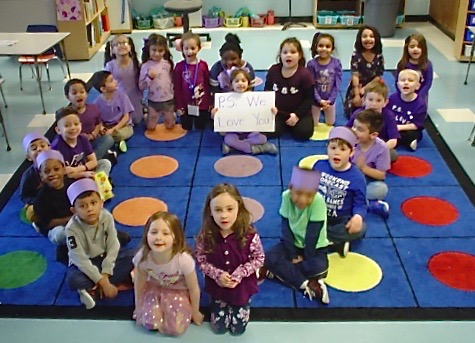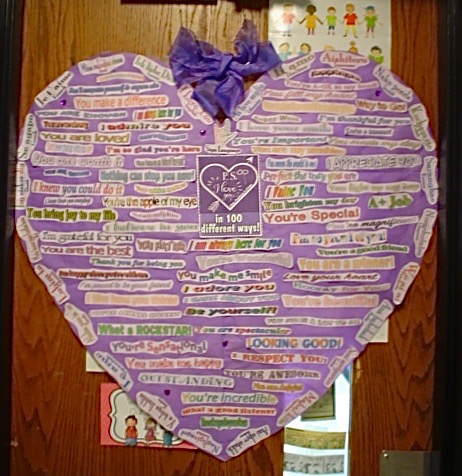 Enrichment
Students in Enrichment classes give up their recess to learn how to use the Osmos and the Ozobots.
STRIVE
5th graders helping out and reading with our STRIVE class during Library special.
Long Island String Festival Association
Fifth Grade students Lydia & Leah (far right) represented DeLuca at the LISFA concert on January 27, 2019. Way to go!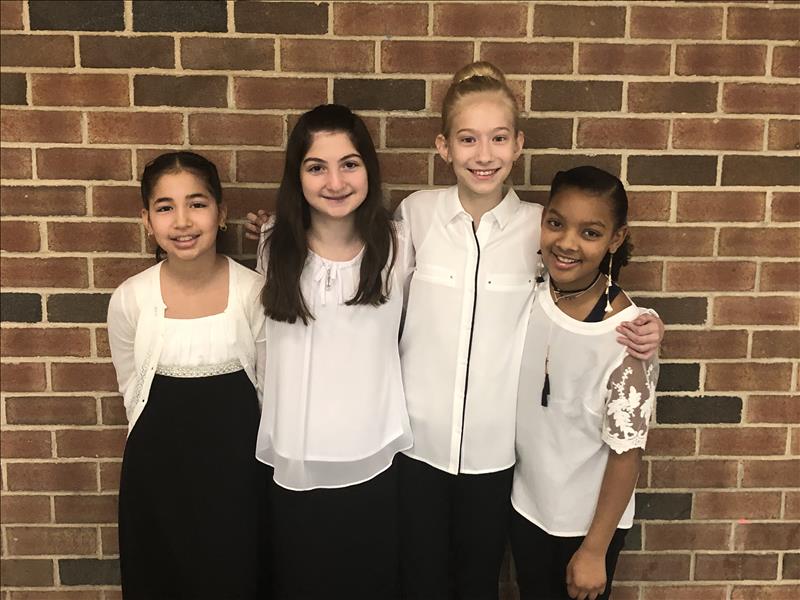 3rd Graders receive a Student Dictionary from the Babylon Rotary Club!
Spirit Week 2019
Sports Day, Pajama Day, Mismatched/Wacky Hair, Time Travel and School Spirit Week!
Faculty Cookie Swap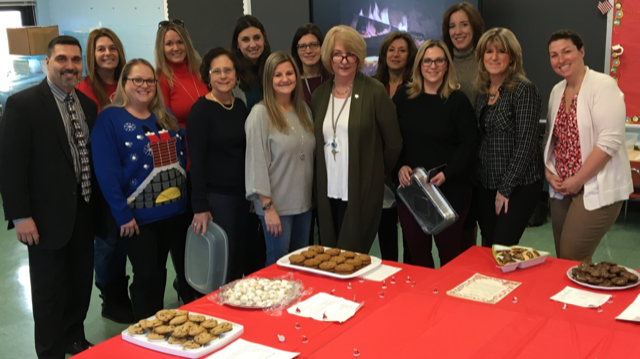 Student Council
DeLuca Student Council once again provided Holiday Stockings for teen patients at Sagamore Psychiatric Hospital. Student Council gathered donations, and then funded the cost of the stockings and additional items to put in them. Students stuffed the stockings and they will be delivered in time for Christmas. Student Council thanks the many families who contributed to this annual project.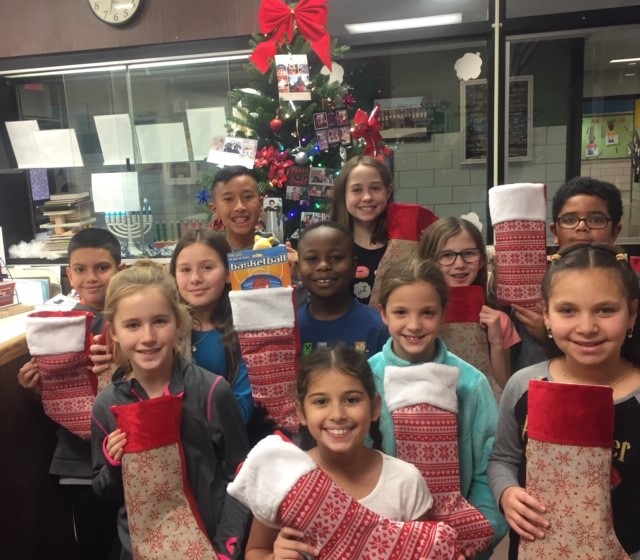 Barnes & Noble Night Reader's Theater
Veteran's Day Parade
Human Food Chain
Halloween Parade
Pumpkin Patch & Fall Ball
Red Ribbon Week
To kick off Red Ribbon Week and 'scare' away drugs, these scarecrows were created by the DeLuca students to remind them that drugs are scary!
5th Grade Car Wash
PTA Welcome Back Picnic 2018
DeLuca's 50th Anniversary Celebration
Congratulations to our Be Victorious recipient, Lukas!
Congratulations to all of our Kindergarten Graduates!
STRIVE party
Mr. Innes held a party for all of the students who participated in the Strive to Thrive program this year. These students gave up their lunch/recess and class time, to help out with our Strive students.
Library in the Courtyard
Classes 2-A, 2-B & Ms. Finelli took advantage of the nice weather and our beautiful courtyard, to read our library books.
Student Council Memorial Scholarship
Gabriella Shank was awarded the First Annual William E. DeLuca Student Council Memorial Scholarship on May 23rd. She is pictured with moderators Ellen Kresic and Jody Tafuro.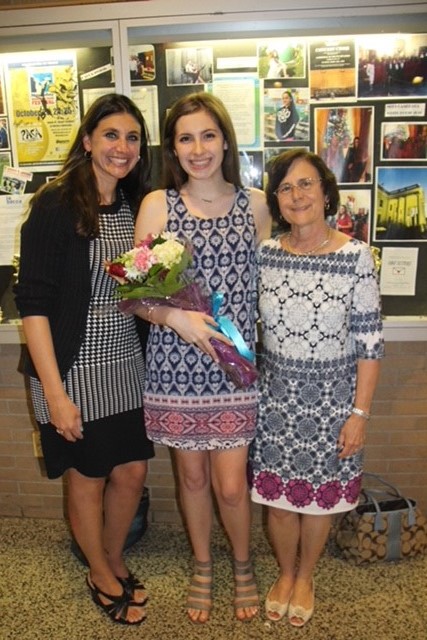 Field Day 2018
Snoopy Statue
Brookhaven National Laboratory Elementary Science Fair Participants & Mrs. Guida, KIC Educator
Great Job Blake, Lawrence & Jack!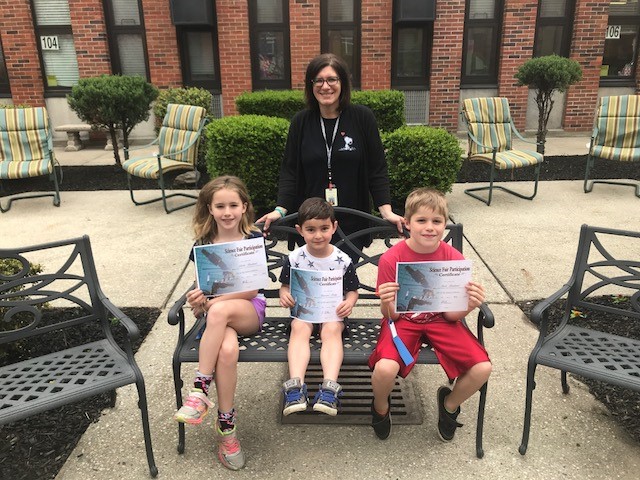 PSEG Energy Earth Day Assembly
Learning some useful tips to save energy during the "Energized Guyz" Assembly by Long Island PSEG.
Pennies for Patients
Our Pennies for Patients Program, which benefits the Leukemia & Lymphoma Association is off to a great start for week one! So far we have raised $1,111.36, thanks to all our students, especially Mark of Mrs. Stone's class. He and his family raised over $80, all in coins, which Mark donated to our program. Way to go!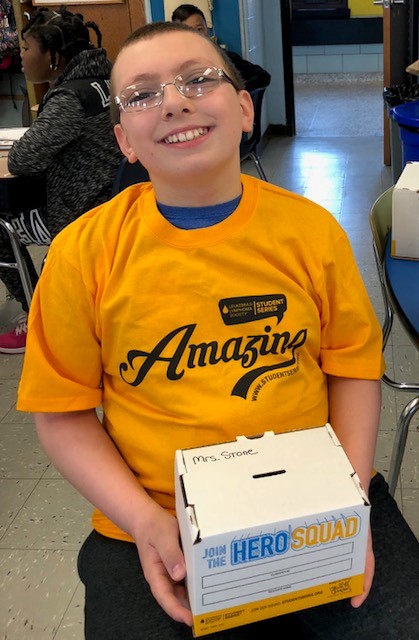 DeLuca celebrates Autism Awareness Day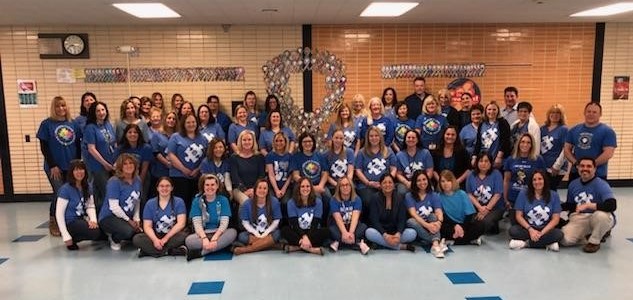 STRIVE
Ms. Ilowite's STRIVE class reads books during Library push-in time.
The Easter Bunny
Mrs. Coromilas, dressed as the Easter Bunny, came to spread the Easter cheer by holding an egg-hunt and story read aloud with Mrs. Stone's class.
Variety Show 2018
KIC: Kids Inquiry Conference
The KIC is designed to give students and parents the opportunity to work together on a science project at home. Mrs. Coromilas' 1st grade class also experimented with multiple science projects and entered the contest as a class.
Dr. Seuss Read Across America Week
The Cat in the Hat, and Thing 1 and Thing 2 (Mrs. Coromilas, Mr. Fantauzzi, & Ms. Finelli) reading a Dr. Seuss book to Mrs. Guida's class. Mrs. Stone's class making Green Eggs and Ham!
Kindness Assembly
Mr. Miguel Rodriguez came to speak to us about the Think Kindness Challenge. We have pledged to try and perform 5,000 Acts of Kindness in the next 15 days! Please look at the Parent Information page for more on this challenge.
Jump Rope For Heart
Kindergarten & 1st Grade:
2nd & 3rd Grade:
4th & 5th Grade:
Lego Club
Third, fourth, and fifth-graders explored robotics through the Lego Club, held on Friday afternoons. Check out their news article in Current News for more information.
Spelling Bee 2018
Congratulations to all who participated, especially to the 2018 Spelling Bee winner Jack Rowland, and the runner-up Christopher Galante.
Spirit Wear Week 2018
Wear your favorite team jersey/hat, pajamas, crazy hair/mismatched clothing, and dress from another decade!
Enrichment
5th Grade Enrichment is learning how to use the Osmos
and coding with the Ozobots.
Holiday Sing-a-Long 2017
Mrs. Gembinski did a wonderful job organizing our Sing-a-Long.Each grade got to sing multiple holiday songs celebrating Christmas, Hanukkah, and Kwanzaa. Fun was had by all - and we even had a surprise visit from Santa & his elf!
Hour of Code Week, December 4-10, 2017
The students in Mrs. Coromilas and Mrs. Saeli's classes had the chance to Code in their classrooms using the Bee-bots!! Also, the entire school participated in the Hour of Code during National Computer Science week in their library classes.
PARP Principal's Challenge 2017
We reached our goal! & as promised, Mr. Fantauzzi accepted the Principal's Challenge of riding a mechanical bull! The top reader from each class also had the chance to ride the bull!
PARP Readers' Theater @ Barnes & Noble Night
Our first ever Barnes & Noble fundraising night was a great success. Here are our 4th and 5th grade volunteer readers' theater performances. They did a wonderful job!
PARP Wild West Day
Student Council
Student Council once again helped spread Holiday Cheer by providing and filling 30 stockings for teen patients at Sagamore Psychiatric Center. Thank you to all the families who donated cash and needed items. Pictures are Mrs. Kresic and Mrs. Tafuro, Student Council Moderators, and Nurse Fran Acquavita, who provided the idea many years ago.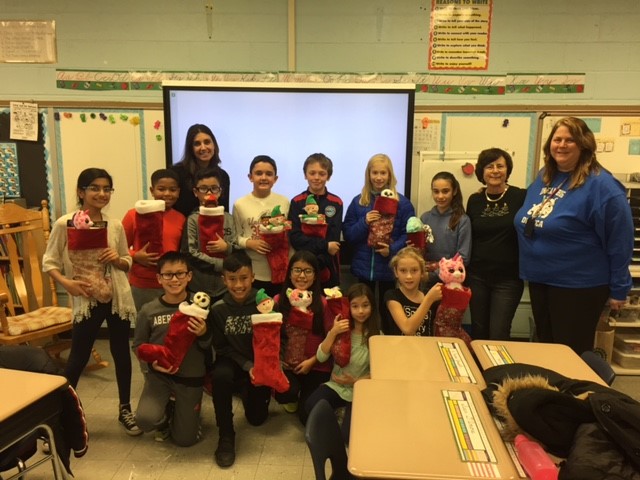 Veterans' Day Gallery of Heroes
Human Food Chain
The students of DeLuca generously donated items to stock up the St. Joseph's Food Pantry in town for those in need.
Halloween Parade
Red Ribbon Week Scarecrows
To kick off Red Ribbon week, these scarecrows were created by the DeLuca students to remind them that drugs are scary!
Mrs. Kresic's Class featured in Newsday!
Mrs. Kresic's 2016-17 4th grade class worked very hard last spring and was recently featured in Newsday!
Fall Ball 2017
Tuesdays with Cooper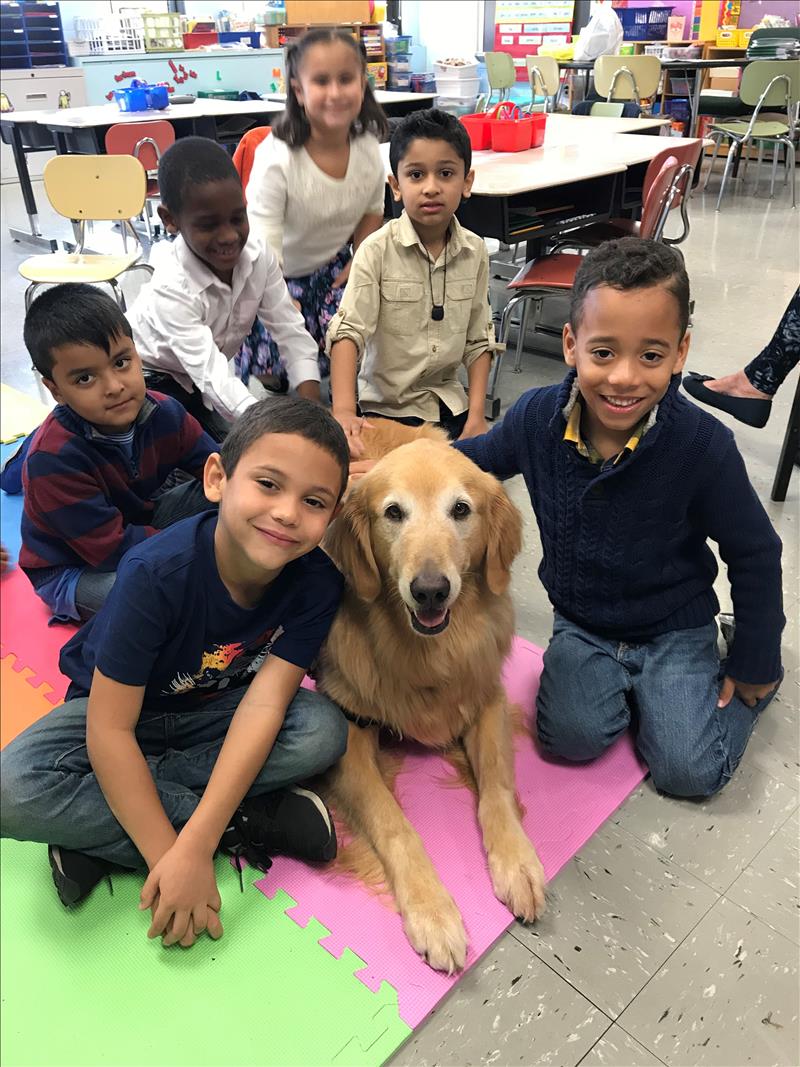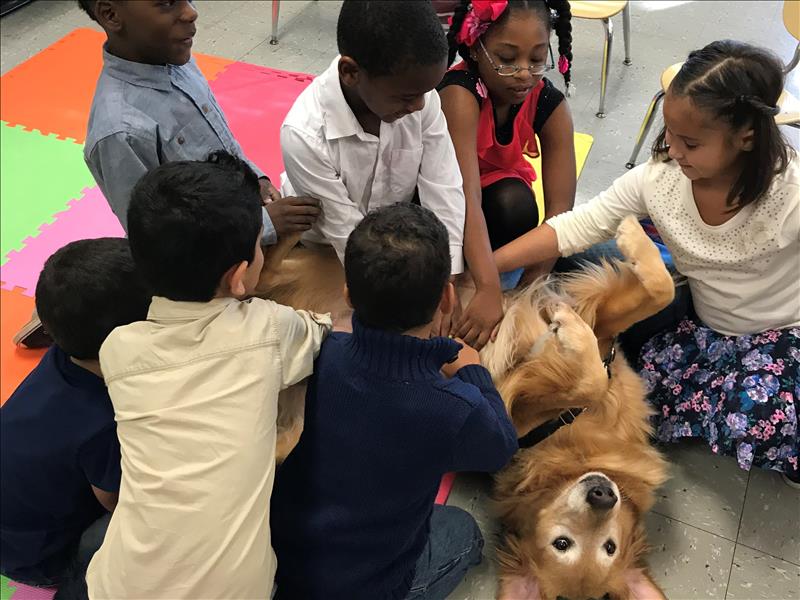 Yoga Wednesdays from Mrs. Saeli's class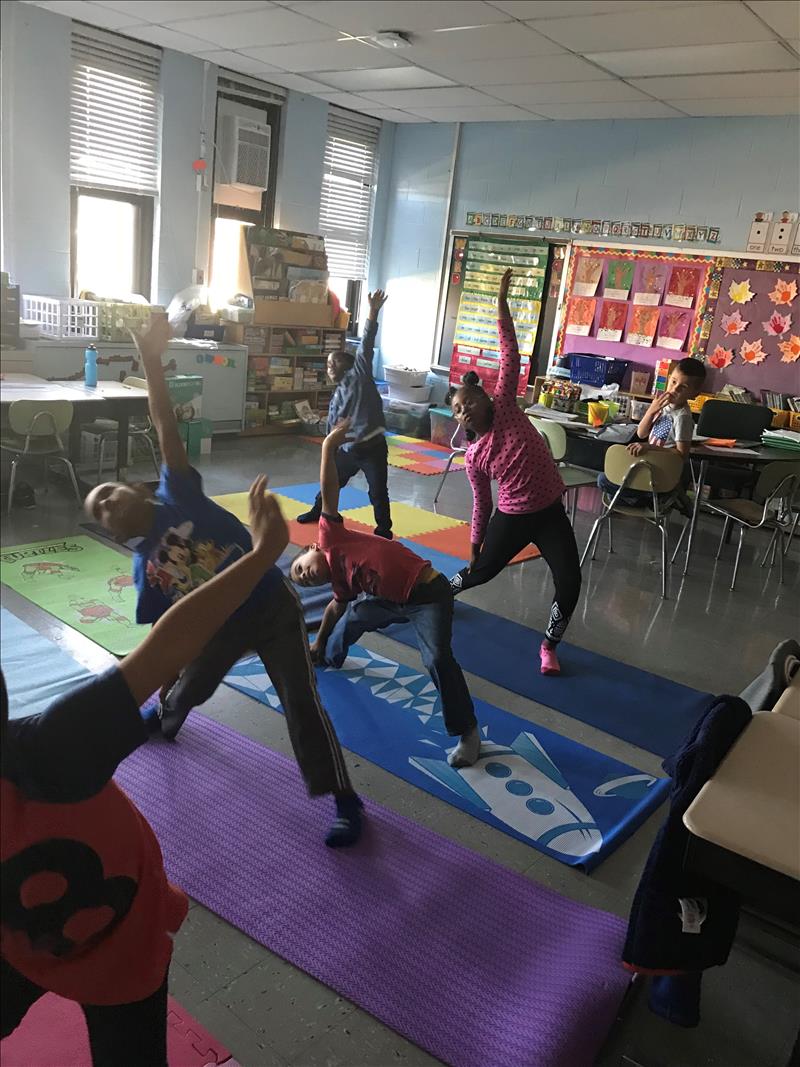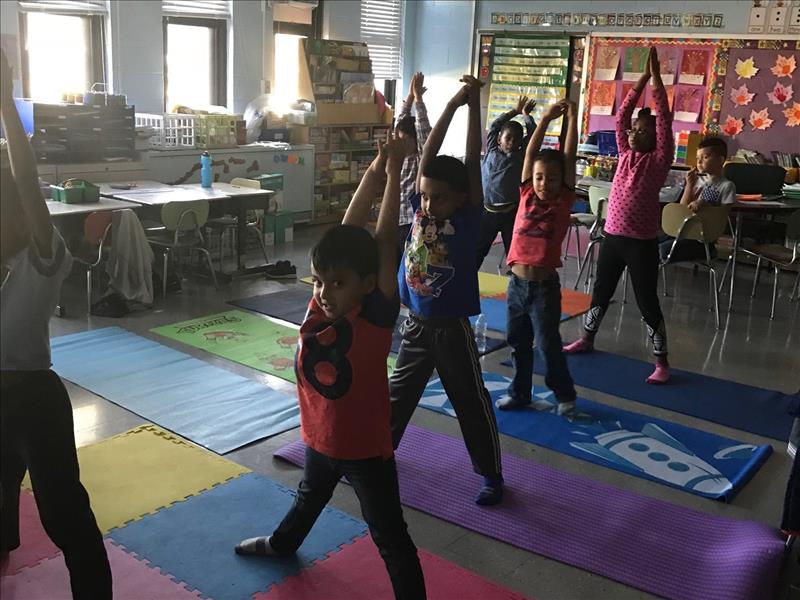 Pumpkin Patch
Our Pumpkin Patch was held on Friday October 20th. Great fun was had by all!
ENL Mapping
Fall Festive Art
Seventh-grade students from Robert Moses Middle School paired up with DeLuca students in grades Kindergarten, 1st & 2nd, to create Fall Festive art. Mrs. Whalen & Mrs. Marchionna brought these students together.
5th Grade Car Wash
Sept. 15, 2017
Flag Day
Our student council representatives helping Mr. Fantauzzi lead our Flag Day Celebration held on June 14th.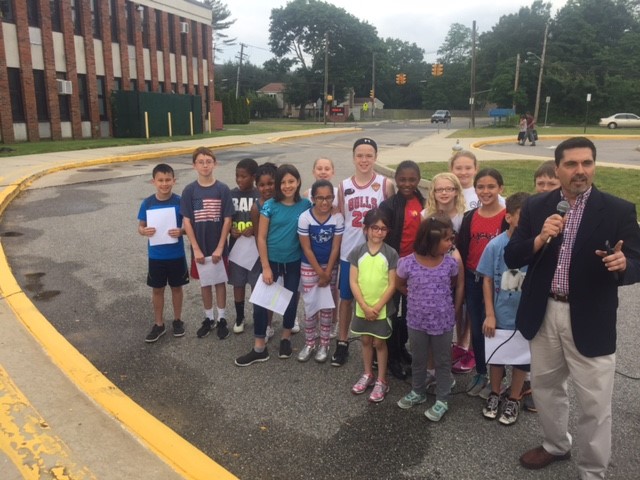 Relay for Life
Thank you for all that participated in helping us reach our goal! Special thanks to Mr. & Mrs. Heimerle for all of their work and efforts in organizing this for us.
Field Day 2017
Great fun was had by all! A BIG thank you to everyone involved, especially Mr. Innes & Mrs. Rosenao!
B.E.S.T. Awards
Our B.E.S.T. program honors the students who are caught displaying the Trait of the Month; Responsibility, Courage, Kindness/Caring, Empathy, & Trustworthy.
ENL + STEM
DeLuca's ENL students were thrilled to learn about STEM in the most unusual of places... United Skates of America! We learned about STEM, we skated, we had a dance party, and we are so grateful to have been a part of it!! Thank you Mrs. Guida and Mrs. Stone for inviting us!!
Festival of Arts
Mix-It-Up Day
DeLuca students participated in their first "Mix It Up at Lunch Day" in May. This is a national campaign launched by Teaching Tolerance to encourage students to connect with someone new over lunch.
Mock-Vote for Students
On Tuesday, May 16th, the North Babylon community held a district budget vote.
Students in grades 2-5 had an opportunity themselves to "vote". They chose their top two choices for the new after-school clubs intended for the 2017-18 school year.
Discussed was the voting process and what happens at the polling stations. They had to find their names on the sign-in sheet and provide a signature just like 'real' voters do.
Organic Food Garden
Our four-season Organic Garden is up and running! The students have been learning how to grow organic food and develop a healthy lifestyle by working on the outdoor planting beds, a greenhouse, and learning how to compost. The Garden has produced food for not only our Foundations For Learning classes and the Summer School Program, but for our local Food Pantry as well! To hear all about this, please visit our News articles.
The 1st Graders were given trees to plant in honor of Earth Day. Pictured is Noah (1-A) planting his.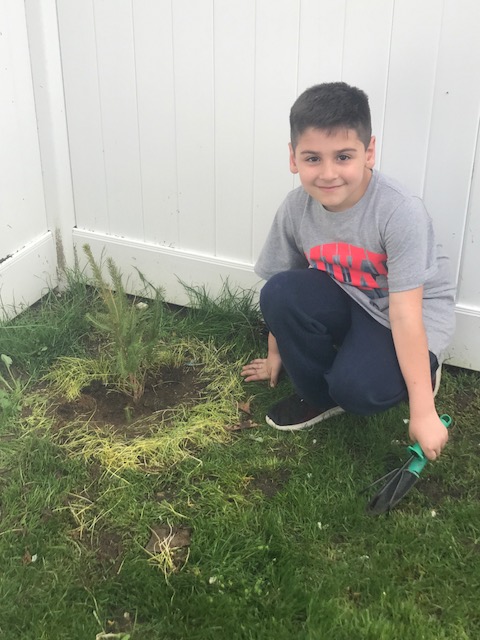 Esperanza Rising
Mr. Ierardi's 5th Grade class put on a spectacular performance of the book Esperanza Rising written by Pam Nunez Ryan.
Check out Kindergartens' Spring Bonnets!
KIC Science Fair
A special Congratulations goes out to our KIC Science Fair Winners Reese Rowland, John Rowland, and Blake Rowland who will be representing DeLuca at the Brookhaven National Lab!!
We are so proud of all of our students who participated in our Variety Show! DeLuca has a LOT of talent!
Special thanks to Mrs. Gregorio & Mrs. Tweeddale; without their help, this would not have been possible!
Jump Rope for Heart!
We had so much fun raising money for the American Heart Association. Donations can be sent in to Mr. Innes until the end of March. Please help us reach our goal as a school of raising $5,000 for this wonderful organization!
Dr. Seuss Week
The week of February 27th was an exciting week at DeLuca as they celebrated the birthday of Dr. Seuss. Mrs. Coromilas and Mrs. Hackett's class enjoyed listening to WaCkY WeDnEsDaY and finding many WaCkY things in both classes. The Kindergarten classes enjoyed listening to The Cat in the Hat by two of their favorite characters. Mrs. Coromilas' class enjoyed reading all of their favorite Dr. Seuss stories and writing about them.
Rees Specht!
Long Island author Richard Specht of the book "Reese Specht" gave us a phenomenal assembly today on "cultivating kindness". He told us how we can grow the seed of kindness by paying it forward. He showed us how kindness ALWAYS beats bullying!
Bee Bots
K, 1 & 2 grades have been using our Bee-Bots to learn how to code and give step-by-step commands. We had so much fun!
Our very first Veteran's Day Celebration Parade.
We are so proud of the Veterans in our community, and were honored to have them here to celebrate. Thank you all for your invaluable service!
May 04
WED PTA Meeting 7:00 pm
May 05
WED Kindergarten Orientation Program Week Four
May 07
WED Mother's Day Sale
May 08
WED Staff Appreciation Lunch
May 08
WED Mother's Day Sale