EDIT MAIN
Cultural Arts
631-620-7047
Director of Music and Art
Kim Lowenborg-Coyne
klowenborg-coyne@northbabylonschools.net
Secretary
Karen Manzione
kmanzione@northbabylonschools.net
---
Upcoming PASA Meetings
February 22, 2021 @ 7:30 pm
Meetings are via Zoom and all are welcome.

Next Meetings
March 22, 2021,
April 19, 2021,
May 3, 2021
June 14, 2021.
---
NYSSMA 2021
North Babylon School District Registration forms are available from your teacher.
The registration deadline for the Solo and Ensemble Festival is March 3, 2021. NO EXCEPTIONS.
Our Festival will be held between March 26 - April 9, 2021, held virtually.
Audition fees:
All State Soloists: $30 - must be accompanied and perform level 6
Levels 5 and 6 - $24
Levels 1-4 - $16
Checks are payable to the NORTH BABYLON SCHOOL DISTRICT.
Registrations cannot be accepted without fee. No cash, please!
Click here for more information
---
From Jan. 8- 29, the community gallery at the Long Island Children's Museum in Garden City will feature artwork from our students at Marion G. Vedder Elementary School.
The art exhibit, titled "Magical Masks," features creative and colorful masks created by the elementary school's fourth graders, who recently learned about the many reasons people wear masks, including cultural beliefs and enjoyment. Students used crayons, markers and colorful paper to create their mask designs, and even wrote accompanying stories.
---
Painting & Drawing II students in Ms. Lambert's class at NBHS recently completed amazing stop motion animation videos. Great job!
---
Through Jan. 5-7, students at Parliament Place Elementary School attended two virtual assemblies provided by the Tilles Center in Greenvale. All students in grades 4-5 watched a production of "Harriet Tubman: Straight Up Outta' the Underground" and grades 2-3 viewed "Jacqueline & the Beanstalk."
In alignment with their social studies curriculum, fourth and fifth grade students used the interactive storytelling experience to uncover the truth about America's 200-year-old struggle with slavery. The interactive feature called "Pick a Path," offered students options throughout the story to individualize the play by class, similar to "choose your own adventure" books.
Second and third graders also enjoyed the interactive feature when viewing their assembly, "Jacqueline and the Beanstalk," which aligns with their English Language Arts curriculum. The protagonist taught students about female stereotypes and the possibility of breaking those stigmas by believing in themselves and proving their worth.
The programs, which were funded by the district's commitment to BOCES Arts in Education Programming, will also be made available to the district's additional elementary schools in the near future.
---
The beeping of car horns replaced the sound of applause on two cold nights in December as families of North Babylon High School and Robert Moses Middle School musicians filled the high school's parking lot.
On Dec. 21 and 22, at 4, 6 and 8 p.m., the North Babylon music department was thrilled to present the district's first-ever, old fashioned "Holiday Drive In," starring music students from RMMS and NBHS. To kick off the night, North Babylon High School senior Kaitlyn Marcis sang the national anthem, followed by Director of Art and Music Kim Lowenborg-Coyne welcoming the community to the event. Band, chorus and orchestra students then took to the screen to perform holiday classics and show scenes, broadcast via FM radio, in celebration of the holidays.
In an effort to give back to those less fortunate, audience members were also encouraged to donate new winter hats, gloves, socks or unopened snacks to benefit the North Babylon Bulldog Cupboard food pantry.
---
1st-grade students at Woods road are getting ready for winter with these adorable reindeer! They added their own personal touches to make each one unique!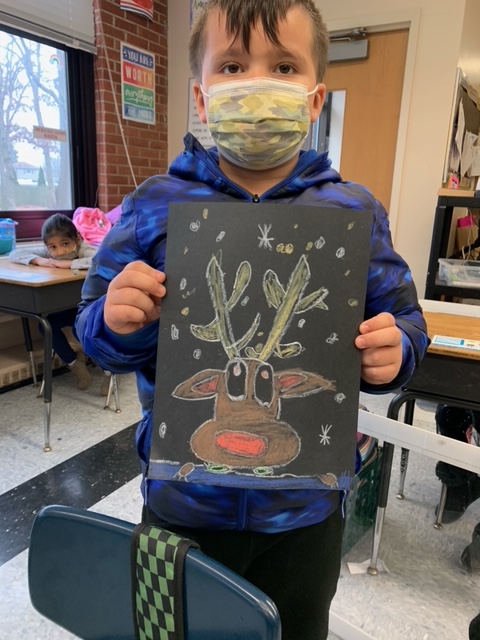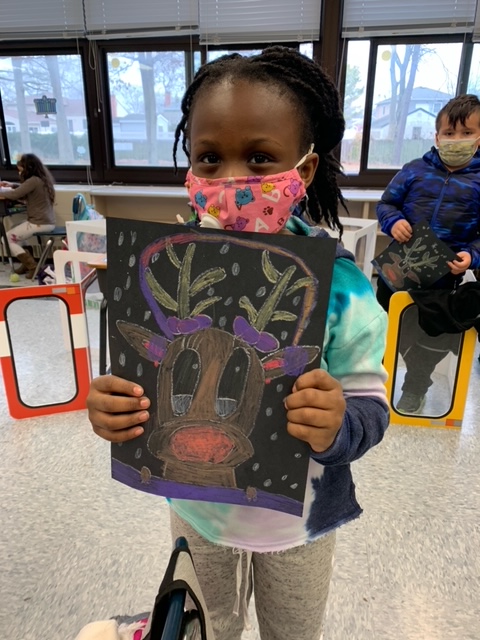 ---
5th-grade students at Parliament Place School learned about French artist Jean Dubuffet and created paper sculptures that had organic shapes filled with geometric patterns. Way to go students and your wonderful new art teacher, Ms. Kampson.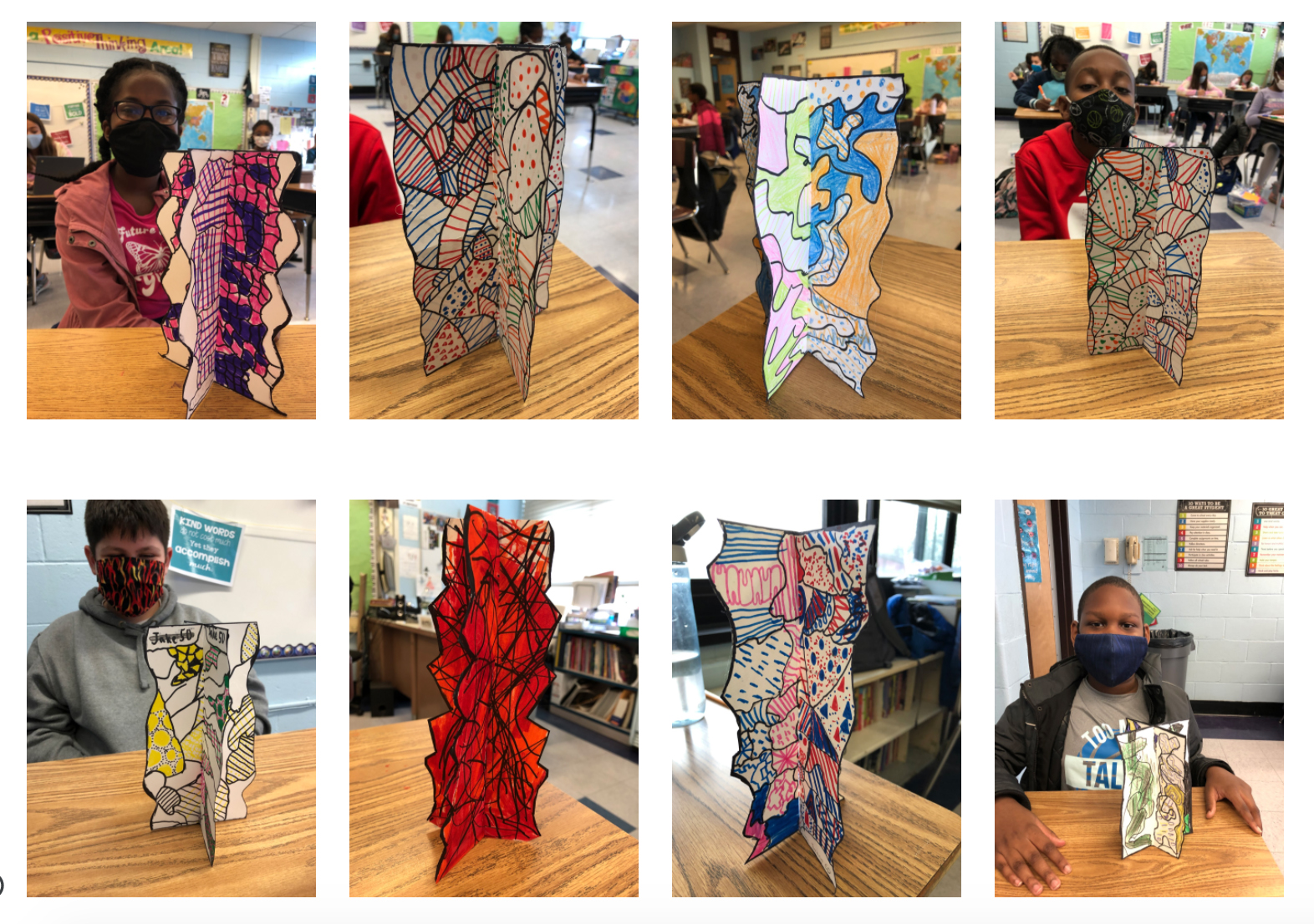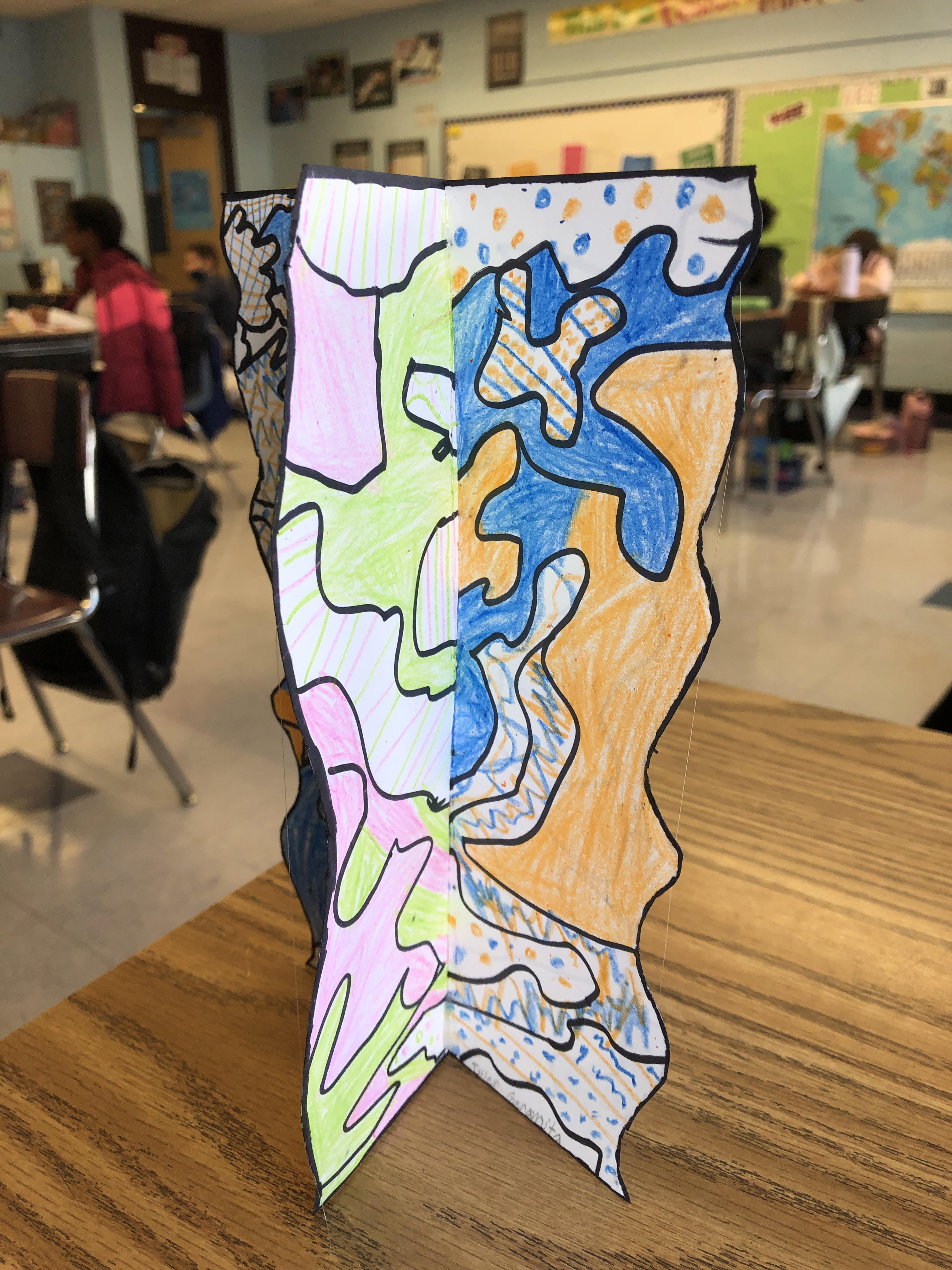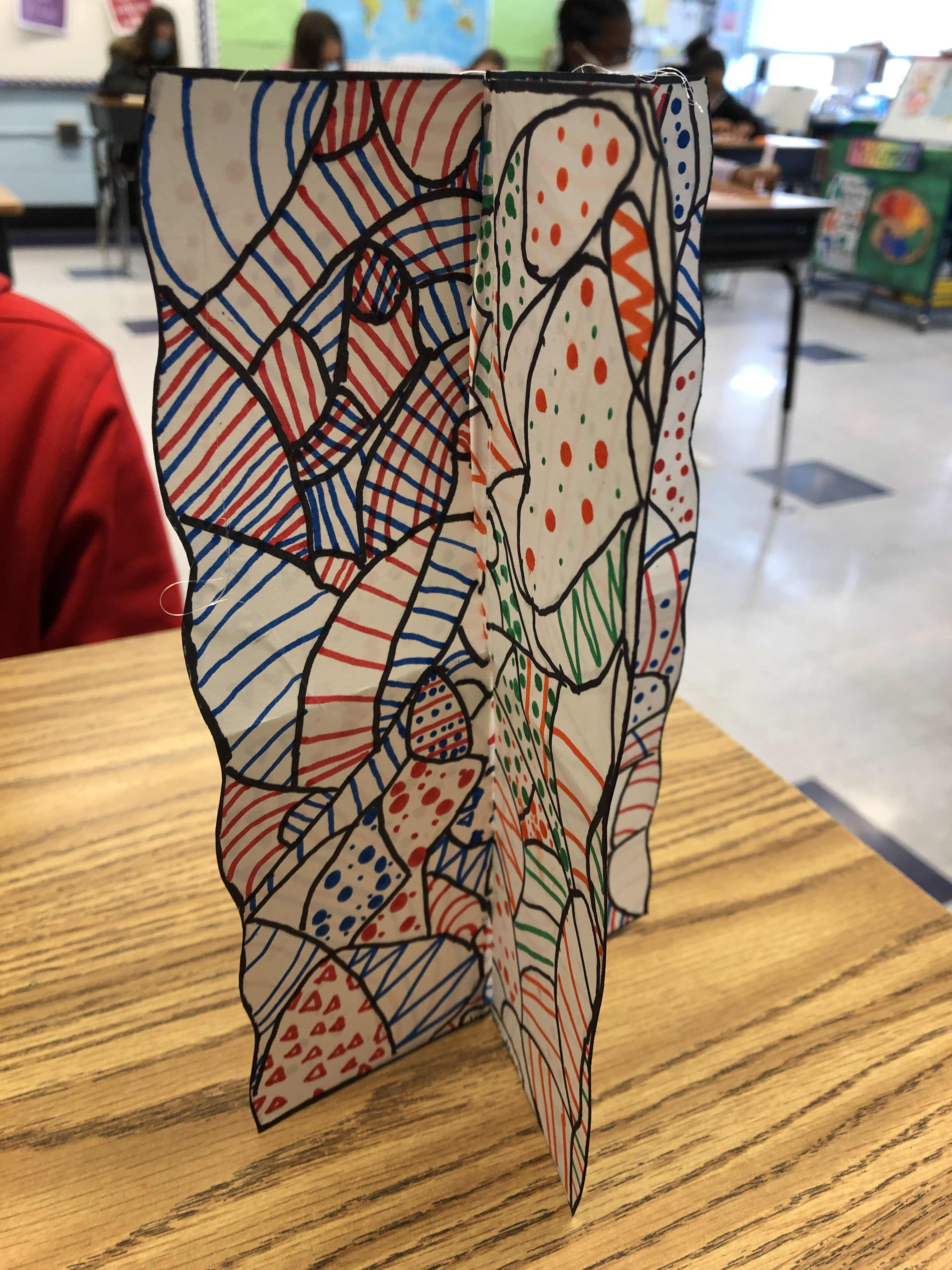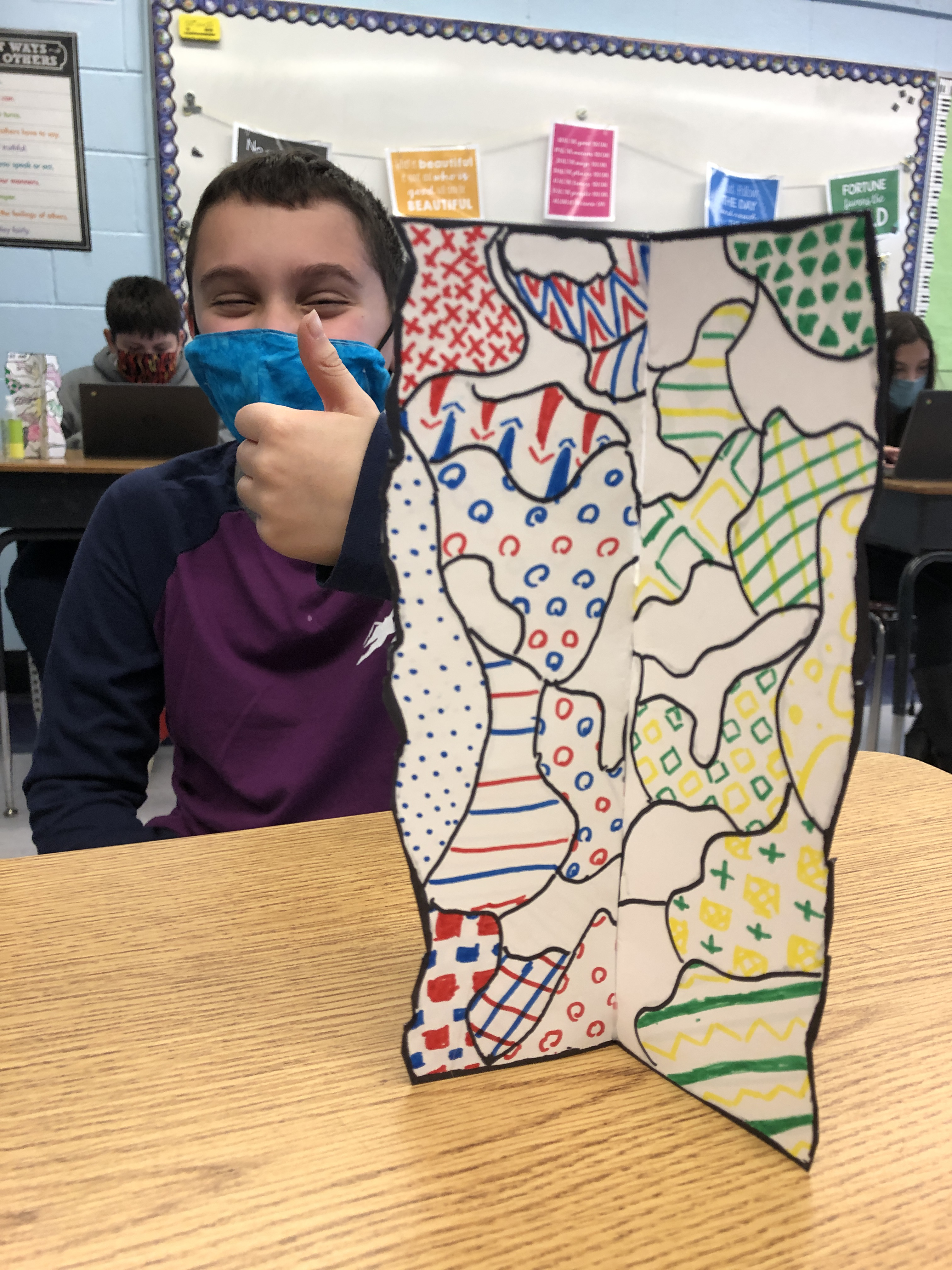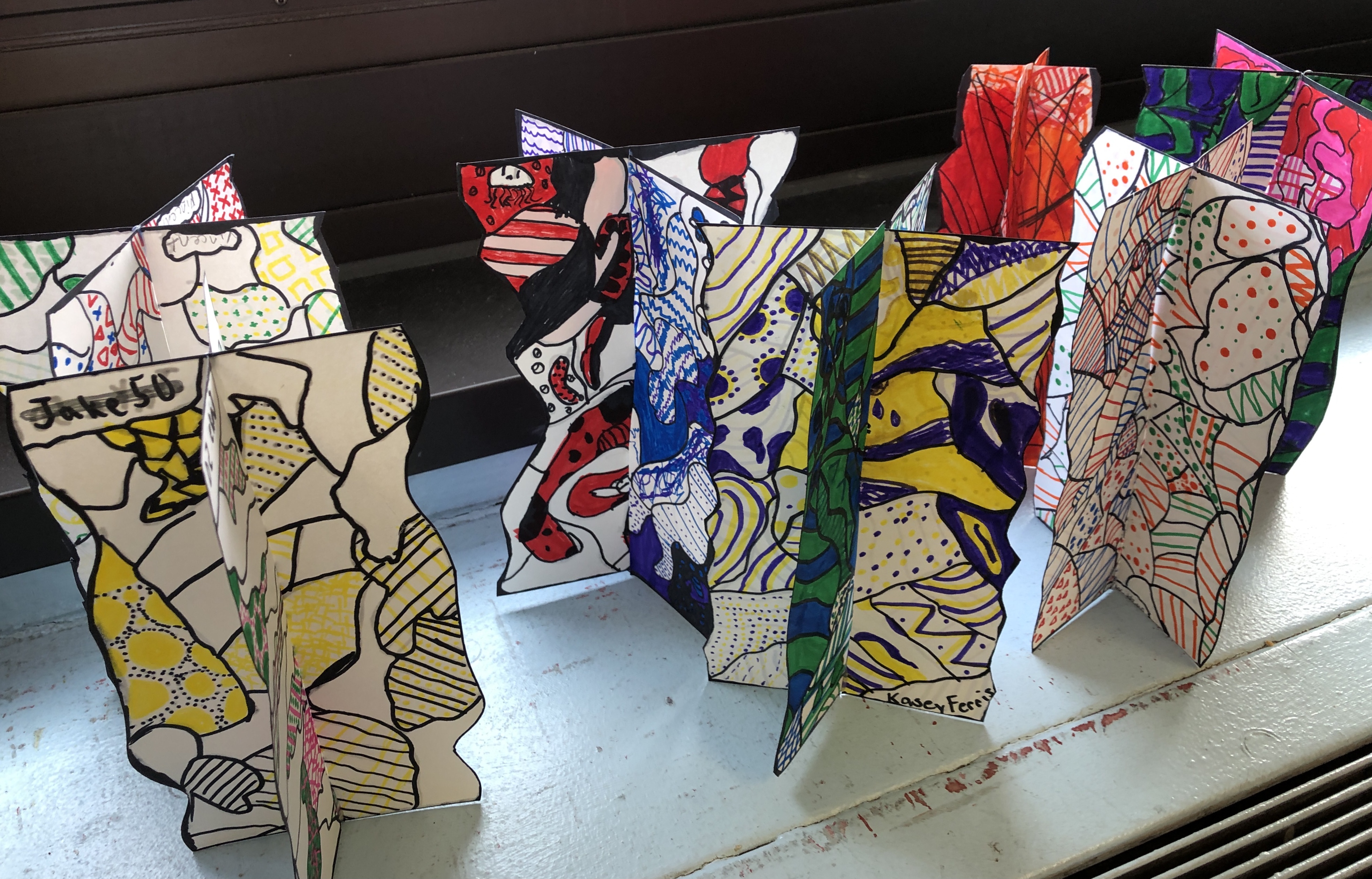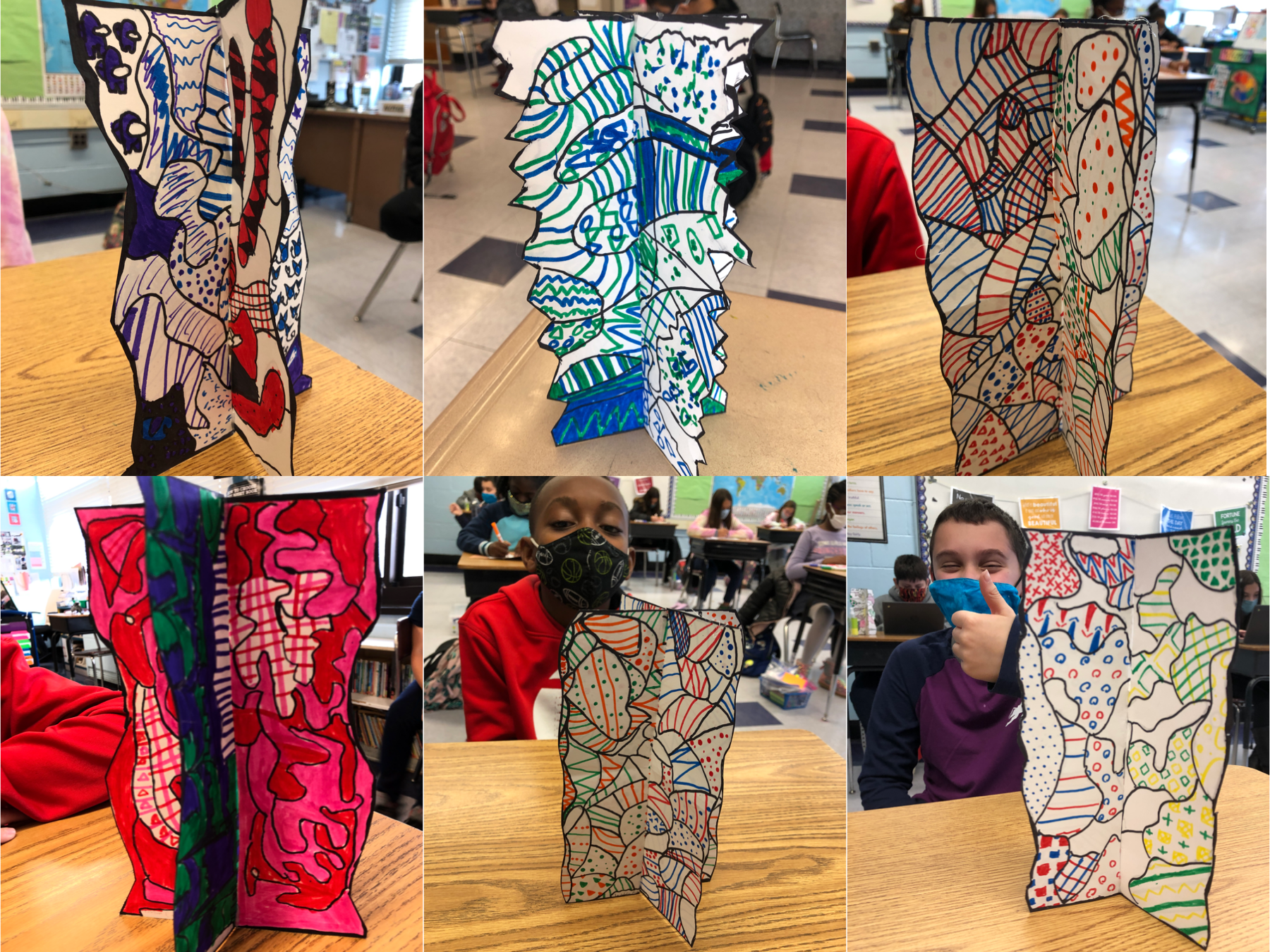 ---
Students Represent District in Prestigious Parade
Robert Moses Middle School Marching Band were proud to march in the Garden City St. Patrick's Day Parade, where they performed "I'm Shipping Up to Boston" arranged by Paul Murtha.
This is a very prestigious parade and is one of the oldest parades in Long Island. This is the band's 12th year performing in this event, where they previously won the Chancellor's Trophy nearly eight years ago. The Marching Band along with Kickline and Color Guard were very honored to be a part of such a wonderful parade.
How arts-based lessons improve science performance: Integrating the arts into science lessons helps the lowest-performing students retain more content, and doesn't require much funding to do.
By: Alison DeNisco | Issue: June, 2019
Integrating the arts into science lessons helps the lowest-performing students retain more content, according to a recent study published in the journal Trends in Neuroscience and Education. In a randomized control trial across 16 schools, fifth-grade classes were assigned to either an arts-integrated or a control condition. During a chemistry lesson, for example, students in the control group read about different states of matter and completed a worksheet. Students in arts-integrated instruction were split into groups to use their bodies to depict how solids, liquids and gases move. For science vocabulary lessons, the control students wrote out definitions while the arts-integrated learners drew them. When tested 15 days after instruction, there were no differences between groups. However, 10 weeks later, the lowest-performing students in the integrated classes remembered significantly more content than their peers in the control classes.
"Rather than being a victim of school reform, we suggest that the arts can be a driver," says Mariale Hardiman, study author and director of the Neuro-Education Initiative at the Johns Hopkins School of Education in Maryland. "If we can begin to close the gap for children who are at the lower levels of achievement because they are learning through the arts, that's something leaders and policymakers need to know."
Arts from the start
Hardiman first began testing arts integration in the early 2000s as principal of Roland Park Elementary/Middle School, part of Baltimore City Public Schools. Today, the school has 1,400 preschool through grade 8 students, about 30% of whom are eligible for free or reduced-price lunch. "There was a groundswell of enthusiasm from a few teachers to make the arts more visible, and we began to coordinate with the traditional content teachers," says Clare Grizzard, arts integration specialist at the school. Grizzard trains teachers and writes lessons using Hardiman's Brain-Targeted Teaching model, which involves adding arts to curriculum planning for all subjects from the start. While teachers at Roland Park have been trained to use the model, it was never required before. Teachers adopted it on their own over time, with ongoing support from the school, Grizzard says.
The school now integrates the subject in three ways:
• Education: All students take courses in visual arts, theater and music.
• Experiences: The school partners with local cultural institutions for assemblies, performances, field trips and guest speakers.
• Integrated curriculum: Arts-infused lessons align to traditional content standards.
Train or fail
Blending the arts into other academic subjects does not require much funding, Hardiman says. However, teachers must be trained in the arts-integration technique, and be given the freedom to use their own content and materials, Hardiman says. Arts-infused lessons must also achieve learning objectives in language arts, STEM and other core subjects, she adds. "You could waste a lot of time doing crafty activities where kids have fun, but don't learn content," Hardiman says. Administrators must offer scheduling that allows for teacher collaboration, and should ideally provide a specialist for training. "It's a real paradigm shift in the approach of teaching," Grizzard says. "It reaches the goals administrators want to reach, getting there in a richer, more long-lasting way."
---
Individuals who took music lessons as children show stronger neural processing of sound: young adults and even older adults who have not played an instrument for up to 50 years show enhanced neural processing compared to their peers.
Music, hearing, and education: from the lab to the classroom; quoted in Northwestern University,
September/October, 2017.
---
Research shows that making music changes the brain, and that these brain changes have tangible impacts on listening skills, learning and cognition.
(2017).
Music, hearing, and education: from the lab to the classroom; quoted in Northwestern University,
September/October, 2017.
---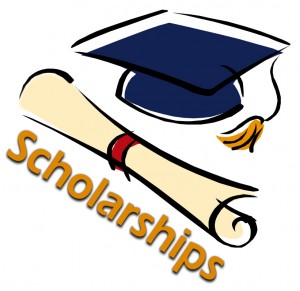 Attention Juniors and Seniors!
There are many upcoming scholarships for which you may be eligible. Be sure to check out our scholarship section by using the link on this page and find the opportunities that are just right for you.
---
Upcoming PASA Meetings
February 24, 2020 @ 7:30 pm
Meetings are via Zoom and all are welcome.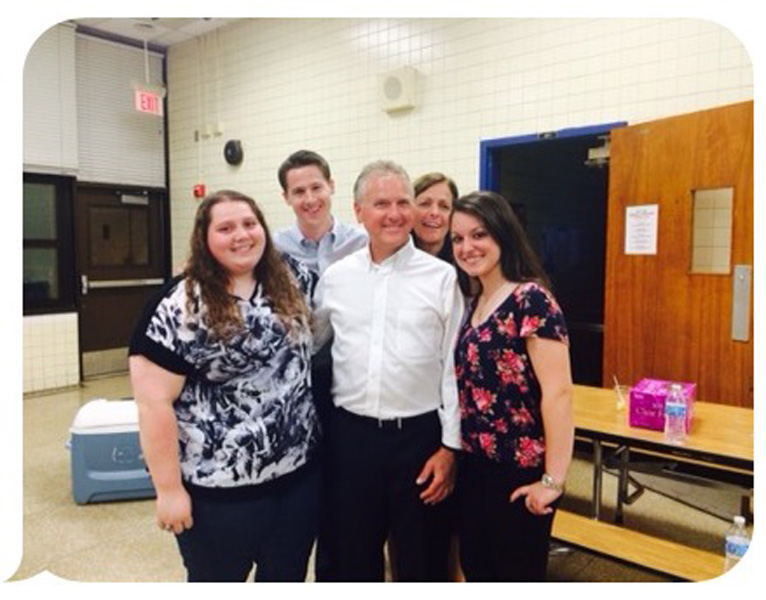 The purpose of PASA is to encourage interest in an attendance at the many varied activities of the performing arts groups of the North Babylon Schools. PASA supports North Babylon students by advocating, promoting and lobbying, community wide, the virtues of the performing arts. Performing Arts includes music and dramatic performance, as well as art, dance, visual arts and technical theatre. (By Laws, 2007)
For just $5, you can be a member of PASA and show your support for the fantastic programs here in North Babylon. Fill out your form and send it in to your child's music or art teacher, or to the PASA mailbox located in the High School. .
Monthly meetings are held in virtually and dates are listed on the District Calendar.
For additional information, email President Kathy Scheid at pasaofnb@gmail.com/ Membership forms are available in the Music and Art Office, Room 105 at the HS.
---
NEED A SECOND COPY OF YOUR SCORE for NYSSMA?
"Kristina's big idea" is here to help!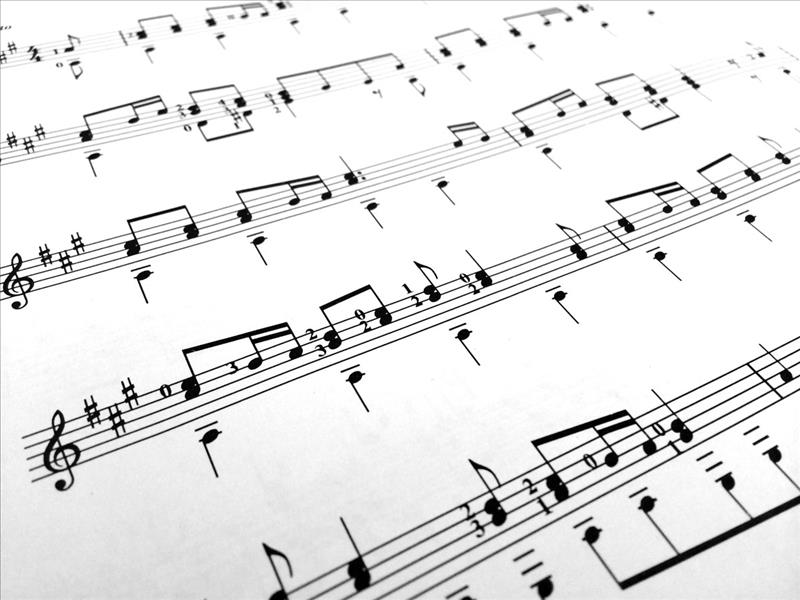 We are creating a library for all future NYSSMA students and you can help! If you purchased a 2nd copy of music for your child's NYSSMA appointment and you do not need it anymore, we ask that you donate it to the Music Department. The scores will be made available to any student who needs it for next year's auditions, festival and college auditions.
Please drop your music off at NBHS Room 105 of the High School anytime over the summer months between 8 and 2pm. Thanks to Kristina Scheid, a scholarship winning student at Molloy College and 2017 NBHS Graduate for this project. Thank you for helping us with "Kristina's Big Idea" and have a great summer!
---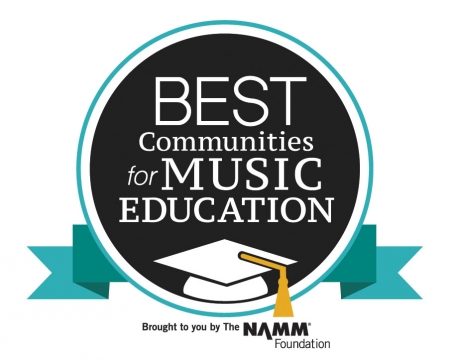 North Babylon's Music Education Program Receives National Recognition
District is one of 4% of school districts in nation to receive distinction
North Babylon, NY - April 6, 2018 - The North Babylon School District has been honored with the Best Communities for Music Education designation from the NAMM Foundation for it's outstanding commitment to music education. This is awarded to districts that demonstrate outstanding achievement in efforts to provide music access and education to all students. In a survey completed by Dr. Lowenborg-Coyne, questions were answered about funding, graduation requirements, music class participation, instruction time, facilities, support for the music program and community music making programs. Responses were verified with school officials and reviewed by the Music Research Institute at the University of Kansas.
This marks the 12th time since 2003 that the District has been honored by NAMM.
---
Childhood Lesson: Color Outside the Lines—How being a child artist helped me become a better business leader
Posted by Matt D'Arrigo, Jan 11, 2017 "No one ever discovered anything coloring inside the lines." —Thomas Vasquez I've been an artist since my earliest childhood memories, falling in love with crayons, paint, paper, pastels, pencils—anything I could get my hands on. I would create with reckless abandon. Throwing colors, shapes, and scribbles onto paper feeling pure joy. Slowly, as I got older, I began to learn how to become a better artist. I learned how to control the medium, hone the skills and techniques needed to make my art look like it was supposed to, how to follow the rules. Although important in order to achieve the desired result, it also had its downside. I fell into the trap of focusing too much on the technique and final product rather than the process of creativity. I was not exploring the potential for creative discovery by breaking the rules and coloring outside the lines! Growing up, one of my art teachers had a little cartoon on his desk that read "Why color inside the lines when coloring outside the lines is so much fun?" It clicked with me. The greatest lesson I learned as a childhood artist was the power and importance of coloring outside the lines—that's where the magic and fun happens. In 2001 I made the transition from artist to non-profit founder & CEO of ARTS | A Reason To Survive, a Creative Youth Development organization based in National City, Calif., that ignites the power of creativity in youth, inspires them to overcome obstacles, and provides them with the skills needed to become compassionate catalysts of positive change in themselves, their community, and the world. I now realize how important this lesson is and how it translates into the business world. Here are my top 5 reasons how coloring outside the lines has helped me in business today: 1) It Takes Courage "Creativity Takes Courage." —Henri Matisse Anyone can play it safe, follow the rules, and blend in. Taking risks, stepping outside your comfort zone, finding your own unique voice and style that sets you apart from everyone else takes tremendous courage. No one makes his or her mark on the world by being timid or following what others are doing. People thought I was crazy for starting ARTS during the 2001 recession. They told me it would be too hard, the timing wasn't right, I didn't have any experience—maybe I should just work for an arts non-profit. There were many doubters, including myself. Fifteen years later we've created this incredible work of art and are going stronger than ever! 2) Mistakes Are Encouraged "Creativity is allowing yourself to make mistakes. Art is knowing which ones to keep." —Scott Adams If you're making mistakes it means you're trying new things, pushing the envelope, and taking risks. It's the only way to be innovative. The important thing is to learn from your mistakes and grow. "Mistakes" are often the beginning of a totally new direction that could not have been seen or imaged otherwise. The first mistake I made was trying to immediately open an ARTS Center in 2001. It was my dream and vision, but the funds were not coming in. We explored how else we could provide our services with low overhead. By pivoting and launching outreach programs to hospitals and shelters, it led to success and gained the support we needed to open our first ARTS Center in 2007. Working through mistakes and roadblocks also builds another key ingredient in success: resilience. 3) It Forces You to Let Go of Control "Let it go, let it gooooo…"—Queen Elsa, "Frozen" As an artist, at some point, you need to let go of control, trust the creative process, and let it take you in directions outside your comfort zone. This can be applied in the business environment; if you try to control too much, you stifle creativity and you become a bottleneck suppressing others' ideas and input. You need to trust and empower others, embrace new approaches, and be ok if it doesn't work out. As a founder this can be especially challenging, but the only way to grow is to let it go! 4) It Affirms that Creativity is King "To be creative, we must lose our fear of being wrong." – Joseph Chilton Pearce Being an artist or leading a business requires a tremendous amount of creativity. You can't be creative by playing it safe and you must be prepared to be wrong. Everything is not always a home run. Fresh approaches, unique ideas, and creative problem solving can not only set you apart from others, but it can be the difference between sinking or swimming. When IBM surveyed the CEOs of the top Fortune 500 companies, they identified "creativity" as the #1 leadership quality for the 21st century. 5) It's Fun "Creativity is intelligence having fun." – Albert Einstein Like my teacher's cartoon said, coloring outside the lines is fun. We need to remember to find the joy in what we do, continually surprise ourselves, and have fun. If you're having fun, others around you will also. It's contagious.
Picasso said it best: "All children are artists; the problem is staying an artist once we grow up."
We all need to reconnect and celebrate the child artist in all of us and remember the importance of coloring outside the lines.
---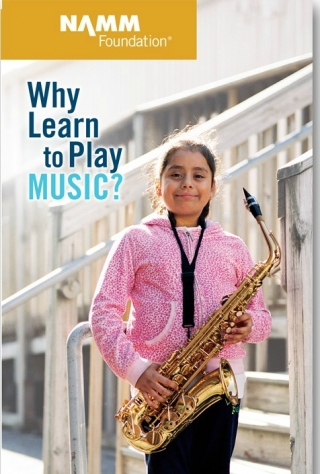 Getting Started in Band and Orchestra
Each year our 4th grade students have the opportunity to select the instrument they will begin playing. The process begins with an introduction to the instrument families in Music Class. This is followed by a demonstration by members of our music staff,who give each student a great deal of personalized information and experience to assist in their choices.
A letter is sent home with each student so you can discuss your choices as a family. When the form is returned, our staff evaluates the choices and selects the instrument we feel is best suited to the students physical and musical attributes. Please note that this may not be their first choice, but it is what we believe to be their best opportunity for success.
All are welcome to join our band and orchestra program and no prior experience is required. We hope you join us!
---
Study: Music Education Aids Cognitive Development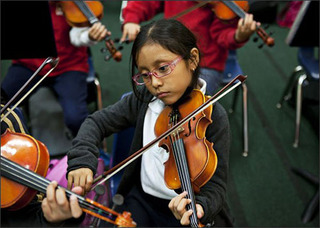 By Jackie Zubrzycki July 7, 2016
Studying music seems to have helped accelerate the cognitive development, and particularly the auditory- and speech and language-processing abilities, of a group of young children in Los Angeles.
That's an early pair of findings from a five-year longitudinal study being conducted by researchers with the Brain and Creativity Institute at the University of Southern California, in partnership with the Los Angeles Philharmonic Association and the Heart of Los Angeles, a community center. The study, published earlier this spring in Developmental Cognitive Neuroscience, checks in on a group of students two years into an experiment about the impact of music education on students' cognitive, social, and emotional development.
Previous studies have shown that adult musicians' brains are distinct from those of non-musicians, and that musical training in early childhood is associated with structural changes in the brain. The USC researchers write that this study should increase the field's understanding of how and whether musical training affects the brain.
The researchers began following 45 children, all from economically disadvantaged, bilingual households (most are Latino, one is Korean) in Southern California, starting when the children were 6 and 7. The initial group was split into three: One set of 13 students is receiving music instruction through the Youth Orchestra of Los Angeles, one group is playing soccer, and another is involved in no particular after-school activity. Eight students have since dropped out of the study or moved, so this paper focuses on the 37 remaining students.
The students in the music program are being taught using an approach based on El Sistema, developed in Venezuela. They receive free instruments and intensive, regular training from adult musicians. The students are occasionally monitored via MRIs, EEGs, and other activities to gauge their brain development.
Two years in, the students in the music group were more able to identify differences in musical pitch on a piano than other students. The brain scans also showed that these students had more-developed auditory pathways than their peers.
The authors write that this development in auditory processing also affects students' ability to process speech and language—which means it could have an impact on students' academic progress as well as their musical abilities.
This study is one of a number tackling the impact of music on young people's brains. Education Week spoke with one of the researchers involved in this study, neuroscientist Antonio R. Damasio, as it was beginning in 2013.
At the time, Damasio said he and his colleagues were interested in how music training and creation affect the entire brain:
"We say that when people are inspired, they create, that it all comes in a rush," said Antonio R. Damasio, a neuroscience professor at the University of Southern California, "but, of course, it comes in a rush if you've trained your hands and your mind for an entire lifetime. That moment of inspiration generally comes on the back of a whole process of imagination and knowledge and criticism of what has come before."
"We want to know what circuitries are involved, but this is something about the whole brain, not left or right brain or some particular cortex," he said...
Many schools have experienced cuts in arts and music programs in recent decades. In Los Angeles and other school districts, advocates have been highlighting the inequitable distribution of arts programs in schools. (Many schools serving the most disadvantaged students don't have robust arts programs.) Studies like this one may bolster claims that access to music education in schools, especially where many students are living in poverty, could benefit children's cognitive development.
---
Method Books for K-8 Orchestra and Band
Elementary Orchestra: Mr. Schultheis, Ms. DiVito
String Explorer, Book 1 or 2 (ask your teacher for details)
Middle School Orchestra: Ms. Rzwenski
Essential Elements for Strings, Book 2
OR Essential Technique for Strings, Book 3
Elementary Band: Mr. Orig or Mrs. Gembinski
Accent on Achievement
Middle School Band: Mrs. Pino, Mr. Guza
Standard of Excellence, Book 2
---
Do Pull Out Music Lessons Harm Students Academically?
Those of you who worry about the effects of pull-out band lessons on the academic achievement of students can breathe a sigh of relief today! A new study (Hash 2011) has confirmed previous findings that students who are pulled from traditional classes to participate in band lessons perform just as well--if not better--than non-band students in state testing. Similar findings have been found for orchestra students. (Kinney, 2008).
This does not imply that participation in band makes one smarter; however, it does help to alleviate fears that pull-out lessons may harm students academically. According to this latest study, even the lowest-performing band students still out-perform the majority of the highest performing non-band students, even after several years of pull-out lessons. This may be good news for parents who worry about their children's progress and for classroom teachers who may eventually be evaluated by their students' performance on standardized testing.
---
How music training alters the teenage brain
Music training initiated during high school might hone brain development Date:July 20, 2015 Source:Northwestern University Summary:Music training, begun as late as high school, may help improve the teenage brain's responses to sound and sharpen hearing and language skills, suggests a new study. The authors say that these results highlight music's place in the high school curriculum. According to the authors, high school music training -- increasingly disfavored due to funding shortfalls -- might hone brain development and improve language skills. Music training, begun as late as high school, may help improve the teenage brain's responses to sound and sharpen hearing and language skills, suggests a new Northwestern University study. The research, to be published the week of July 20 in the Proceedings of the National Academy of Sciences (PNAS), indicates that music instruction helps enhance skills that are critical for academic success. The gains were seen during group music classes included in the schools' curriculum, suggesting in-school training accelerates neurodevelopment. "While music programs are often the first to be cut when the school budget is tight, these results highlight music's place in the high school curriculum," said Nina Kraus, senior study author and director of Northwestern's Auditory Neuroscience Laboratory at the School of Communication. "Although learning to play music does not teach skills that seem directly relevant to most careers, the results suggest that music may engender what educators refer to as 'learning to learn,'" Kraus added. Kraus and colleagues recruited 40 Chicago-area high school freshmen in a study that began shortly before school started. They followed these children longitudinally until their senior year.
Nearly half the students had enrolled in band classes, which involved two to three hours a week of instrumental group music instruction in school. The rest had enrolled in junior Reserve Officers' Training Corps (ROTC), which emphasized fitness exercises during a comparable period. Both groups attended the same schools in low-income neighborhoods.
Electrode recordings at the start of the study and three years later revealed that the music group showed more rapid maturation in the brain's response to sound. Moreover, they demonstrated prolonged heightened brain sensitivity to sound details.
All participants improved in language skills tied to sound-structure awareness, but the improvement was greater for those in music classes, compared with the ROTC group.
According to the authors, high school music training -- increasingly disfavored due to funding shortfalls -- might hone brain development and improve language skills.
The stable processing of sound details, important for language skills, is known to be diminished in children raised in poverty, raising the possibility that music education may offset this negative influence on sound processing.
"Our results support the notion that the adolescent brain remains receptive to training, underscoring the importance of enrichment during the teenage years," the authors wrote.
The above post is reprinted from materials provided by Northwestern University. The original item was written by Julie Deardorff. Note: Materials may be edited for content and length. Journal Reference: 1.Adam T. Tierney, Jennifer Krizman, and Nina Kraus. Music training alters the course of adolescent auditory development. PNAS, July 2015 DOI: 10.1073/pnas.1505114112
---
America's best teachers get creative
Date:May 5, 2015
Source:Michigan State University
Summary:America's best teachers rap their algebra lessons, use music to teach Kafka and find other ways to use their own creative interests to teach their students, finds a new study. Examining the classroom practices of National Teacher of the Year winners and finalists, the study suggests successful educators aren't afraid to push the boundaries by incorporating real world, cross-disciplinary themes into their lessons.
While U.S. educational policy emphasizes high-stakes testing and scripted lessons, the best teachers in the business are taking creative risks -- often drawing from their own interests and hobbies -- to help students learn, new research finds.
Examining the classroom practices of National Teacher of the Year winners and finalists, the study, by Michigan State University scholars, suggests successful educators aren't afraid to push the boundaries by incorporating real world, cross-disciplinary themes into their lessons.
Consider the San Diego teacher who raps his algebra lessons. Or the Oregon science teacher whose students create advertisements to learn photosynthesis. Or the Iowa language arts teacher who uses musical concepts to teach Franz Kafka's complex novella "The Metamorphosis."
The study, published online in the journal Teachers College Record, is one of the first in-depth investigations of how exceptional teachers use creativity in the classroom.
"The best teachers are taking their own creative interests -- from rap music to cooking to kickboxing -- and are finding ways to incorporate these into the curriculum," said Danah Henriksen, assistant professor of educational psychology and educational technology and lead author of the study. "They're bringing together different subject matters and finding areas of connections so students can learn both in interesting ways."
America's test-driven educational policy, Henriksen argues, has "impeded creativity in teaching and learning." Many teachers today struggle to balance high-stakes testing and accountability with the ability to act flexibly, independently and creatively in their classrooms.
For more information, go to http://www.sciencedaily.com/releases/2015/05/15050...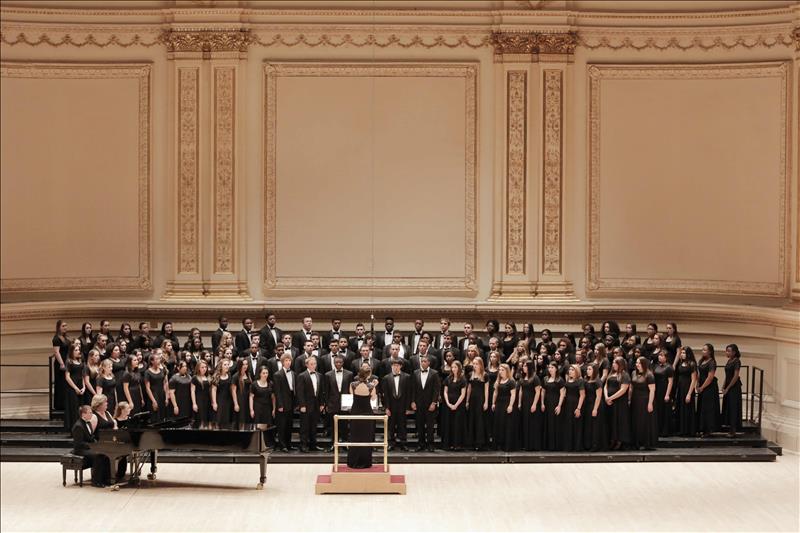 NBHS Choir performs at Carnegie Hall
---
Brain Imaging Shows Enhanced Executive Brain Function in People with Musical Training
Date: June 17, 2014
Source:Boston Children's Hospital
A controlled study using functional MRI brain imaging reveals a possible biological link between early musical training and improved executive functioning in both children and adults, report researchers at Boston Children's Hospital. The study, appearing online June 17 in the journal PLOS ONE, uses functional MRI of brain areas associated with executive function, adjusting for socioeconomic factors.
Executive functions are the high-level cognitive processes that enable people to quickly process and retain information, regulate their behaviors, make good choices, solve problems, plan and adjust to changing mental demands.
"Since executive functioning is a strong predictor of academic achievement, even more than IQ, we think our findings have strong educational implications," says study senior investigator Nadine Gaab, PhD, of the Laboratories of Cognitive Neuroscience at Boston Children's.
"While many schools are cutting music programs and spending more and more time on test preparation, our findings suggest that musical training may actually help to set up children for a better academic future."
Boston Children's Hospital. "Brain imaging shows enhanced executive brain function in people with musical training." ScienceDaily. ScienceDaily, 17 June 2014. <www.sciencedaily.com/releases/2014/06/140617211020...
---
In a longitudinal study of 25,000 secondary school students, those with higher involvement in the arts scored better on measures of persistence than their peers with lower arts involvement."
Catterall, J. S. (1998). Involvement in the arts and success in secondary school. American for the Arts Monographs, 1(9).
---
"Arts education helps students become better readers and writers. This instruction increases reading readiness and word fluency in early grades and continues to improve reading comprehension and writing skills throughout middle and high school."
Podlozny, A. (2000). Strengthening verbal skills through the use of classroom drama: A clear link. Journal of Aesthetic Education, 34, 239-276. 2 Walker, E., Tabone, C., & Weltsek, G. (2011). When achievement data meet drama and arts integration. Language Arts, 88, 365-372.
---
Students who study the arts, especially music, outperform their non-arts peers on mathematics assessments.Arts integrated math instruction also facilitates mastery of computation and estimation skills, and challenging concepts like fractions.
Harris, M. A. (2007). Differences in mathematics scores between students who receive traditional Montessori instruction and students who receive music enriched Montessori instruction. Journal for Learning through the Arts, 3. 5 Kinney, D. W., & Forsythe, J. L. (2005). The effects of the arts IMPACT curriculum upon student performance on the Ohio fourth-grade proficiency test. Bulletin of the Council for
Research in Music Education, 164, 35-48.
---
Why are the ARTS important?
They are languages that all people speak that cut across racial, cultural, social, educational, and economic barriers and enhance cultural appreciation and awareness.
They provide opportunities for self-expression, bringing the inner world into the outer world of concrete reality.
They develop both independence and collaboration.
They make it possible to use personal strengths in meaningful ways and to bridge into understanding sometimes difficult abstractions through these strengths.
They improve academic achievement -- enhancing test scores, attitudes, social skills, critical and creative thinking.
They exercise and develop higher order thinking skills including analysis, synthesis, evaluation, and "problem-finding."
They provide the means for every student to learn.
---
Letter: Arts are important for sciences
Published: January 23, 2013 5:43 PM Newsday
Congratulations to the 53 students from Nassau and Suffolk counties who were recently named national Intel Science Talent Search semifinalists ["Intel contest," News, Jan. 10]. What is so impressive is the number of them who are involved in their school arts programs -- 26 in total.
Among the winners this year are student musicians -- several of whom were selected for countywide and statewide ensembles -- as well as visual artists, and those studying computer graphics and architectural design.
This should come as no surprise. Research shows that students involved in the arts score higher on standardized tests and show greater achievement in science and math. Students of the arts go on to careers not only in the arts, but into science, medicine, law and education.
While Long Island school arts programs are strongly supported by our communities, it is alarming that the arts are being pushed out of school curricula all over the state. The inordinate amount of test-taking is taking more time away from the ability to cultivate students' creativity. Because of funding pressures, districts have been forced to make the difficult decision to reduce unmandated classes, including the arts.
The arts provide students with self-confidence, creative problem-solving, the ability to critique work, and teamwork and time management skills. According to business leaders, these skills are all needed for 21st century employment.
John J. Gallagher, Middle Island
Editor's note: The writer is the Longwood school district's director of fine and applied arts.
---
Will my child's grades suffer when he's "pulled out for lessons? NO!
In this study, data indicate that "students did not suffer negative academic effects when compared to students of similar academic capability who remained in the classroom. We can also conclude that the overall Ohio Proficiency Test performance of the students who participated in string pull-out lessons was better than the performance of the students of similar ability who did not participate in the string program.
When string students are excused from their classrooms for string class, they are not leaving instruction. They are moving to another classroom in a different area of the building. The concepts taught in string [lessons] go far beyond pitch and rhythm.
(1995 results of the Ohio Proficiency Test (OPT) given to fourth-grade students in Hamilton, Ohio)
"'Pull-Outs', the label attached to these elementary instrumental classes, have been the object of criticism from non-music school personnel for years. In a recent study, interpretation of the data shows that the elementary instrumental program is not harmful to students' academic growth, even if these students are "pull out" of classes considered basic.
This conclusion from the statement from our statistician was: "Students in the instrumental music program appear to have as good or better academic growth (development) in Reading and Math as the District as a whole. A strong case can be made that it is, in fact, superior growth!" (David Circle, Shawnee Mission, Kansas)
---
Organized music lessons appear to benefit children's IQ and academic performance--and the longer the instruction continues, the larger the effect, according to a study published in the May issue of the Journal of Educational Psychology (Vol. 98, No. 2).
---
"Study in the arts can help students to pay better attention in school due to structural brain changes created when the students were engaged in practicing their art form. When students pick up an instrument and practice a tricky passage, they are not merely improving their solo. They are also developing a high level of concentration that will aid them when they are working on their next algebra problem."
---
M. Posner, University of Oregon, 2008.