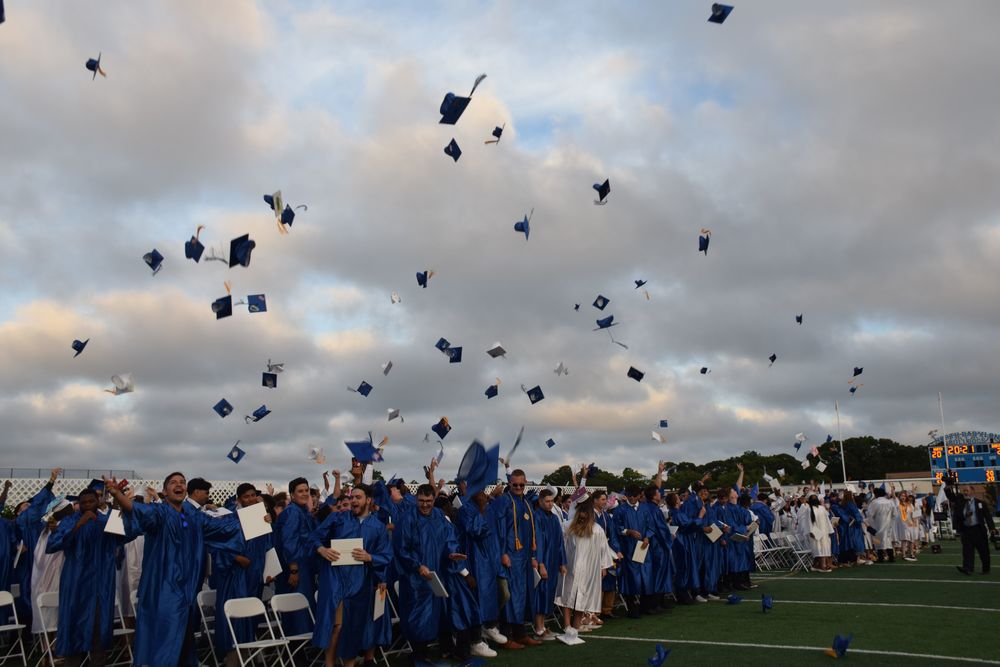 North Babylon Class of 2021 ready to be the change
.
Tuesday, June 29, 2021
Under the blue and white sky in their blue and white gowns, the North Babylon High
School Class of 2021 gathered to celebrate the closing of one chapter and the beginning of
the next.
Leading up to the final moment in the graduation exercise, Superintendent of
Schools Glen A. Eschbach, High School Principal Dr. Jonathan Klomp, valedictorian Autumn
Cullinan, salutatorian Laci Burton and senior class presidents Sophia Calabrese and
Melanie Karniewich delivered speeches filled with hopes, dreams and sage advice that
assured the graduates they were prepared to begin the next stage of their lives.
Dr. Klomp likened the Class of 2021 to the "greatest generation," which is generally
defined as those born between 1901 and 1927. "Yours is a class that can and will truly
change the world by bringing us together. I believe you can be this century's greatest
generation," he said.
Using Adam Grant's book "Think Again," Dr. Klomp continued to discuss ways in
which the students and their classmates can make the world a better place and end the
polarization currently affecting the nation, local communities and even families. "We need
you to be the change," he concluded.
Mr. Eschbach focused his words on the theme of pride. "Pride – a five letter word
that means so much but never the same for everyone."
He spoke of his pride in the class and all they've overcome, particularly through the
COVID-19 pandemic. He encouraged each individual student to take pride in hers or his
accomplishments. "The past 18 months has provided tremendous opportunities to reach
deep inside to tap into your resilience, find your inner kindness and utilize the true skills
your teachers, parents and loved ones have taught you – problem solving, critical thinking
and how to treat others. When you have found those within yourself, you have found your
inner pride."
Following the conferring of diplomas, the North Babylon School Class of 2021
tossed their caps and celebrated the end of an era with family and friends.